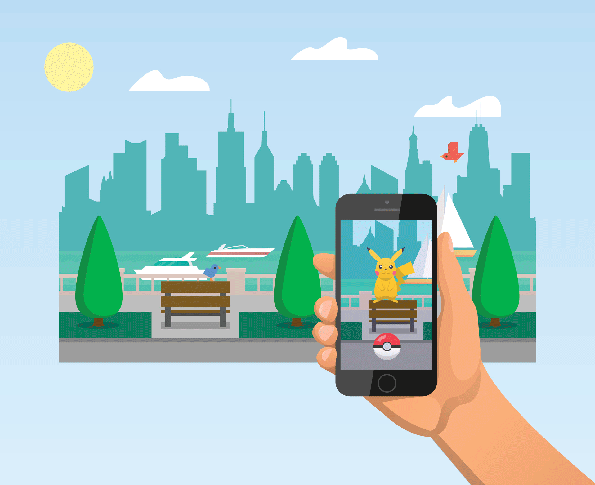 Is Pokémon Go just another (in the words of the author of this article in Special Events) "obsession-driven, purse-depleting, patience-testing passing tech trend," or a fun new way to jazz up your next event? Anthony Bollotta, president of Bollotta Entertainment, seems to think the latter just may be the case.
And he makes a good argument for it, too, noting that a hefty proportion of adult Pokémon players are over the age of 25, and that it gets people out and about and interacting with others in the real world. I haven't played myself yet—I'm a little hesitant to try any computer games, mobile or otherwise, after my experience getting sucked into the Tetris vortex many moons ago, and this one sounds dangerously addictive for people like me. But Anthony poses a few great ideas on how it could be used at a trade show, festival, or fundraiser.
Here's more along these lines from Nick Borelli on EventMB, with my favorite upshot being this quote: "Make sure that fun is a priority in your events and stick up for your future attendees by asking 'Yes, but will this be fun?' at each and every intersection of the event timeline. That's a pretty good method for you to catch'em all."
And the game is a harbinger of future attendee engagement, says David Budimir on the Social Tables blog. Because it gets people to go outside and actually interact with each other, it could offer an opportunity to get people to interact with speakers or find other gatherings outside the meeting space, for example. And it means that augmented reality just took one step closer to becoming an everyday reality, even at meetings. He also posits:
"With the combination of beacon technology, and hyper location awareness you'll be able to track how attendees are engaging at your events. Imagine a scenario where over the course of the event or trade show you can offer 'experience points' to attendees that are engaging the most. It gives you a way to celebrate and reward the attendees that are already experiencing your event in full. When these influencers start demonstrating how they participate, their friends and colleagues will follow suit."
The Pokémon Go phenom also has lots of things to teach us about marketing, including the importance of good branding, good timing, low learning curves, and more, as outlined in this Forbes article.
Of course, no good thing comes without risk, and who better to point that out than meetings maven Joan Eisenstodt, whose Pokéman Go (or No-Go) at Meetings post brings up liability issues and the need to develop a policy for its use at meetings. It has provoked some 29 terrific comments as of the last time I looked. A lot of people are concerned that attendees could get hurt as they pay more attention to the game than to their surroundings—a valid concern, as all those pre-Pokémon Go videos of people texting as they walk into fountains and walls make obvious.
I tend to think this ship has sailed, though. Whether you actually incorporate the game into your official agenda or not, augmented reality gaming just became real. Like it or not, people probably will be playing it at your meetings, so it makes sense to spend some time thinking through all the potential up- and downsides—and doubling down on your mobile charging stations, because I hear it burns through batteries like you wouldn't believe.
It may be the first such game to hit the big time, but I would bet the farm that it won't be the last.