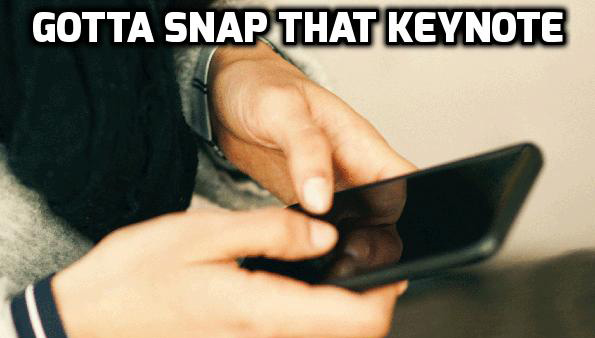 I have to admit I haven't felt compelled to play around much with image messaging app Snapchat as a social channel for meetings and events—why use something that is designed to disappear, rather than the sturdier Twitter? Snaps are only available for up to 10 seconds, and Snapchat's Live Stories feature—which lets people who are in the same place contribute Snaps to one place to form a community story around the event—only lets stories live for 24 hours before they too go poof.
But the more I read about it, the more I think it could be a good addition to a meeting planner's social media portfolio. Here are five reasons why:
1. It's going mainstream as an event-enhancer: Inside NBC Sports' Snapchat plans for the Kentucky Derby
For the first time, a team from NBC Sports was Snapchatting everything from barns to big hats to the race itself on the channel's account. It also collaborated with the racetrack, Churchill Downs, to use Snapchat's Live Stories feature to create a community narrative for the Kentucky Derby. And, while it's still fairly new to Snapchat, NBC plans to use Live Stories during the Olympics in Rio. BuzzFeed will collect video clips and share them in a Discovery Snapchat channel. Once people get used to using it around events like the Derby and the Olympics, as long as you let them know you're using it too, it should get a whole lot easier to get people Snapping your event.
2. It's a great way to capture the attention of the younger generations of participants: Snapchat Stats
According to Snapchat, more than 60 percent of 13–34-year-old smartphone users use Snapchat because "Snaps are a reflection of who you are in the moment—there is no need to curate an everlasting persona." I guess that's a relief for those who find keeping up with the Facebook Joneses a burden (or wherever these people go now that their parents are on Facebook).
3. You can do some really fun things for your participants: Snapchat Turns Collision Conference Attendees Into Small-Business Heroes on National Superhero Day
Seriously, how fun is it that Snapchat offered a free superhero filter that attendees of the third annual global Collinson Conference could use to show off their superpowers on National Superhero Day?
4. It's getting big for video sharing—which is getting more popular by the minute: Snapchat Overtakes Facebook in Video, Inks Olympics Deal
Yep, among the 10 billion or so things people are Snapping every day are a whole lot of videos—so many that it's now overtaking Facebook in the video wars, according to MarketingProfs.com. In fact, the venerable Facebook is taking a page from Snappers and adding a disappearing function of its own.
5. There is a lot of inspiration out there from brands that already are using it: Snapchat for brands part II: Brands who do it well
Taco Bell's 16 Handles yogurt chain did a brilliant campaign that used Snapchat to send coupons to customers. The fun part was that the customer couldn't open it until they were ready to buy their yogurt or it would disappear before they could use it, so they didn't know until the last second whether they'd be getting 10 percent off or a freebie.
How could you use that ephemeral quality to add some excitement to your event? There are several more examples to get your thoughts cooking in the post.
Have you incorporated Snapchat into your meetings' and events' social media strategies? If so, how did you do it?