More thoughts from the Financial & Insurance Conference Planners Annual Conference going on this week in Nashville:
• The morning of Day 2 was mainly dedicated to what FICP calls The Network—Live, the business appointment piece of the program. Planners could set appointments with suppliers they want to meet with and have quick "speed date" conversations. Not being a supplier or a buyer, I didn't want to take up anyone's time, but the suppliers I have asked about it since have said it was good for business. One gentleman I sat next to at lunch actually booked a meeting during one of his appointments. We celebrated with a small slab of red velvet cake!
• Coolest lunch idea I've seen in a while—behold the boxed lunch!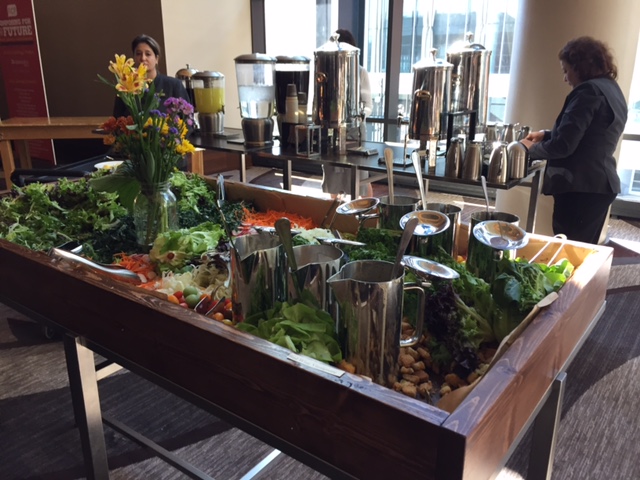 This giant box of salad (which was accompanied by soup/bread and sandwich tables) was a huge hit with everyone in my line. And we were all thinking about how we could modify it to do Thanksgiving in a box at home in a few weeks...
• Nashville, or at least the part near the Music City Center and right below my room at the Omni Nashville, is a hotbed of new construction. Just outside my hotel window I can see three cranes—this area is hopping. The only downside was that they got started awfully early in the morning. I love the sound of jackhammers in the morning (OK, not really).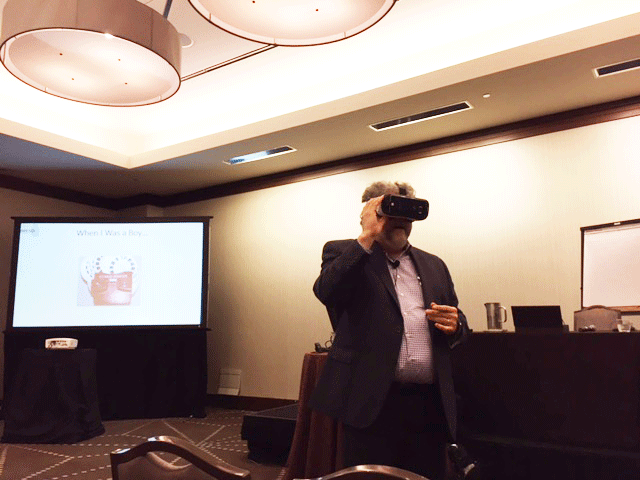 • The educational sessions I went to in the afternoon were excellent, but how could they not be? I watched a lightning-fast, funny, and insightful legal point/counterpoint starring industry attorneys Lisa Sommer Devlin and Barbara Dunn O'Neal; geeked out about top tech trends with James Spellos of Meeting U.; and learned some interesting insights about where the sharing economy could be taking meetings and events over the next 10 years.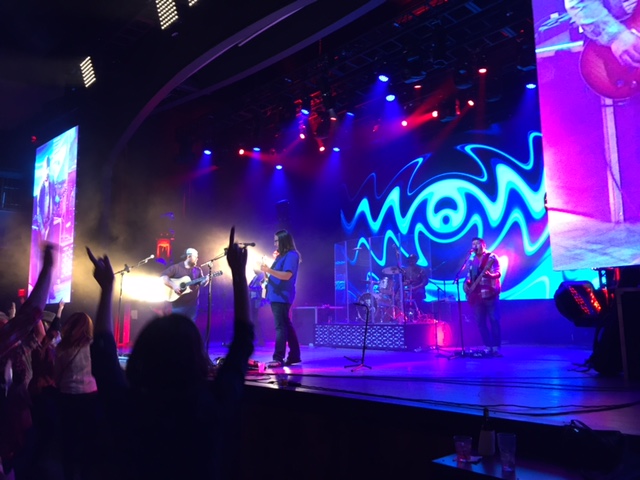 At the latter, led by SoolNua's Padraic Gilligan, one of the more fascinating things was the difference in responses to a Sli.do poll he took during the FICP session and a similar poll he took of the audience at IMEX in Frankfurt on which of three sharing economy tech companies would become a force in the new future of meetings. Spacebase came in first, then Showslice, and VizEat was deemed least likely to make serious inroads in meetings and events for those in the FICP session. In Frankfurt, participants thought it much more likely that the in-home dining startup VIzEat would become a popular option, while Spacebase, which is an Airbnb-style site for unique meetings venues, was thought to be least likely to gain inroads. Showslice, which enables planners to piggyback production infrastructure through an online marketplace, seemed interesting to both audiences, but held the middle ground. Anyway, more on the educational takeaways another time!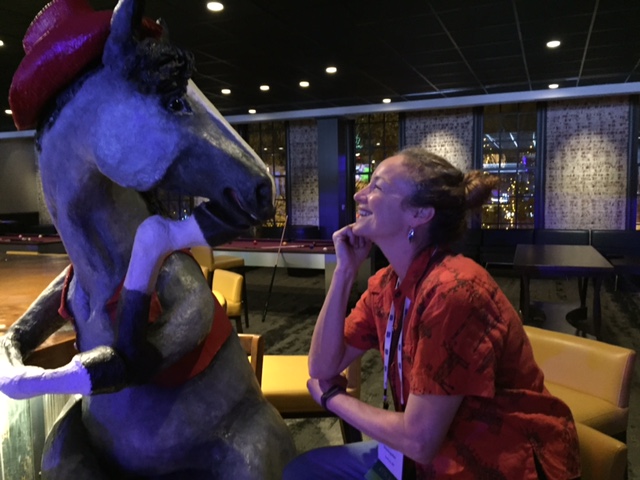 • The evening event at the Wildhorse Saloon featured lots of stick-to-your-ribs food (fried chicken, mac and cheese, marinated veggies), a great dancehall atmosphere, line-dancing with a lot of help from a Wildhorse instructor and some professional dancers, and great tunes by the Matte Gray Band. Much fun was had by all, and it was just a few blocks back to the Omni.
• When I went out for a quick walk early in the day, I chanced to meet a very nice homeless gentleman who kept me company. While I didn't have any money on me to buy the newspaper he was selling, he walked several blocks with me and was super pleasant. The best part was when he asked me what I do for a living, and I told him I'm a writer.
His response? "Do you write country or R&B?" I love this town!
On to Day 3...