Time for my annual post-vacation post about how meeting planning is a lot like sailing (really!). I know I've written several times about the sailing/planning parallels that have occurred to me while ruminating on a bareboat charter sail in the Caribbean, so there can't be anything left to draw parallels to, right? Except maybe these two things:
The importance of chart briefings and boat checks: We chartered from a new-to-us company, CYOA out of St. Thomas in the U.S.V.I., and while we have gone through some rigorous checkouts before, this one was incredibly thorough. Our briefer, Richard, took us through every inch of every system on that boat, ensured that we knew where everything was and how to perform maintenance checks on key systems. We then went over the charts carefully, and went for a check-out sail so he could see that we knew how to handle the cat's sails, engines, etc. Only when we checked out on everything—a many-hour process—were we cleared to take off from the base.
Meeting planning parallel: Of course you hold pre-event meetings with all your key players and go over the plans, but it can be easy, especially for a regularly recurring meeting without too many moving parts, to maybe skim over some of the more routine pieces. Everyone knows the drill, everyone's done it a hundred times, right? But I would urge you to be more like Richard, who though he probably does many of these checks daily during high season, takes the time to make sure everyone on board every boat he checks understands what their part will be, that everything is present and accounted for, and do a dry run to make sure all systems are functioning properly and everyone does in fact know how to do what they need to do to keep the boat—and your meeting—on course. Kind of like why pilots use checklists even if they've been flying the same plane for years—you never know when that one routine, never-fail thing will actually fail.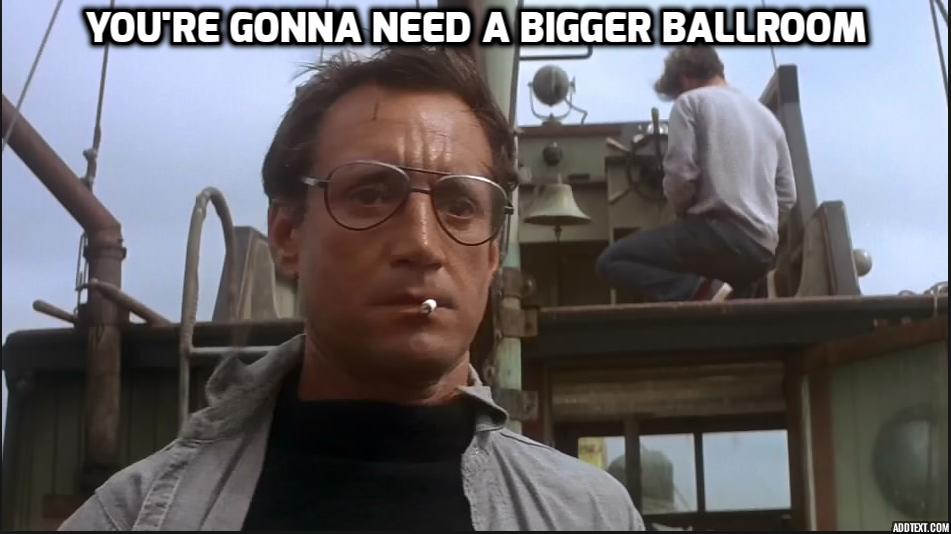 Bad news can sometimes be good news. We got the bad news about a month before we headed down to St. Thomas to pick up our boat: Someone had crunched our 36-foot catamaran and, it being toward the end of the season, the company was going to just pull it out of the water for repairs, meaning she was out of commission until things get busy again post-hurricane season. The company could have just refunded our money, or given us a monohull (which doesn't work for us when we are sailing with our in-laws, as we were this summer). But we got a silver lining, and it was a beaut! They gave us a 41-foot Lipari Fountaine Pajot as a replacement, which not only was five feet longer (those five feet mean a lot when it comes to boats!), for the first time ever we had an on-board generator that could keep an air conditioner running all night long. No more fighting to erect the wind scoops!
Meeting planning parallel: OK, this goes without saying for most planners, but it never hurts to be reminded that, if perhaps your meeting space gets commandeered for another group or something else goes awry, to see if you can turn a downturn into an upgrade—a more interesting meeting space for this event, or maybe an upgrade for a future event, or perhaps make up the difference in even more fabulous F&B or some other amenity. Your meeting's equivalent of those extra five feet also could add up to something that makes your event super-cool for your participants.
Suggested Categories
More from MeetingsNet

---