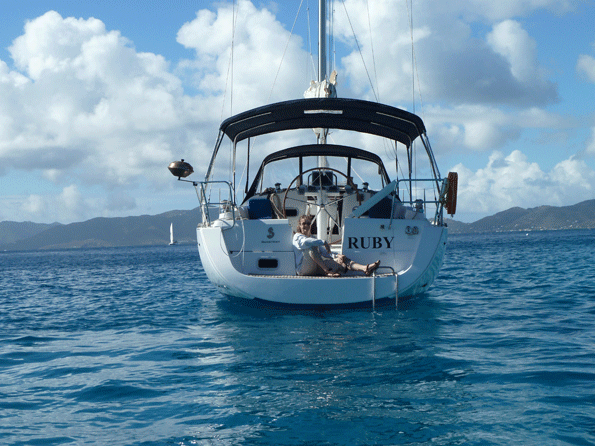 Because I can find things that relate to meeting planning from just about anything, here are a few thoughts that occurred to me while sailing in the British Virgin Islands on a bare-boat charter 37-foot Beneteau monohull the past 10 days. (Yes, it was fabulous! Thanks for asking.)
1. Don't wait for the ferry godmother to come to your rescue. We had heard the ferry service between St. Thomas, where we flew into, and Tortola, where we were picking up the boat, had been spotty lately, but after cancellations and delays and you-name-it, we were both late picking up our boat and almost missed our flight home.
Lesson learned for meetings: While I doubt your attendees or speakers are going to be waiting on a ferry to get to your meeting, flights aren't the only things you'll need to consider when making sure they can get to the venue on time and as stress-free as possible. Check for local happenings that could cause delays for taxis and shuttles (sports events going on as your folks are arriving, perhaps?) and do what you can to manage arrivals and departures so both their first and last tastes of your meetings are good ones.
2. Sometimes, it's nice to get off the boat. We had plenty of food and a grill full of charcoal, but after a few days, it sure was nice to go ashore for a good meal that we didn't have to cook and clean up after. Plus, as much as we adore each other and Ruby (our charter boat), the change of venue and some new company made going back to the boat even more of a pleasure.
Lesson learned for meetings. No matter how great your hotel/convention center food may be, and no matter how convenient it is to keep everyone together so they don't take off and do their own thing, a change of scenery is usually welcomed. Don't be afraid to take a meal off-site every now and then, or do a dine-around, or even just take people to the hotel's restaurants instead of having all the meals in the ballroom. Also, do what you can to crack the niches and get people to mingle with those they don't already know. We met some amazing people from all over the world by playing bartender at Sidney's Peace and Love self-serve bar on Jost Van Dyke.
3. Let them eat chicken. On another food-related note, when sailing in the Caribbean,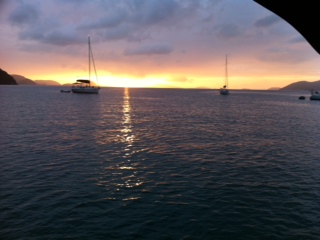 one always has to worry about the efficacy of one's freezer/refrigerator. With that in mind, we always eat the stuff that can go bad first, which means chicken for dinner for the first few nights. I like chicken as much as the next person, but it got old pretty fast, even with the spice mixes we actually remembered to bring to marinade the chicken with.
Lessons learned for meetings: I know it's economical, but don't serve chicken for lunch and dinner, and then lunch again. No matter how you dress it up, it's still chicken, and people will notice!
4. When in doubt, take a tuck in your main sail. Every morning we would get an updated weather report before setting sail. Several mornings it was dead calm and we were tempted to go out with our main sail full like so many of the other boats we'd see cruising out ahead of us. But, since we knew it was likely to go from 5 knots to holy cow before we got to our next destination, we put a reef in the sail from the start. When the squalls hit and the winds gusted north of 25 knots, we weren't among the sailors struggling to pull down sail under way. We may have gotten wet, but we did not have to worry about getting knocked down. Plus, we have a "man overboard" plan, though we hope to never have to use it!
Lessons learned for meetings. Plan for all likely risks, even if it looks like smooth sailing, even if other meeting planners aren't worried about the potential for a strike, or a tornado, or a terrorist attack, or a no-show speaker. Better to be prepared than be surprised and have to scramble at the last second to ensure everyone in your care is safe and your meeting can cruise on seamlessly.
5. Make good use of your crew. On our boat, that would be me. While my husband is endlessly fascinated with navigating the helm as the captain, it can get kind of boring just sitting there watching him adjust the course. I love being able to take a few tugs on the winch handle, play with the lines, keep an eye out for fish pots, and generally do everything else that needs doing while we're under way. And, of course, I always help chart our course and do spot checks to make sure we're not heading for anything unexpected.
Lessons learned for meetings: Let your attendees play, too. You're the captain of the meeting, no doubt, and what you say goes. But give them things to do to get them involved in the meeting, and in the topics they're learning about, instead of leaving them sitting passively as you coordinate everything for them and your speakers pour forth wisdom. Let them set some topics, maybe via offering an unconference-type session or two. Give them opportunities to move their bodies every now and then. Show them how they can participate via social media to share what they're learning with those outside the room.
6. Busy harbors aren't always the best harbors for everyone. So there we were, hanging on a mooring at Cane Garden Bay, when all of a sudden cruisers from giant ships at Road Town tumble out of myriad tour buses and take over the beach. Music starts blaring from three different beach bars, and the cacophony rises to almost unbearable levels. While I'm sure they were having a blast drinking rum and dancing and shrieking as they jumped into the sea, we calm-lovers were a tad overwhelmed. Thankfully, they left after a few hours and the noise levels dropped to the point where even the pelicans felt it was safe to start diving for fish again.
Lessons learned for meetings: While many people love the excitement of having a lot going on at once, loud music at networking events, and huge crowds seething around them, others of us are really just looking for a safe harbor where we can take it all in, synthesize what we're learning, and maybe have a few deep discussions. Create quiet spaces and small, safe harbors where individuals can get a break from all the stimulus, and possibly discover new and amazing things that might get lost in all the noise and excitement.
7. Never underestimate the beauty of having backup support you can count on. Our second day out, the transmission on the diesel engine started doing some funky things. Still functional, but since we were heading to Anegada the next day—whose harbor is almost impossible to get into under sail, as we discovered once when our diesel quit on us right outside the outer marker bouy—we called the charter base to see if they could send someone to check it out. Polo came promptly, checked the linkages and doo-hickeys, and with a few adjustments, we were good to go. Plus he got our cockpit light working again!
Lessons learned for meetings: Your AV and other tech support people are invaluable. You know that, of course, but can it possibly be stressed too much? I didn't think so.
OK, back to work! Thanks for indulging me.