Who plans your "micro" meetings? No one? LiquidSpace would like to bring these smallest, on-the-fly meetings into your corporate meeting and travel management program while making venues so easy to book and buy that the whole process can be off your plate while still under your control.
Founded in San Francisco in 2010, LiquidSpace is a Web site offering small venues for rent by the hour or the day that users can book and pay for on the spot.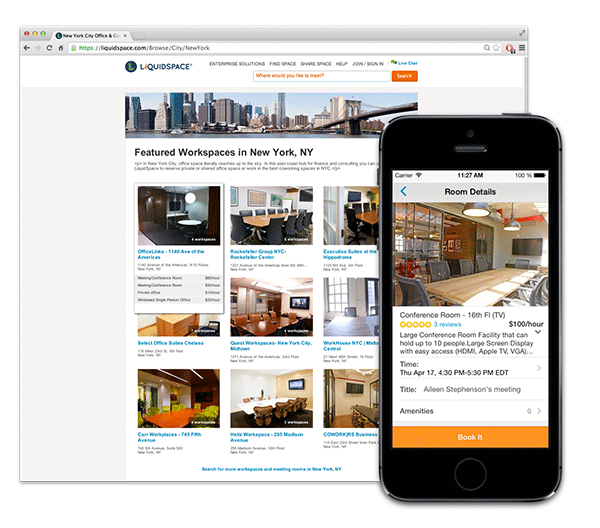 More than 5,000 vetted venues are available in the United States and Australia, searchable by location or by purpose ("team meetings," for example, or "sales presentations"). Costs vary, but conference rooms outfitted with Wi-Fi, a TV or monitor, coffee/tea/water, and a whiteboard generally go for $100 per hour ($400 for a half-day) in hot spots like New York and San Francisco. The average is less in other cities such as Seattle and Washington, D.C.
The online catalog includes some gorgeous spaces in buildings created for the concept of co-working and space sharing, as well as more traditional meeting rooms—or even lobby spaces or restaurants—in hotels. LiquidSpace has partnered with Hilton, which lists some 100 spaces, and Marriott, which lists more than 300 spaces as part of its WorkSpace on Demand app.
The basic venue search-and-book process is free; now LiquidSpace is looking to bridge the gap between one-off and enterprise solution by introducing a fee-based upgrade called Travel Manager. The new product offers tracking and a dedicated secure Web portal for venue bookings. Travel Manager is $150 per month for the administrator but remains free to the individual users booking venues for their own meetings.
A Different Kind of Space
Doug Marinaro, president and COO, says LiquidSpace's target audience is looking for venues for "micro meetings." These are meetings that fall precisely under the radar of the traditional definition of a meeting (or at least the one that was used in the Convention Industry Council's Economic Significance Study: at least 10 people meeting for at least four hours in a contracted venue). A micro meeting involves fewer than 10 people meeting for less than four hours, according to Marinaro.
"We're dealing with a different domain, but we're supporting some of the most important meetings held," he adds, such as the sales meeting that closes the deal, the interview that recruits the prospect, the small team training that imparts a critical skill, even the important Skype call.
Prices are kept in check because of the competition among venues. A business traveler looking at photos of a beautiful, outfitted co-working space would have little motivation to book a vastly more expensive hotel meeting space option, for example. Prices on LiquidSpace are lower, Marinaro says, "not because we negotiated—we just shined a light and created an alternative supply for on-demand meetings." And there's no waiting for a venue to get back to you regarding availability—users can see an up-to-the-minute calendar for each space.
The benefit of adding Travel Manager on top of the free booking ability is that these micro meetings can now be tracked, spending on them monitored, and, where appropriate, included at negotiation time with hotel chains.
The dedicated Web portal (accessible by mobile devices as well) can be set up so that only preferred hotels and venues are shown or so that they appear at the top of search results. Travel Manager also allows companies to set up centralized billing or opt to have employees pay with their own credit cards.
In addition to the Travel Manager subscription-based product, LiquidSpace's revenue comes from commissions. Find more at the LiquidSpace Web site.