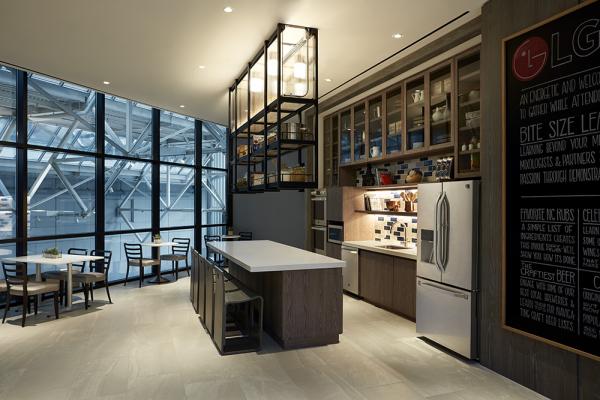 The general manager of the Charlotte Marriott City Center is having the time of her life. "I've been with Marriott for almost 25 years, and this is by far the most fun environment I've worked in," says Crissy Wright, whose downtown Charlotte, N.C., property finished a 16-month renovation in August to open as the innovation test lab for Marriott Hotels.
The 446-room, Marriott-owned hotel is now home to what's up and coming for the worldwide brand. Some innovations, like digital guest room keys, are being tested at other Marriott properties, but Charlotte is the new proving ground for current design and technology.  "We're testing all the new ideas here," Wright says.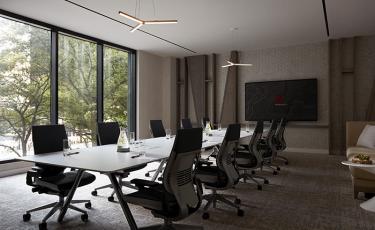 The prefunction space outside the hotel's 9,000-square-foot ballroom is a case in point. Now called the Event Hub, Marriott has added flexible elements (modular seating, moveable partitions) as well as a residential-style kitchen, the LG Studio. Outfitted with LG-brand appliances (2 refrigerators, oven, and induction burners), the space can be used for education, teambuilding, small meetings, or to support receptions (up to 160 people) in the Event Hub. The area that used to be dedicated to meeting registration (now called Event Edge) has also been redesigned as a multi-use space and includes an 80-inch television.
To get natural light into its City Center boardroom, the property had to break down a wall, says Wright, but the transformation didn't stop there: Soft seating, a digital whiteboard, magnetic panels, 80-inch television, and a flexible table are also being tested by Marriott. If planners or participants like what they see, they can press the boardroom's "beta button," a feedback technology that allows users to signal their approval.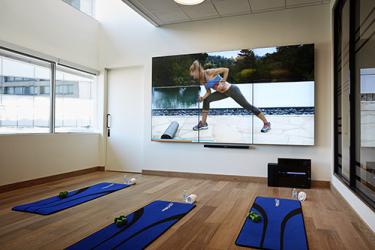 They'll also find beta buttons in guest rooms, the fitness studio, food and beverage outlets, and check-in areas, and the results are tallied and displayed on a large screen at the hotel. Here are some elements guests may be reacting to when they press the beta button.
Guest rooms: The rooms have a more modern, open feel than traditional Marriotts, with no art on the walls and hard-wood floors rather than carpeting. Rain showers and refrigerators (no mini-bar) are standard, and a 55-inch television, set into the wall, allows guests with a Netflix or Pandora account to stream content.
Fitness studio: In addition to state-of-the-art Life Fitness equipment that can be synched to activity trackers, the studio includes a room where guests can pick from 600 video workouts, including yoga, Pilates, and spin, to play on a huge digital wall.
Food and beverage: The hotel's coffee shop, Coco and the Director, is a test case in bringing in local products and the local community. Twenty-five Charlotte-area retailers, including a coffee roaster, are involved in the shop. ("No big brand names!" emphasizes Wright.) And there are three, semi-private "co-lab" spaces where people—guests or locals—can meet in small groups.