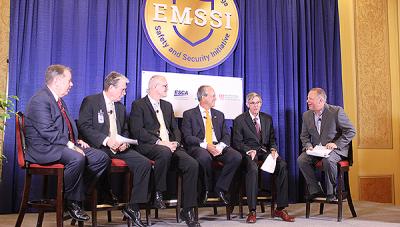 A panel of heavy-hitting conference, expositions, and venue-management associations took the stage at IMEX America in Las Vegas Tuesday to urge the industry to throw its support behind the Exhibitions and Meetings Safety and Security Initiative.
The goal of the initiative is to develop national guidelines to ensure the safety of conference attendees, sponsors, and venues against threats, including terrorism. Properly crafted programs can also qualify for certification under the U.S. Department of Homeland Security's SAFETY Act (Support Anti-terrorism by Fostering Effective Technologies); organizations with approved programs earn some protections in federal court against legal liability for terror attacks. "People who do harm don't carry insurance to help those they harm," noted Bruce B. Davidson, director of the office of SAFETY Act Implementation in the Department of Homeland Security.
The National Football League is one example of an organization that has already earned SAFETY Act certification, Davidson said, and has launched its own set of best practices to deter terrorist attacks.
The primary organizations behind EMSSI are the International Association of Exhibitions and Events, the International Association of Venue Managers, and the Exhibition Services and Contractors Association; supporters include Meeting Professionals International, the Convention Industry Council, the American Society of Association Executives,  and the Society of Independent Show Organizers.
Streamlining the Application Process
The associations have banded together to form the Industry Security Council, which will work to make the process of completing the application for SAFETY Act certification—a whopping 42-page document—easier for the conference industry. "Our industry will have a custom app," promised Kevin Olsen, founding partner with Chicago-based Keyway, a consulting firm working with the Industry Safety Council. The result, Olsen said, will be security plans that are efficient, practical, and effective.
The work of the Industry Security Council will, however, cost money, warned David DuBois, CMP, president and CEO of IAEE. He said that the Industry Security Council hopes to raise $250,000 by the end of March to launch its initiative, and that he and his partner associations will be looking to the industry to contribute to the cause. "This must be a shared expense," he said.
Members of the panel stressed how high the stakes are for the conference industry. Conferences and exhibitions are a $283 billion industry in the U.S., DuBois said, and asked attendees to consider the repercussions that "just one" terrorist attack would have on the industry as a whole.
Davidson encouraged the industry to recognize its own strengths in tackling the issue of security. He called the industry "visionary," and said that "visionary people do things like this."