Aiming to make measurement of a meeting's return on investment both more simple and more powerful, event management software provider etouches today launched event ROI. The new tool offers a continuous check-in on a number of measures related to an event, allowing planners to shift their attention to areas where engagement might be flagging. The measurement can begin weeks or months before the event—as soon as the planner decides on the event's goals (a template is provided) and what metrics and data sources will be used to asses whether those goals are met.
Planners are able to set both quantitative goals (such as number of attendees per session) and qualitative goals (such as attendee engagement), and event ROI's dashboard is set up like a series of gauges showing the performance of each metric in real time. This "quickly exposes issuse and successes," etouches says.
Got issues? Users can find specific suggestions for improving certain measures. Say booth traffic is lower than expected. The tool first suggests ways to improve traffic measurement, then lists concrete ideas for boosting traffic, such as using push notifications or creating extra visibility for a particular exhibitor in your event app.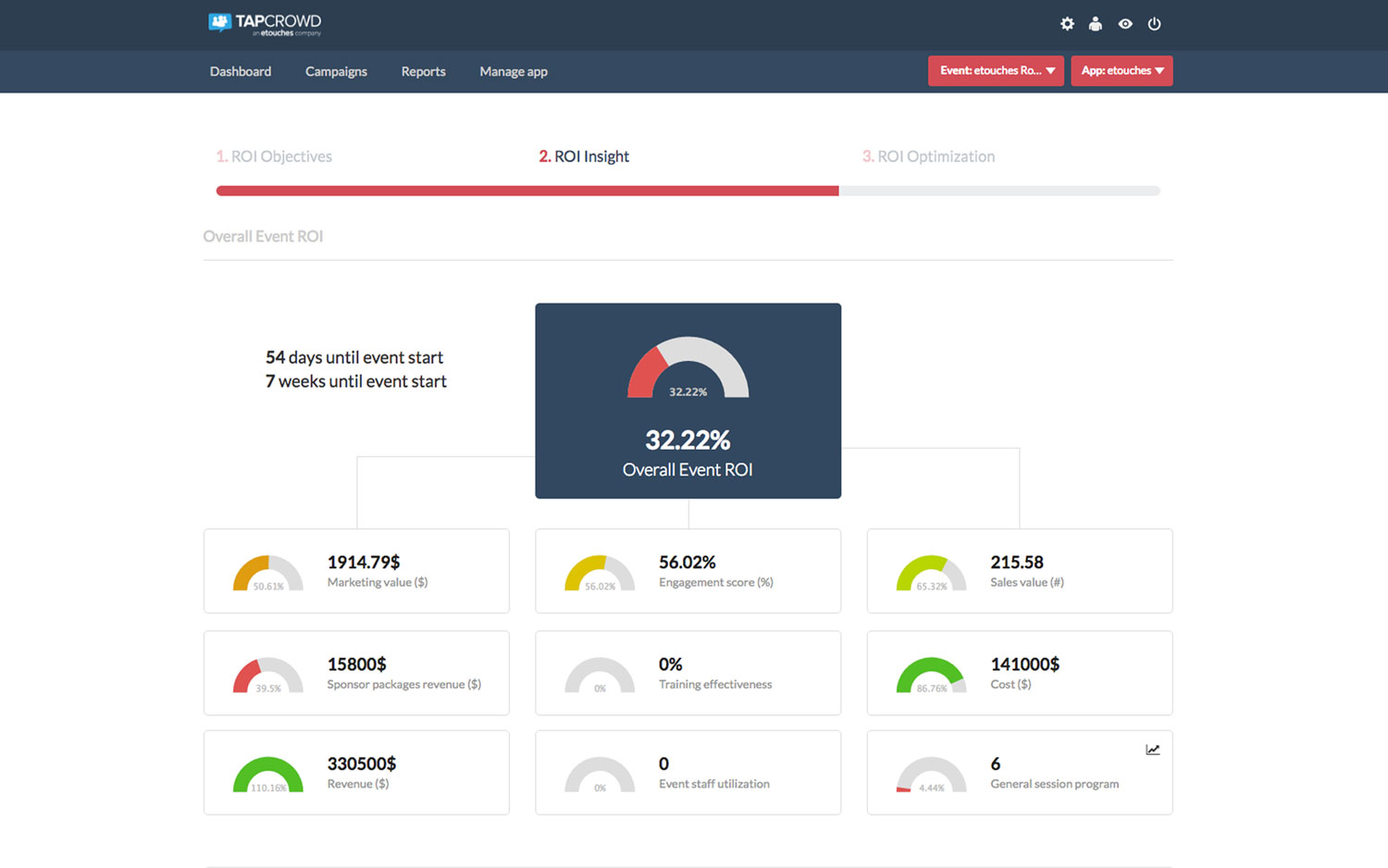 Prior to the release of event ROI, etouches worked with client companies on alpha and beta versions to refine the tool's feature set. One such customer, Comexposium, reported that when using event ROI, "we saw a positive impact on event team behavior and performance by improving their visibility [into] and focus on key metrics."
Etouches closed a $20 million funding round in May and acquired sourcing and e-RFP platform Zentila in June. The new event ROI product will be offered as part of the etouches "plus" offering, a group of à la carte tools that can be added to a client's core or pro package. Headquartered in Norwalk, Conn., etouches also has offices in Orlando, the U.K., Belgium, Australia, UAE, and Singapore.