There are few business events that could succeed with a name that ends in "palooza." And in the medical field, the chance of success would be even lower. But two guys—Derek Warnick, a grant officer for Pfizer, and Scott Kober, principal at MedCaseWriter Inc.—have made it work quite nicely for six years now. Their twice-a-year, free, online-only, one-day events are called CMEpalooza, and they've done nothing but gain momentum since the events debuted.

Held each April and October, CMEpalooza offers seven back-to-back 55-minute sessions on CME programming topics: how to drive better learning outcomes; how to gather and report data from CME activities; how to get pharma firms to fund grant proposals; how to navigate changes to accreditation standards and regulatory guidelines; and more. But with 2020 being such a unique time, Warnick and Kober are, by their own example, educating CME program planners on another topic: how to deliver effective education through a low-cost online format.

MeetingsNet caught up with the duo in early July, as they were analyzing feedback from the spring edition of CMEpalooza to guide their preparation for the fall edition.
MeetingsNet: Given the pandemic, was attendance for the spring 2020 CMEpalooza much different than previous editions?
Scott Kober: We had about 1,100 people who tuned in for at least part of the event, compared to 650 for the spring 2019 event. Seeing that lots of medical events are getting larger audiences this year because there are no in-person versions of those events, we weren't too surprised by the numbers.
Derek Warnick: We also benefited from the fact that so many people are working from home. Whether or not that big bump in attendance will carry over to our fall event, we just don't know yet.
MeetingsNet: What new session topics have come onto your radar screen since the pandemic began?
Kober: For the April event, we usually have things worked out by the end of February, so things weren't yet at pandemic stage as we were planning. But we did pivot to do one session about how the medical landscape is changing and what that means for delivering CME. We made it the first session of the day and it got a big audience. For October, there will certainly be a few sessions about where the pandemic situation is at, and what CME providers can do to adapt over the next year or so.
Warnick: With that said, we are trying not to replicate too closely the education that's going on more broadly about how to shift your event to virtual. We are being conscious about not tackling what is being covered in many other places because we have plenty of CME-related content to present.
We will, however, be relevant to the present environment in another way—specifically in addressing healthcare disparities across our society and how CME programming can be more focused in that direction. Right now, we are looking for the best way to do a session on that.

MeetingsNet: Are you getting flooded with presentation abstracts, as people see an opportunity to address the market of CME planners with their ideas?
Kober: Our process is different than most other conferences, in that we don't solicit abstracts; we come up with each topic on our own and usually enlist a couple of experienced people to explore the topic from their different perspectives through a panel discussion.
But we do have a post-activity survey for the spring and fall meetings where CME planners can suggest topics. And for the upcoming October event, we are covering a topic that a participant suggested: A CME dictionary. We'll have our presenter cover some of the common terms that are thrown around in the CME world that many people might not quite understand what they mean. We want to put context around those terms.
Warnick: From some of the comments we've gotten in our post-event evaluations, we see there's interest in a session devoted specifically to program managers. In the past we've done content somewhat related to them, but this one will be fully focused on their needs. We're not sure exactly how we will approach it just yet, though.

MeetingsNet: With the bigger audience you're getting, have you gotten more sponsors for your sessions?
Warnick: This is how it works every year: We start planning the next event, and I say, 'This is the year we'll get fewer sponsors; we have hit our saturation point.' And then we always get companies who want to come on board. So that's encouraging.
Kober: Our sponsors are usually medical education companies. We are trying to find unique ways to bring value to all our sponsors, though. One challenge of an online event where there is no exhibit hall or one-on-one interaction is finding a way to make a sponsorship attractive.
This past April, we had one technology company with whom we did a special session broadcast one week ahead of the actual event. We called it CMEpalooza Spotlight, and I was the discussion moderator with a panel of four people from the sponsor's company. It wasn't a promotion of their product. It was educational—we talked about how companies could shift from in-person to online education, and this company has a product that can deliver online education. So we didn't speak specifically about their product, but we did talk about best practices for organizations trying to make that pivot.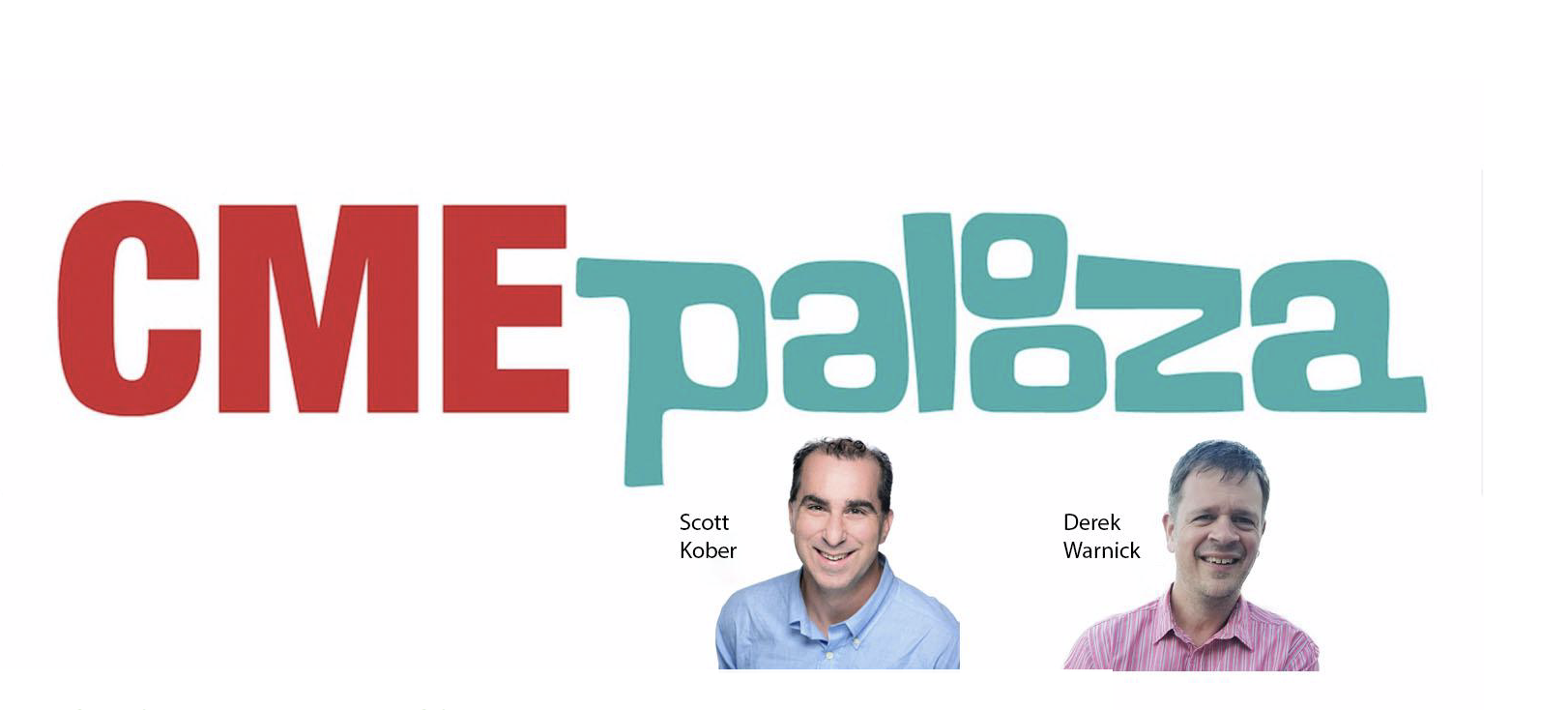 MeetingsNet: Do you think CME planners can learn how to do virtual events better by experiencing your event, even though you don't have a session dedicated to that topic?
Warnick: I think they can learn from us because we do a good virtual conference on a very small budget. We recently switched over from using the free platform Google Hangouts On Air because Google stopped offering it. It was perfect for us because it let you stream the video live and then automatically archived it on YouTube not long after the session. And a lot of our attendees watch one or two of our sessions live but then go to YouTube a few days later to watch the others.
For 2020, we switched over to Streamyard, which is very similar to the Google platform. We use its basic version, which is free, and it meets our needs—it also archives to YouTube, so our sessions are up there 15 minutes after they are done. Also, a good thing with Streamyard is that you can stream it live for people to watch without forcing them to participate in conversation like on a Zoom meeting. Scott and I are doing enough behind the scenes during each session that we can't monitor everyone who is participating in the session, like you would have to with Zoom.
Kober: From our perspective, online education does not have to be expensive to be engaging and impactful. There are various tools out there you can use; you just have to figure out how to use them in different ways to make things work for whatever your event looks like.

MeetingsNet: Based on what you have learned over the six years you've been doing this, what's the best advice you would give to planners?
Kober: The key thing is to not just take what you were planning for the in-person meeting and dump it online. Every session has to be thought through and potentially remade to make it engaging and worthwhile. Nobody is going to sit through two hours of a panel of three people talking among themselves with no interaction.
Actually, I posted a blog entry ahead of our spring event with a lot of online-session tips because we didn't want our event program to focus on that. (It can be found here.)

MeetingsNet: Is the marketing of a virtual CME program as important as the content itself?
Kober: To a large extent, yes. I have been to a few CME online sessions out of curiosity, and people are figuring out how to put together the live breakout rooms that allow small-group interaction. That's a big benefit that should be marketed to potential attendees. With change comes opportunity, so all the companies offering online solutions with all the bells and whistles are out there now. It is just a matter of organizations figuring out what will make logistical sense and financial sense for them, and then marketing the attendee benefits of those.

MeetingsNet: Do you think the pandemic will bring a permanent shift in how CME is delivered? Or is the medical field served too well by the in-person medium?
Warnick: I think the shift to virtual was already on even before the pandemic, and this will only cement it. I'm sure there is some hesitancy to convert fully to virtual because people like live meetings, and there are definitely aspects of live meetings you cannot replicate; the hallway conversations and the overall experience of being around like-minded colleagues can't really be done virtually.
But what we are seeing is more people's eyes being opened about virtual effectiveness. What Scott and I realized after a while is that for the cost involved and the benefit it can bring, the virtual medium is pretty good. And it doesn't have to be perfect—pretty good can get you pretty far. While I do think that in-person events won't go completely away, I assume there will be noticeably less of them from now on, especially smaller meetings.
Kober: The biggest challenge for online events is the financial piece. Obviously, live conferences drive a lot of revenue for member associations and for many CME providers, so it is a matter of how you can make up that revenue online. The industry is going to have to figure out how much to charge for an online event versus an in-person event. And how do you make up for exhibitors who used to pay tens of thousands for a 20-by-20 exhibit booth? What can you give them that has value to them?
Warnick: One complication is that people are not used to paying for things online, and that will be a tough mindset to change. Another is that HCPs use live meetings to get away from their practices for a little while. Hearing the experiences of fellow practitioners and taking a break from the 100-percent mental focus they need in their practices is big for them.

For a deeper understanding of how Kober and Warnick run CMEpalooza, check out this MeetingsNet article.