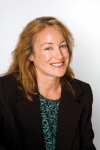 As the November issue's cover story explains, it makes no sense to put your fingers in your ears and loudly sing "la, la, la" when your market changes. As a recent survey by Elsevier's Office of Continuing Medical Education, Academic CME, and ArcheMedX recently found, clinicians are moving away from their traditional reliance on live activities and toward getting more of their education online.So smart providers are not just developing more and better online and virtual activities, they're also evolving their marketing efforts so that these, too, will meet physicians and other healthcare providers where they live, which is more and more in a virtual environment as real life grows ever more packed with patients and home-based demands.

And you know what? They're not so different from you, our loyal readers for lo these 40 years this magazine has been in existence. Our research shows that 81 percent of our readers own tablets, and the vast majority use them for reading, including magazines. According to Forrester Research, one-third of all U.S. adults will own tablets within a couple of years, and I expect that percentage will continue to grow.

Like you, we want to meet our learners where they're living, and it's increasingly obvious that to do that, we need to get much more mobile. That's why we're ceasing publication of the print edition and designing an interactive magazine app for tablets and smartphones. Starting in January, each monthly issue will contain information geared specifically toward what CME providers and pharmaceutical meeting managers need to know, along with lots of practical tips and advice on meetings and events.

So far, we've been hearing a lot of, "It's about time," as we explain some of the new ways we can give you the in-depth, on-target content you expect from MeetingsNet/medical, but in a new way that will include video, Web links, gorgeous graphics, pop-ups, and "tap heres" that will pull you into stories in ways that just can't happen in print. We'll let you know when each monthly issue is out via push notification, so it'll be as easy to download as pushing a button. And we won't have to sacrifice any more trees to get you the information you need, which tickles my little green heart.


If you want to take it for a spin, go to your favorite Apple, Android, or Kindle app store and search for "MeetingsNet" to download the demo. And let me know what you think of it! We'll incorporate as many of your suggestions as we can before the first issue goes live in January 2014. For an in-person demo, come by our booth at the Alliance for Continuing Education in the Health Professions Annual Conference in Orlando.

While I can't say that I'm not just a bit teary as I say good-bye to this old print friend, I am excited about taking the next step into what I believe will be the future of publishing. And that future is just a click away. Care to join me?

P.S. Not everything is changing! We will continue to host and add to the huge storehouse of knowledge we are amassing at MeetingsNet.com in our medical meetings category; produce our monthly medical meetings e-newsletter; host targeted, timely webinars; and of course co-organize our flagship Pharma Forum conferences.