There are more human beings in slavery today than at the height of the transatlantic slave trade.
The human trafficking industry, which is estimated at $32 billion a year, is different from drug smuggling—once drugs are used they are gone. People can be used over and over. An estimated 21 million people globally are being held as slaves, according to the Polaris Project, a leader in the anti-trafficking movement. (Read about one victim and what she's doing to make hotels more aware of the problem.)
If you don't think it affects meeting planners, think again, says Sandy Dhuyvetter, executive producer and host of TravelTalkRADIO and BusinessTravelRADIO and a board member of the nonprofit group Airline Ambassadors International, a nonprofit organization affiliated with the United Nations that provides humanitarian aid to children and families in need."People think that this is happening far away in places like Thailand, but when you start unpeeling the onion, you realize it's in every region."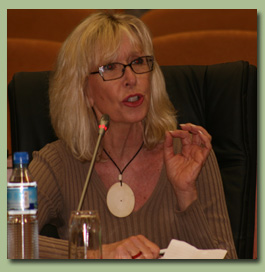 TravelTalk RADIO's Sandy Dhuyvetter 
The victims are not easy to spot. The signs are subtle: a glint of fear or hopelessness in a young girl's eyes, an unusual tattoo on her arm, a little too much makeup, or a companion who doesn't seem like the right fit. Victims are often drugged, or they are simply too scared to run away. Older children are forced to serve as prostitutes or pickpockets, younger ones as beggars. Sometimes they are even deformed—intentionally.
______________________________

HOMELAND SECURITY TIP LINE
866-DHS-2-ICE (866-347-2423) (from United States, Mexico, and Canada)
802-872-6199 (from other locations around the globe)
Or report tips online
________________________________
They come from all over the world, with the leading regions being Eastern Europe, the former Soviet Union, Mexico, South America, and China. But they also come from cities and small towns throughout the U.S., with runaways and at-risk teenagers, victims of abuse, and undocumented immigrants being the most vulnerable potential targets. You'll find them at major sporting events, such as the Super Bowl; concerts; or trucking industry conventions; even the Albuquerque International Balloon Fiesta.
What Does This Have to Do With Me?
Victims are transported via airplane (here's what to do if you see something suspicious on a flight) and train, and often kept in hotel rooms. This is where meeting managers—and the hotels they use—enter the picture.
"At first, when you talk to hotels, they're shocked and will say, 'This doesn't happen in my property, we are a resort,' or 'we're a five-star hotel,'" says Kimberly Ritter, senior account manager/trafficking initiative coordinator, Nix Conference and Meeting Management, St. Louis. "You don't have to be in a motel to have a girl brought to your room."
When she speaks with a hotel and gets resistance, Ritter, who has become a leading advocate for this issue, will sometimes go to Backpage.com, a Craigslist–style Web site that includes a section for finding an escort, and research not the girls, but the hotel settings they are in. "I've traveled so much that I can recognize a landmark outside the window, or a certain chain's bedspreads or throws," she says. She has printed out the listings and brought the photos straight to the hotel general managers. "I had to prove it because no one believed it."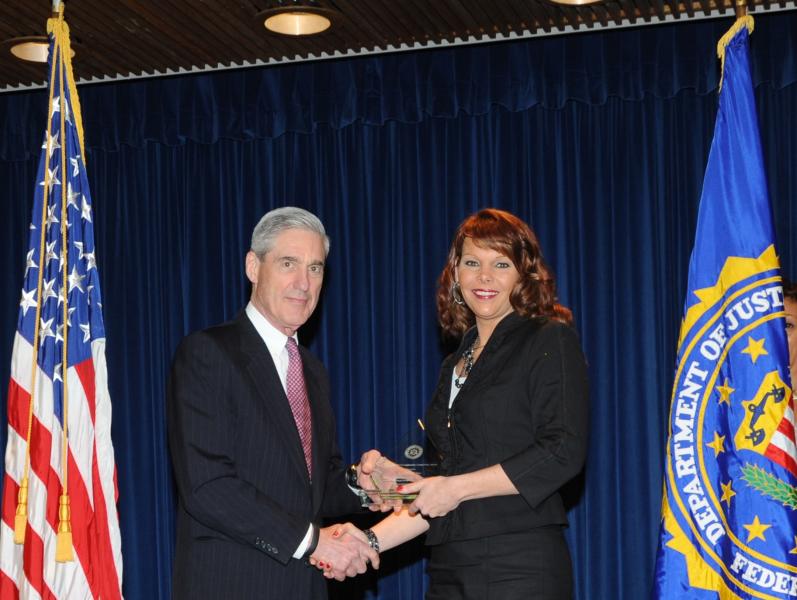 Kimberly Ritter being presented with the 2012 Director's
Community Leadership Award by Dean C. Bryant, special
agent in charge of the FBI St. Louis Division, for her work
combatting human trafficking
"This is not a moral thing, it's illegal," says Jennifer Silberman, vice president, corporate responsibility, at Hilton Worldwide. "At the end of the day, you need to make sure your hotel is not an accomplice. Knowing and not doing something about it puts the hotel at risk.
"There is no gray in this, it's black and white—it's sex with a minor."
The Starting Point: The Code
Once meeting and hotel managers are aware of the issue, what actions can they take? One important step is to sign what's known as "The Code" (The Code of Conduct for the Protection of Children From Sexual Exploitation in Travel and Tourism). This document was developed by ECPAT (End Child Prostitution and Trafficking) in Sweden after the First World Congress against Commercial Sexual Exploitation of Children in 1996. More than 1,200 tourism companies from 42 countries have signed (only 17 from the U.S., among them Hilton Worldwide, Wyndham Worldwide, Carlson Rezidor Hotel Group, and Delta Air Lines). Companies pay an annual fee based on their revenue for the year (50 euros, or about $65, for companies with revenues under $500,000, up to 2,000 euros, or about $2,600, for companies with revenues over $50 million). Once an organization signs The Code, it must report on its human trafficking initiatives annually.
"It's shocking how few have signed this in the U.S.," says Michelle Guelbart, private sector project coordinator for ECPAT USA. 
But that is changing: In April, the Association of Corporate Travel Executives signed The Code at its Global Education Conference and is in the planning stages of education for its two international annual events. Sabre Holdings signed last September, pledging to train its 10,000 employees around the world. Sam Gilliland, Sabre's chairman and CEO, is working to raise awareness throughout the travel industry, including as the keynote speaker at ACTE's April 2013 meeting. ECPATUSA will also have a booth at the August Global Business Travel Association convention in San Diego as part of the GBTA Foundation's Project ICARUS initiative.
On the hotel side, Hilton Worldwide signed The Code in April 2011 and has spent the past two-and-a-half years training its managers and employees on what to look for in their daily jobs. "It has been very eye-opening for our team members," says Silberman. "Employees have learned about potential red flags indicating illegal activities in their hotels and how to bring it up at a meeting or talk to a general manager. The training is tailored to the different roles in a hotel, she says. "Housekeepers will be seeing things that are different than what the concierge or the front desk might see."
Put it in Your RFP
As part of their broader human rights efforts, some large companies and associations have begun to include a single question in their RFPs asking if their suppliers have done training or have policies in place regarding human trafficking. Silberman admits she's "not sure how much it impacts purchasing decisions at the end of the day," and Ritter insists that it's "simply not enough. We used to ask, 'Do you have a policy against human trafficking?' and one hotel replied, "Yes, we have crosswalks in front of our hotel.'" They didn't even know what the question meant.
So her company chose different terminology. "We want them to be aware that this is an issue involving 'child sex trafficking.' And even if someone has had her 18th birthday, it doesn't mean that she's not a victim."
Ritter made national news in 2011 when she was planning a meeting for the U.S. Federation of the Sisters of St. Joseph, who asked her to query hotels about their policies on human trafficking as part of the site-selection process (at the time, she was unaware of the issue). Her hotel for the meeting, the Millennium Hotel St. Louis, agreed to sign The Code and put its employees through training. General Manager Dominic Smart also went to the leadership of Millennium and Copthorne Hotels to get permission to become a pilot program for the company.
"We had so much power, as all meeting planners do," Ritter says. "When we walked into that hotel, we didn't represent one person for five nights, we represented tens of thousands of hotel rooms a year."
Not only would Ritter like to see all hotels become as responsible as the Millennium St. Louis, but for all meeting planners to take a stand. "You can go to the ECPAT Web site and print out a letter that informs hotels of some of the general facts, then share that with the general manager and ask him/her to sign The Code. The sales director is not the person who can make this happen and send it up the line to corporate. When we get to the point where, every day, meeting planners are bringing in this letter saying they prefer that their hotels sign the code, that's when change will happen."
She and the owners of Nix Conference and Meeting Management, Jane Quinn and Molly Hackett, have also worked with ECPAT to create a specific version of the code that includes recommendations for how meeting planning companies can implement it. It just became available on the ECPAT Web site, and her company was the first to sign it.
At press time, Ritter was working to pull together a spring 2014 conference to educate planners and suppliers in the meetings industry on the topic.
But there's a long way to go. She has seen a slight increase in awareness since her first experience at the Millennium—but not much. She and others, like Silberman, estimate that only about five percent of hotels are trained in this area. "Some people still think it's political or don't want to draw attention to themselves," Rittersays. "It's just the right thing to do—to train your staff to look out for this.
"We came at this as a smaller company. We talk about it all the time, and we are not afraid to take a stand. And we haven't lost business. It's OK to talk about it."
New Version of the Code for Meeting Planners
The ECPAT Code (the Code of Conduct for the Protection of Children from Sexual Exploitation in Travel and Tourism at TheCode.org) has six criteria, which members of the tourism industry must agree towhen they sign. It was recently revised to include ways that meeting planners can implement each step, in italics:

1. To establish a policy and procedures against sexual exploitation of children.
Sample language for policy available upon request.
2. To train employees in children's rights, the prevention of sexual exploitation, and how to report suspected cases.
Train employees on children's rights, prevention of sexual exploitation, and how to effectively engage travel and tourism companies to address this problem.
3. To include a clause in contracts throughout the value chain stating a common repudiation and zero-tolerance policy of sexual exploitation of children.
Include language in RFPs throughout the value chain stating a preference for companies with a common repudiation and zero tolerance policy of sexual exploitation of children and/or Code membership. Sample language available upon request.
4. To provide information to travelers on children's rights, the prevention of sexual exploitation of children, and how to report suspected cases.
Through Web site and with customers, when possible.
5. To support, collaborate, and engage stakeholders in the prevention of sexual exploitation of children.
Engage local service providers, law enforcement, legislators, peer companies, and the media on the issue.
6. To report annually on their implementation of Code-related activities.
Record implementation throughuse of TheCode.Org portal and an annual report will be generated at the end of each year.