The Ritz-Carlton Hotel Company, LLC, will open more than 40 hotels through 2018, mostly outside North America, and including new brands that bring excitement and diversity to the Ritz-Carlton portfolio. Executives shared details of the hotel company's growth and diversification with attendees at The Ritz-Carlton Insurance Advisory Council meeting in August. And they gave a nod to hotel owners, who are spending some $250 million on renovations through 2014 to keep their hotels "fresh, relevant, and competitive."
Expanding the Brand
Donna McNamara, senior director, brand management, spoke about Ritz-Carlton's two brand extensions, Reserve and Edition, and its brand partnership, Bulgari, on the first day of the advisory council meeting, which drew some 70 planners and Ritz-Carlton representatives to The Ritz-Carlton, Sarasota.
Hallmarks of Reserve properties are a maximum of 100 rooms set on large, remote landscapes. They are private and informal, reflecting a sense of place and culture, but in addition to the physical characteristics, Reserve properties are about "the connections and the cultural immersion," McNamara explained. "There are no check-in desks. It's not transactional; it's about the experience."
Two Reserve properties are already operating, in Phulay Bay, Krabi, Thailand and in Dorado Beach, Puerto Rico. In all, Ritz-Carlton expects to open 20 Reserve properties.
Bulgari properties, on the other hand, are primarily in city destinations. Again, they are generally 80- to 100-room hotels, with an emphasis on design. Three Bulgari hotels are open now, in Milan, Bali, and London, and hotels in Shanghai and Beijing will open in 2016.
EDITION, a hotel concept created in partnership with Ian Schrager, is Marriott's answer to a luxury "lifestyle" brand. Characterized by sophisticated yet comfortable design and emphasizing lobbies, nightlife, and public spaces, EDITION will attract younger guests for whom the social aspect of travel is paramount.
The EDITION Istanbul opened this year; next up are the London and Miami Beach hotels. The Miami EDITION is located north of The Ritz-Carlton, South Beach, and will be the largest of the brand. EDITION hotels in Morocco and Bali Ubud open in 2015, followed by Bali Tanah Lot in 2017.
The 411 for groups at these properties? You'll find corporate customers doing business meetings at Bulgari, executives changing their perspectives and ways of thinking at Reserve, and younger achievers in the lobby with their iPads at EDITION.
The Miami property will emphasize entertainment (an ice rink and bowling alley are planned), and there will be opportunities for groups based at The Ritz-Carlton, South Beach, to plan themed events at the Miami Beach Edition, which will have a ballroom and prefunction space.
Insurance and Financial Meeting Trends
A highlight of each year's advisory council meeting is reviewing the state of the industry from the meeting planners' perspectives. For the hotel company representatives, this offers insight into how they can better work with companies on their meetings; for the planners, it's a chance to hear about the challenges their peers are facing and share ideas for managing them.
Jamie Kerr, account director at Team One, Ritz-Carlton's advertising agency, moderated this year's discussion. Broad trends included:
1. Changes in companies' organizational or operational structure (that is, leadership changes, corporate changes, and/or changes in planners' responsibilities)
2. Continuing effects on budgets from the slow economic recovery continue, but incentives are back
3. Increases in internal expectations, and doing more with smaller staffs
"When there is a change in management, we need to reeducate them and prove our value and worth," said one planner in attendance. Another pointed out that when the management moves are internal, it's less of an issue because "they know you." Still, a third said that planners "are constantly challenged with showing value. Our company has been committed to incentives throughout the recessions, but budgets are still tight. Our hotel relationships are critical."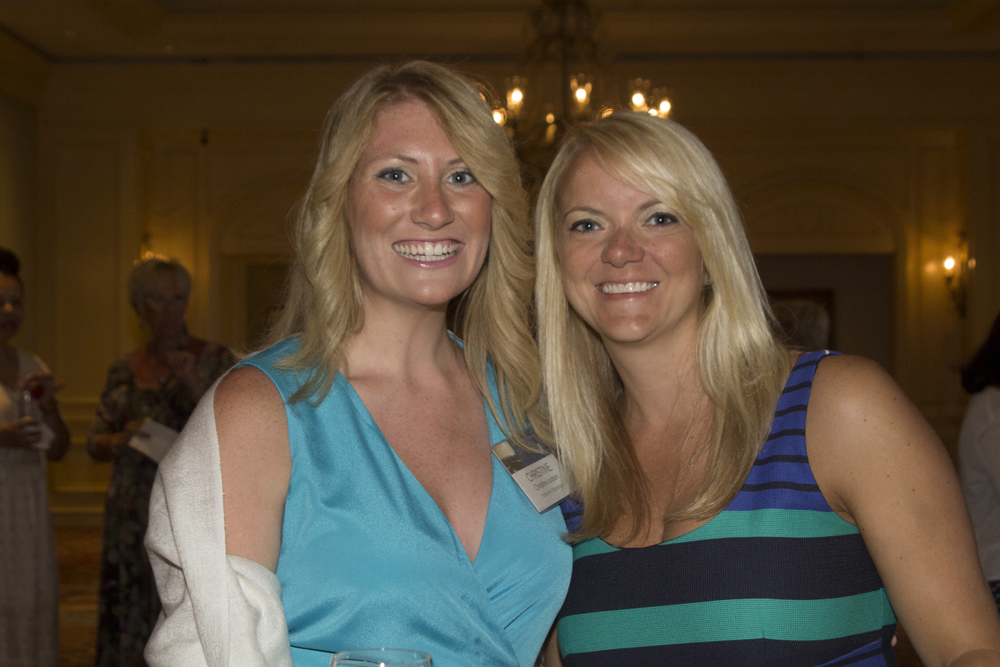 Christine Judson, Hotel Arts Barcelona (left) and Michelle Johnston, CMP, Assurex Global
 
AV and Wi-Fi
The rising cost of audiovisual services was a concern for planners working with flat budgets. One said he has begun using an outside AVcompany in response to steep in-house pricing at some meeting hotels. One planner had a positive venue experience that she would like to replicate: her connectivity needs were extensively reviewed and extra routers were installed to accommodate her, while a full-time Internet connectivity consultant was assigned to her group. "The first thing I do on a site inspection now is turn on my devices to see how the connection is," she added. "If it is not working, that's already a negative."
Resorts need to pay as much attention to this issue as do business-oriented properties, noted one planner. "Understand that connectivity is still important for incentives," she said. "We do four hours of business meetings per day." A hotel executive mentioned a statistic showing that business travelers carry upwards of four devices—then a planner added that when qualifiers' spouses and kids bring all their devices, too, you could have 10 devices in one guestroom.
From the hotel side, things are changing so rapidly that a property built only three years ago may already have to reinvest in its Internet infrastructure. When a hotel is built today, companies must anticipate what the current move to mobile will mean in the future in terms of bandwidth, cellular, and wireless requirements.
Leading by Example: Ritz-Carlton Gets Creative
While discussion is a large part of the annual advisory council gathering, attendees also collect ideas for their own programs based on what they experience at the host property. For example, seating for this year's general sessions was at rented boardroom tables with upholstered boardroom chairs, a comfortable change fromthe typical banquet round.
Each break and meal involved creative cuisine, of course, but beyond that, attendees were impressed by the relentlessly clever presentation and service as well. For example:
• An airline-themed break featured one banquet server outfitted as a pilot and another as a flight attendant alongside two aircraft service carts filled with beverages, tins of roasted almonds, baguette slices served with tubes of paté in paper boxes with the local airport codes stamped on top, plus homemade cookies in rustic paper packaging labeled with handwritten tags and tied with twine.
• A golf-themed break featured a spread of snacks in the back of a beverage cart and included grilled shimp on chopstick "tees" popping out of a "grass"-lined tray, which had beef tartare in savory cones teed up for guests as well. If all that wasn't enough for guests to talk about, the break featured putting contests as well.
• At breakfast, individual cereal servings were packaged in Mason jars, and a smoothie station offered healthy, colorful "power shots" arrayed in shot glasses for attendees to mix and match with juices into customized blends
• A baseball-themed lunch featured burgers and brats, plus desserts in disguise: chocolate corndogs with raspberry "ketchup" and macaroon sliders and hot dogs
• Signage sealed the themes: At the airline break, the snack station labels were typed onto a sheet of paper that looked like an aircraft manifest; at the baseball lunch, food items were identified by labels written on baseballs; at the golf-themed break, descriptions were written on score cards
• A true locavore experience during dinner found attendees watching the fish they were about to eat make its way up the beach from fishing boat to fillet table. There, Executive Chef Dwayne Edwards demonstrated his knife skills, and then the fresh catch hit the outdoor grills.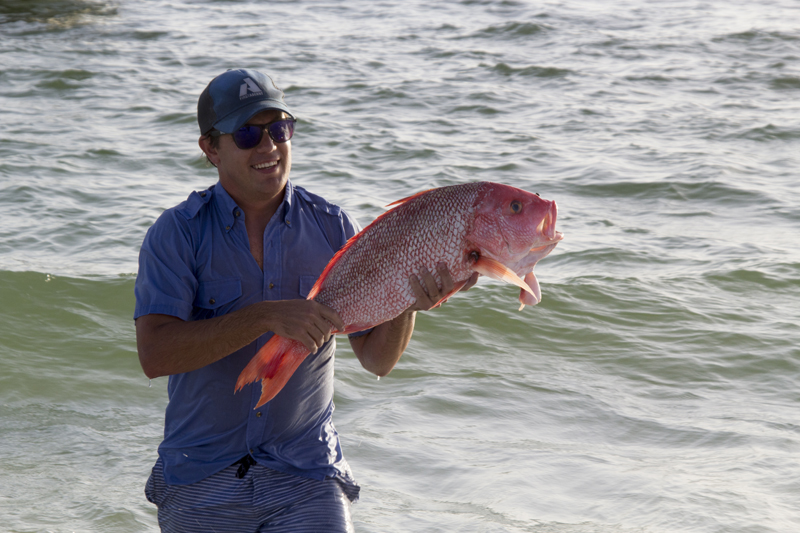 F&B Supervisor Zachary Wendel jumped in to lend a hand getting this red snapper (and many other fish) from boat to shore to grill during The Ritz-Carlton Insurance Advisory Council opening night dinner.
 
• An appetizer of fish, fruit, and compotes was presented on the plate as a colorful arrangement of balls and polka-dots as part of a circus-themed dinner
The uniqueness of each F&B event got attendees talking—it's a great way to keep the networking going at conferences. And it was a reminder to planners to work with chefs and event staff to go beyond the banquet menu. Ask for examples of creative choices they've made for other groups, or what local cuisine excites and inspires them.
Kimberly Payne, the company'scorporate director, event management, meetings, and special events, spent time reviewing Ritz-Carlton's new online Culinary Arts and Events menu. This is a brand-wide framework for catering orders that will include local adaptations based on each property's specialized offerings. Planners using the online menus choose meals and breaks and put them into a "shopping cart," then work with on-site event staff to customize their selections.
This type of online shopping also is available for other ancillary services such as audiovisual.
The Portfolio and the Pipeline
Kelly Wood, vice president, global sales offices, North America, reviewed recent renovations as well as some of the properties in the international pipeline:
• The Ritz-Carlton, South Beach, underwent a complete guestroom redo. Guestrooms plus restaurants are being renovated at The Ritz-Carlton, Naples, which will reopen in the fall. The Ritz-Carlton, Amelia Island redid its rooms and added a ballroom. Guest rooms and restaurants were renovated at both The Ritz-Carlton, Grand Cayman, and The Ritz-Carlton, Reynolds Plantation. New soft goods were installed at The Ritz-Carlton, St. Thomas. Guestrooms were renovated at The Ritz-Carlton, Laguna Niguel, and The Ritz-Carlton, Bachelor Gulch. The latter will introduce a new restaurant this fall.
Opening in 2013
Aruba (320 rooms; 7,500-square-foot ballroom)
Abu Dhabi, Grand Canal, U.A.E. (532 rooms; 22,000 square feet of meeting space)
Chengdu, China (353 rooms)
Tianjin, China (near Beijing, 277 rooms)
Bangalore, India (the tech belt, 277 rooms)
Herzlia, Israel (115 rooms)
Almaty, Kazakhstan (145 rooms)
2014
Rancho Mirage (290 rooms, 18,000 square feet of meeting space)
Cairo, Egypt (327 rooms)
Rabat, Morocco (120 rooms)
Kyoto, Japan (136 rooms)
Bali Nusa Dua Beach, Indonesia (288 rooms)
2015 and beyond
Panama City, Panama
Nanjing, China (near Shanghai)
Gurgaon, India
Macau
Ho Chi Minh, Vietnam
Haikou, China
Langkawi, Malaysia
Bangkok