More than 650 planners, hoteliers, and other suppliers are in Boston November 17–20 for the 2013 Financial & Insurance Conference Planners Annual Conference. Unique in the world of meetings industry meetings, FICP holds to a specific ratio of buyers to sellers, offering attendees a focused opportunity to learn from their peers and do business with their partners.
This year's conference is headquartered at the Sheraton Boston Hotel, with events also planned at the Boston Marriott Copley and the Hynes Convention Center (both of which are connected to the Sheraton), as well as an elegant off-site venue, the State Room.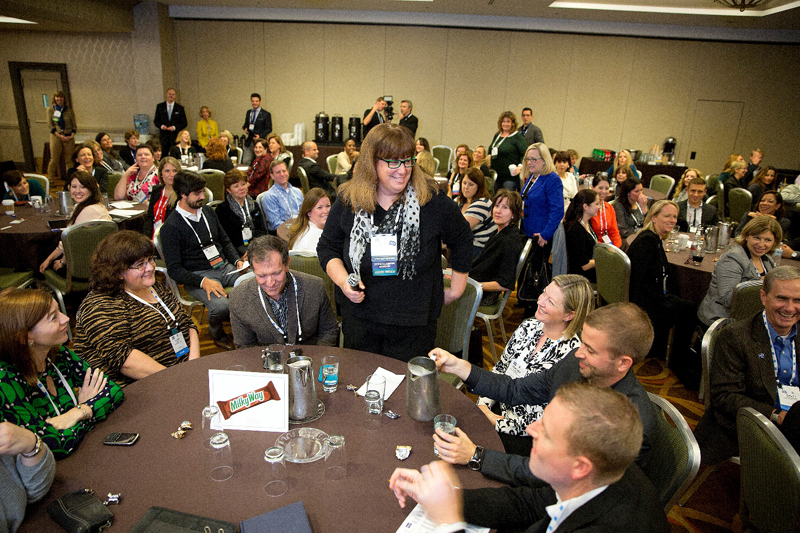 A session for first-time attendees at the FICP conference included an icebreaker that
involved candy bar varieties. Are you more Milky Way or Butterfinger?
Photo by Evan Richman
 
Two peer-to-peer sharing sessions kicked off the conference Sunday afternoon, one for FICP planner members and the other for hospitality partners. The combined group then came together for a welcome reception at the Boston Marriott Copley. With a four-seasons theme, Marriott presented entertainment by shadow-dance troupe Catapult, finalists on "America's Got Talent," whose eight members danced and posed behind a screen forming shapes that reflected the seasons—the spring butterfly was especially impressive.
Innovative food stations featured iPads that both described each food item and specified if it was vegan, gluten-free, etc., which many were. (Of course, there was plenty to love for bread and meat-eaters, too!)
New Trade Show Model
The conference continues Monday morning with TheNetwork Live. Envisioned as the face-to-face extension of FICP's TheNetwork online,  this year's trade show marks the association's first foray into an appointment-based event. First time or not, more than two-thirds of planners booked at least one appointment (there were 12 available slots in the three-hour timeframe), and an impressive 85 percent of hospitality partners has at least one planner appointment. Many have all slots filled. A total of 1,120 appointments were booked.
The conference continues through November 20.