Nothing says "Millennial" like PlayStation consoles, tattoos, and a few thousand tweets. But that's just the tip of the Gen-Y iceberg when video game retailer GameStop brings together its 4,500 store managers—most between 23 and 26 years old—for the company's Expo each August.
GameStop holds the meeting to provide leadership training, get store managers excited about the Q4 video game releases, and drive revenue, but you might say it's Judy Anderson, CMP, who adds the special Millennial sauce. The store managers, mostly male, love technology, thrive on interactivity, and want ownership of their meeting, says Anderson, director of meetings and travel, and she's committed to developing fun ways to give them what they want and engage them with the meeting, the company, and their peers.
"I try five new things each year—not expensive, but impactful," says Anderson, noting that each idea should pass her "triple E" test, meaning it should "excite, engage, and empower." From video contests to volunteer DJs, Anderson has a flair for adding gamification and fun to the conference that work well with her crowd.  "There's so much you can do. Trust your instincts," she says. "What might be obvious to you could be a brilliant idea to someone else."
Anderson's inspired, try-anything-once approach has lead to a bulging grab-bag of low-budget, high-impact tactics. Here are 18 favorites that will score with your Millennials—and probably everyone else, too.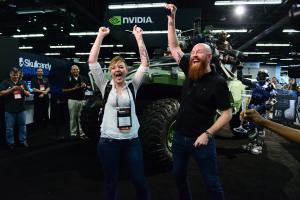 GameStop's Chris Wiseman, a.k.a. Captain Redbeard (right), parlayed his win in the GameStop emcee competition at the 2009 Expo into a gig as a company spokesman and Internet personality. Here he celebrates after getting engaged on the show floor at GameStop's 2014 Expo.

During the Expo's general sessions, some of the most popular moments are where the lines blur between the 20-something audience and the presenters on stage. One way Anderson makes this happen is with an emcee competition, which also gets employees involved during the runup to the event. Anderson puts out a call for audition tapes for anyone who wants to be a general session emcee. She gets between 30 and 50 entries, and her team winnows those to a dozen, posts them on the company's internal Web site, and lets employees vote for their favorites. The top five get an emcee slot during one of the Expo's general sessions, and employees rate their performances in real time using a mobile tool. At the end of the conference, a winner is named.
Randomly Assigned VIP Seating
Anderson adds some smiles to her general sessions by setting up a front-row VIP section—eight recliners set off by velvet stanchions, with side tables, snacks, and drinks.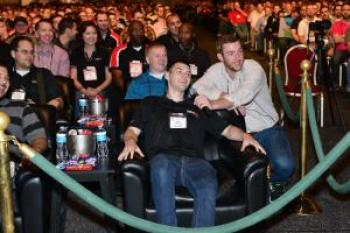 At the Expo's first general session, the emcee picks four winners in a random drawing and each (with a friend) gets a cushy seat at the front of the room. While the winners can stay in the loungers all week, the rest of the crowd is encouraged to try to trade their way into the seats. Trading, Anderson notes, is a big part of GameStop's store culture, where customers trade in their games for new ones.
Gift Cards Not Banquets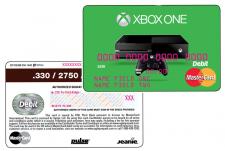 Anderson saves big money—about $1.2 million per Expo—with an idea she says is appreciated by her 20-something crowd. Rather than hosting massive dinners in the convention center ballroom, she gives each of the 4,500 store managers a gift card to cover dinners on three out of the four nights of the show. The dollar amount is much lower than the cost of a dinner in a ballroom, but is still enough to get a great mid-priced dinner on the town! Plus, the Millennials are happy with the arrangement, Anderson says, because it gives them the freedom to get out and explore the destination. "The city is excited, too," she notes, because of the spending in local restaurants, "plus we make some money by getting a sponsor for the custom gift card."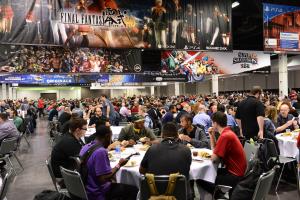 Crowdsource the Menu
Here's a quick and easy engagement idea that Anderson says gets kudos out of proportion to the effort: Let your attendees choose a menu. A few months before the meeting, she asks registrants to vote for one of two choices for lunch on the final day of the conference by posting a poll on the main page of the conference Web site. Letting attendees decide, she says, is just one more small way of giving them ownership of the Expo. The results: In the 2014 menu survey, 58 percent voted for the Italian buffet (with a pizza bar) versus 42 percent for the Mexican Fiesta buffet.
Don't Silence Your Phone
From time to time in GameStop general sessions, the emcee calls the cell phone of a random person in the audience. "It gets them to pay attention!" says Anderson. "It's fun and free." The emcee may simply call to tell the attendee that he's won a prize, or it may be to ask a question related to the show. For example, with the 2015 conference theme "Why Service Matters," the emcee could ask what service means to that attendee. "Our attendees want to hear from their peers, not just the corporate stance," Anderson says.
T-shirt Design Contest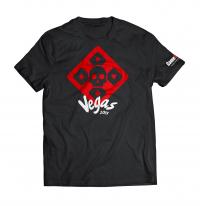 The 2015 winning T-shirt design is ready for this summer's Expo. Anderson's advice: "Don't assume your audience isn't creative!
Anderson's T-shirt design contests are part teambuilding activity and part fundraiser, and give the attendees a voice in the identity of the event. Four months before the show, Anderson invites store managers to get a team together to create a T-shirt design for the meeting. A limited run of 1,000 of the winning design are produced; members of the winning team get free shirts and the rest are sold at the Expo's GameStop Gear store, with $2 of each sale going to charity. The designs, says Anderson, are "organic, natural, raw—definitely not corporate." And that suits her attendees just fine.
DIY Videos
Every other year or so, Anderson runs a pre-Expo video contest to get store managers—and other employees—tuned in to the theme of the meeting and encourage some fun. This year, the conference theme is "Why Service Matters." The videos are submitted by district (GameStop has 360 districts around the country), and Anderson typically receives 40 or 50 submissions, each of which runs two to five minutes. The events team selects the best to be posted on the company intranet and aired on the company TV channel before and after store hours. Anderson's team then narrows the field to 12 finalists to be shown at the show. Not only do the videos serve as fun, free entertainment during general sessions, but Anderson engages the audience further by asking them to rate the videos using text-to-screen polling and crowning a winner on the last day of the Expo.
Raffle Prizes for Free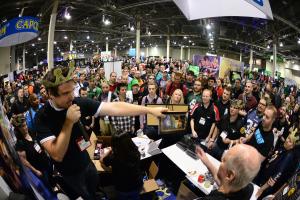 Anderson has several ways she incorporates philanthropy into the conference that connect with attendees and don't cost her a lot. Last year, the Expo raised about $60,000 for the three children's charities that GameStop supports: Ronald McDonald House Charities, Make-A-Wish Foundation, and the St. Jude Children's Research Hospital. About 80 percent of that money came from an old-school favorite: $5 raffle tickets. Beyond the good causes, what makes Anderson's raffles work is that she buys great prizes—everything from iPads to cruises to big-screen TVs—using membership reward points she earns on her company credit card. "I put everything for the meeting on the American Express card," she says. She raffled off 20 prizes in 2014—loot worth about $8,000. It doesn't cost her a thing and attendees love it.
Facebook's Free Real-Time Polling

Anderson has worked with Ipsh! (a division of Dallas-based The Marketing Arm) for her real-time polling, but in 2015 she's trying something new. Facebook's "closed group" communities now offer free polling and she plans to use that service to ask questions of the audience throughout the week. Attendees are invited to be part of the closed group, and executives are working to get all the districts on board.
The Marketing Arm will still be part of Anderson's team, handling the interface that puts attendees' almost-real-time texts on the general session screens as attendees walk in. The texts, she says, are reviewed by The Marketing Arm for appropriate content, but "we still like it real, raw."
Make Service a Perk
2015 will be the third year that Anderson has organized a community service event at the GameStop Expo, but rather than an event that's open to everyone, she creates a small group affair that is both volunteer opportunity and a special perk. Anderson uses a simple Survey Monkey poll to ask registrants if they want to be included in a drawing for a spot on the community service team. She typically has about 200 volunteers, and from that pool, 10 people are randomly selected. Winners are flown out to the meeting destination a day early, and donate their time to the Ronald McDonald House Charities, which helps families stay close to a hospitalized child. GameStop picks up the extra hotel night for the volunteers and holds a team dinner. Anderson ties the community service to the main meeting with a slide show during a general session (and online) and a shout-out from the stage to everyone involved.
Wellness Screenings
Wellness screenings aren't a typical conference engagement strategy, but over the past four years they've become a key part of the arrival day experience for Expo attendees, and a classic win-win for everyone involved: Store managers get a $50 gift card for getting a checkup, and the GameStop benefits team lowers the company's healthcare costs by increasing the number of store managers who have been screened. Anderson reserves 15,000 square feet of space for the dozens of screening stations (you need plenty of space to meet HIPPA privacy requirements, she notes), and last year got more than 3,500 attendees to go through the process, including having their blood drawn and blood pressure taken.
Playful Playlists
When an attendee comments in a post-meeting survey or on social media about the walk-in/walk-out music used in a general session, Anderson jumps on the information. Whether the comment was positive or negative, she puts that attendee on a list of people she asks to create a 20-song playlist for the next Expo. She likes to ask three or four people each year and is sure to thank them in the show guide. If you try this, don't expect the golden oldies if you've got a Millennial crowd. Walk-in music, GameStop style, might include Thrift Shop by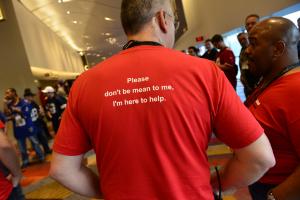 Macklemore, Right Side of the Bed by Atreyue, and Safe and Sound by Capital Cities, says Anderson.
Creative Staff Attire
What does your staff attire say about your event? For Anderson, 15 different messages on the backs of her event team T-shirts let attendees know that it's ok to have some fun. A few examples: "Sarcasm, it's just one of the services I offer," "Fifty shades of tired," "Free piggy-back rides," "All event team members are equal, but some are more equal than others." Each of the 45 event team members (all company employees) get five shirts for the week, each with a different message across the back to show a little attitude.
Repurpose App Photos
In 2014, the game element of the conference app was all photography-based, giving attendees points for taking certain pictures (themselves with an event team staffer, someone wearing red pants, the worst outfit, etc.). About 3,500 of the 4,500 attendees downloaded the app, generating thousands and thousands of photos, which Anderson repurposed as a collage of attendee photos to close out general sessions—no professional photographer required!
The Conference Tome
Anderson knows that the Expo's 115-page, eight-inch-square show guide isn't for everyone. "It's not green," she's quick to point out. But there are at least two reasons that it's important to her operation beyond some significant advertising dollars (about one-third of the guide is ad pages).
• Shout-Outs: Everyone likes to see their name in print and the guide is another touch-point with the audience. She peppers it with shout-outs to everyone she has a reason to thank, from the people whose musical ideas were used for the general session, to the T-shirt contest winners, to the one attendee who always notes a love for soft pretzels in the survey! Everyone is called out by name. 
• Menus: Anderson dedicates seven full pages of the guide to buffet menus, which include every detail that she gets from the convention center catering department. Without it, attendees have a lot of questions, so printing it "expedites the buffets like crazy," she says. "We've got 4,800 people getting meals at the same time and we move them all through in about 40 minutes. If attendees know what they're looking for, your lines move quickly."
The Consumer Event
In 2012, GameStop added one of the Expo's biggest engagement events, but this one was meant to connect with the public rather than employees. Store managers spend one evening in the 250,000-square-foot, 100-booth Expo show floor, where they try out new games, gaming consoles, and peripheral devices. Four years ago the company decided to make a major change by extending the trade show for an extra day and opening it to the public. GameStop and its exhibitors now get exposure that they would have missed, attracting 3,000 to 5,000 consumers who pay $40 per person to attend the one-day event. (For $110, VIPs get to arrive an hour and a half before general admission and can play in any of the dozen gaming tournaments held during the day for free.)
Bring in the Home Team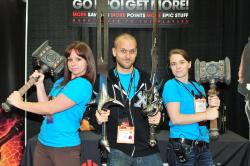 Anderson builds engagement with a 45-person meeting team that really understands the corporate culture: home office employees. "It's more expensive to do it this way. It probably costs me double what it would cost to hire local staff from a DMC," she says. "But these associates care about the impact of the event, they care about the quality of customer service, and they care about the attendees. The dedication of the event team is what makes our event a success." Anderson brings employees from IT, finance, inventory control, and other areas, each of whom is assigned to lead or support the areas of the event that best fit their skills.