Brought to you by

With the robust economic climate of the past few years bringing positive effects to many parts of the world, there are now more opportunities than ever for meetings, conventions, trade shows and incentive groups to venture to destinations they haven't been before. One destination that's receiving much attention from group-event planners right now is Singapore, where a business-friendly atmosphere, unparalleled infrastructure, advanced technology plus diverse cultural offerings serve to maximize the experience of delegates of meetings, conventions, trade shows and incentive travel.
Event and Attendee Logistics Made Easy
Centrally located between Japan, China, India and Australia, the city-state of Singapore has more than 100 airlines serving Singapore Changi Airport with 7,200 flights per week connecting to 400 cities worldwide. In 2017, 62.2 million passengers came through Changi, voted the world's best airport for the fifth consecutive year at the 2017 World Airport Awards.
For event attendees, Singapore's ease of travel extends well beyond the airport. Singapore EXPO and MAX Atria, two major meeting and trade show facilities, are one stop from Changi Airport via the Mass Rapid Transit (MRT) system, or less than a 10-minute drive. Suntec Singapore Convention and Exhibition Centre as well as Sands Expo and Convention Centre, both located in the central business district, are just a 50-minute MRT ride or 20-minute drive from Changi Airport.
Singapore's success with business events is enhanced by progressive technologies. A next-generation broadband network already reaches 99 percent of homes and businesses in Singapore. It was also recognised as the world's second-fastest broadband nation in 2017 by Ookla, with mobile Internet users getting 44.3 Mbps on average. Besides the wide and robust Wifi coverage, Singapore is right now working on innovation that will form the infrastructure for a "Smart Nation," bringing connectivity in "E3A" fashion: everyone, everything, everywhere, all the time. Given all this progress, Twitter and General Electric both moved major Asia-Pacific operations to Singapore within the past year.
Another example of technology benefiting business groups is Suntec Singapore Convention and Exhibition Centre's new ImmerseAV suite, which uses holographic projection to create unique event experiences. The suite comprises the Panorama, a wide-format projection screen that is 300 feet wide and powered by 20,000 lumen projectors, and the Float3D, an illuminated centerpiece suspended 18 feet above the ground that presents still images and logos using animated effects. This is but one example of the leading-edge capability powering Singapore's meetings and hospitality sector for a better event experience.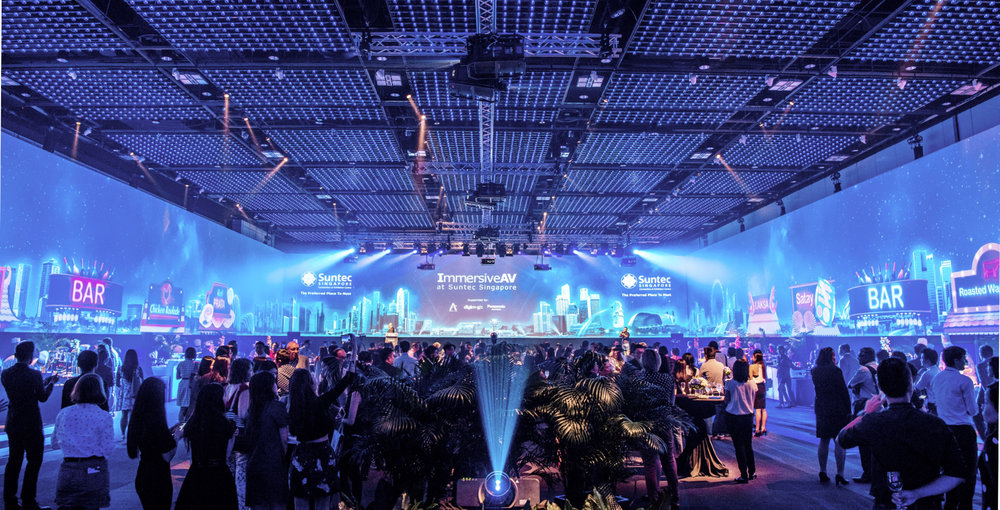 Suntec Singapore Convention and Exhibition Centre's new ImmerseAV suite uses holographic projection to create unique event experiences.
 Cultural Experiences Enrich Meetings and Incentives
While business dealings in Singapore are made easy by the fact that English is widely spoken, the unique mix of cultures on the island is of great benefit to meeting planners seeking to deliver a memorable experience outside of formal business sessions. For instance, The Intan is a private residence that allows meetings and incentive groups to learn about Singapore's Peranakan culture (Straits-Chinese descendants indigenous to the region, descended from early Chinese immigrants intermarrying native Malays and Indonesians) while enjoying tea and cosy conversation with antique collector and owner Alvin Yapp.
Another way for groups to experience Singapore's different cultures is though guided walking tours where groups can hear personal stories told by local residents. Walking tours include "Red Clogs Down the Five Foot Way," which allows groups to explore the winding alleys and quaint Chinese trade stores in Chinatown; "Malay Heritage Experience" culinary tour, which brings groups to discover Malay culture and delicious food at Kampong Glam; and "Gems of Little India" sums up the bustling Little India heritage area.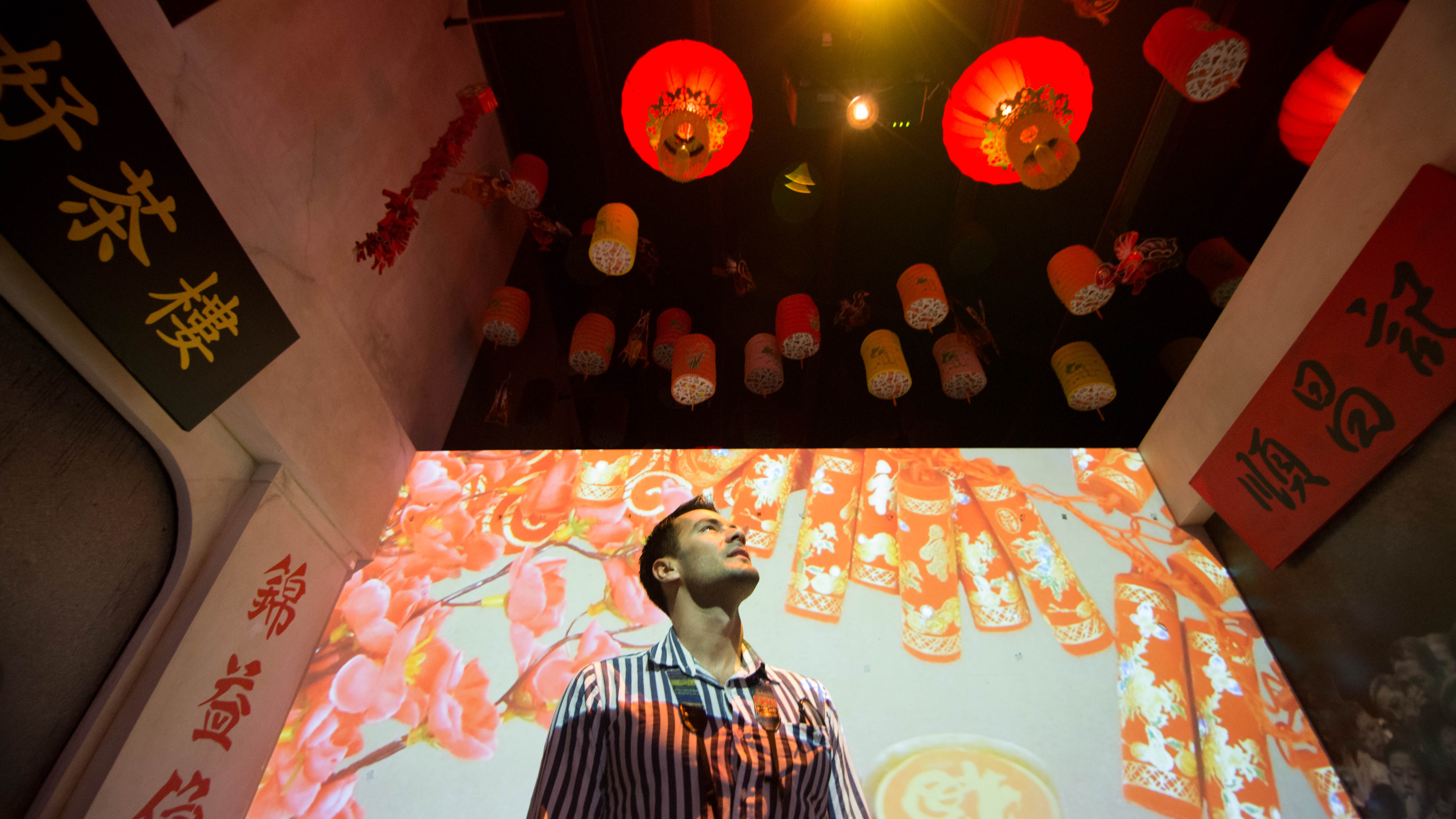 During guided walking tours groups can hear personal stories told by local residents. Walking tours include "Red Clogs Down the Five Foot Way" (above) which allows groups to explore the winding alleys and quaint Chinese trade stores in Chinatown.
Notable cultural and heritage venues that groups can consider using for memorable receptions and dinners would be National Gallery Singapore, made up of the former Supreme Court and City Hall buildings housing the world's largest collection of modern Southeast Asian art; Chijmes, a dining and entertainment center that was once a Catholic convent; and The Arts House, a 200-year-old building that was Singapore's first parliament house.
SMAP Program Expanded to Further Enhance Group Experiences
Another element that brings unique benefit to meetings and incentive programs is the Singapore MICE Advantage Program (SMAP). In fact, the exclusive privileges that business groups receive through SMAP were made even better in 2017 with the addition of two new program partners—JetQuay and Uber—who now join SMAP's three original partners: Singapore Exhibition and Convention Bureau™ (SECB), Singapore Airlines Group (SIA), and Changi Airport Group.
The SMAP program is valid for groups who apply by December 31, 2019 for business events taking place before December 31, 2025. First, SECB will assist in securing venues, facilitating introductions with leading government agencies and business partners, and providing marketing and publicity support. Some groups can even qualify for financial assistance through a Business Events in Singapore (BEiS) grant. Next, attendees flying with Singapore Airlines and its subsidiaries SilkAir and Scoot will enjoy exceptional fares from more than 130 destinations across 30 countries. Upon arrival, Changi Airport Group offers a complimentary welcome desk to greet participants, plus shopping and dining vouchers for attendees to use throughout the airport, which was recently named Top Asian Megahub by Official Airline Guide (OAG).
SMAP's new partners provide even more advantages for business groups. JetQuay has built Asia's first standalone luxury airport facility, the Commercially Important Persons (CIP) Terminal, which offers personalised service including dedicated check-in and immigration clearance. SMAP groups receive complimentary admission to JetQuay for up to 10 attendees one way, depending on event type. And Uber offers a 10-percent discount on intra-city rides for all attendees, up to a maximum of 2,500 rides per event.
For complete details of the SMAP program, visit the website.