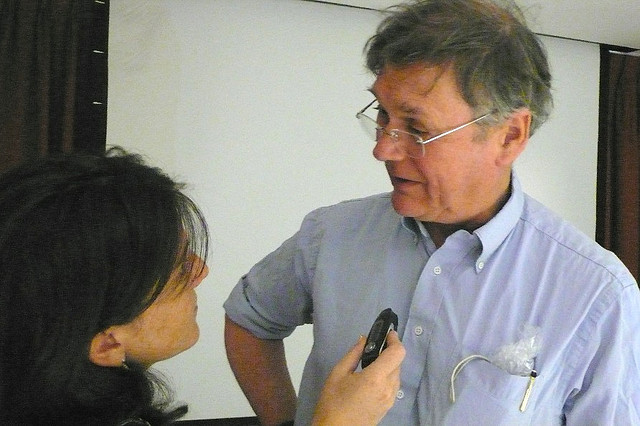 While making sincere efforts to do away with all-male panels is a start (and kudos to The Event Manager Blog Founder Julius Solaris for taking a pledge not to participate on panels that don't include women), meeting professionals may also want to make sure their speakers don't harbor some female-unfriendly attitudes that they're likely to spout into the mic, as happened when Tim Hunt, a biochemist who won the Nobel Prize in Physiology or Medicine in 2001 for groundbreaking work on cell division, did earlier this week at the World Conference of Science Journalists in South Korea.
According to an article in The New York Times, he messed up big time:
"Let me tell you about my trouble with girls," Mr. Hunt told an audience at the World Conference of Science Journalists in South Korea on Monday. "Three things happen when they are in the lab: You fall in love with them, they fall in love with you, and when you criticize them they cry."
Ouch. The Twitter backlash came quickly, though some kept a sense of humor about it:
I am in the office, but I can't do my science work as I saw a photograph of #TimHunt and now I'm in love, dammit https://t.co/vxVI61UwuL

— Prof Sophie Scott (@sophiescott) June 10, 2015
Dear department: please note l will be unable to chair the 10am meeting this morning because I am too busy swooning and crying. #TimHunt

— Kate Devlin (@drkatedevlin) June 10, 2015
Mind you, guys in the lab were always checking out my nice rack...#distractinglysexy #TimHunt pic.twitter.com/xT7jpL0hiE

— laura baxter (@scientist_me) June 10, 2015
The @royalsociety has just released a photo of Nobel Prize winner Tim Hunt's UCL laboratory. Now it ALL makes sense! pic.twitter.com/P4c0T9nRZS

— Leslie Vosshall (@pollyp1) June 10, 2015
Hunt compounded the problem by issuing one of those unapologetic apologies usually reserved for politicians when he told the BBC that he was "really sorry that I said what I said," adding it was "a very stupid thing to do in the presence of all those journalists."
The society tried to distance itself from his remarks, saying that his comments don't reflect its views. But the best thing, of course, is to not have to do any damage control after the fact. Even though one would hope it goes without saying in this day and age, you may want to have your speakers do a quick gut-check to make sure they don't harbor any views that could damage their—or your event's—reputations before handing them the speaking platform in front of your people.
Suggested Categories
More from MeetingsNet

---