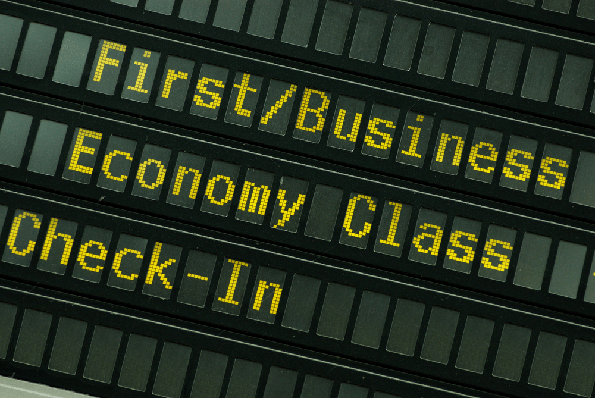 Leave it to USA Today travel columnist Chris Elliott to make me rethink the words we use to label and talk about everything from what we call different classes of airfares, to hotel loyalty programs, to how we label association membership segments, to how in general the words we use to describe something can end up being more about what we aren't describing.
Sorry, didn't mean to make you scratch your head and say, "What is she talking about?"—let Chris explain how he came to a new realization about airlines while being squished into an economy-class seat on a recent flight:
"Hmm," I winced to myself. "Wouldn't it be nice to sit in one of those Economy Comfort seats?" You know, the ones that offer about the same amount of legroom as the coach seats back in 1969, the year I started flying.
And then it hit me: By calling the seats with a reasonable and humane amount of legroom Economy Comfort, isn't Delta admitting that its regular economy-class seats are uncomfortable?
And giving people who spend more elite perks de facto means that those who don't are going to find their air travel experience rife with long lines, longer waits, discomfort, and inconvenience. Is that really the message anyone wants to send (though in this case, it is in fact the reality of air travel all too often nowadays)?
I know, it's already hard enough to find the right words to describe a meeting track for more- or less-experienced attendees, and what do you call first-timers? Is creating a comfortable lounge area for VIPs a nice thank-you perk, or does it point to how uncomfortable the seating—or lack thereof—in your other networking areas is?
I guess the basic question is: Is your baseline high enough that better is, of course, better, but the basic version is also pretty good?
Chris thinks it's probably a good thing that the airlines "are revealing their true feelings for us with their naming conventions." So take a look at yours and ask yourself, "What messages are we really sending?"
Read: You're not so special! The hidden messages of the airline industry, by Chris Elliott