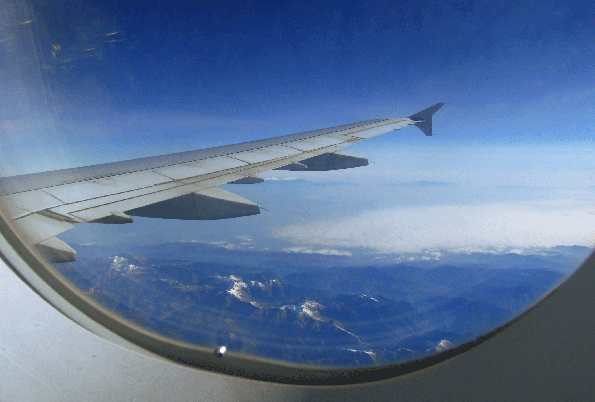 There are all kinds of interesting stories going around now around air travel that keep catching my eye. Here are a few:
1. How to Fit the World's Largest Waterfall in an Airport
Like the rooftop pool, 24-hour movie house, butterfly garden, and spas aren't enough…Wired reports on Singapore's Changi Airport's plans to build the world's tallest indoor waterfall, with the awesome name of "Rain Vortex." I may have to go to Singapore just to check out the airport when it opens in a couple of years.
2. I'm not quite as excited about Tokyo's Haneda Airport's plans to deploy a fleet of robots to help people find their gates and gift shops, but it's an interesting idea—and probably less jarring than the weird holographic guides that start yapping as you walk by that I've seen in some U.S. airports lately.
3. Just how tight will that coach seat be? Thanks to CNN Money, we have this animated by-airline illustration of just how jammed your knees will be against the seat in front of you.
4. It's good to know I'm not alone in being slightly obsessed with finding food at 5,000 feet. Check out inflightfeed.com's list of airline food menus, available special meals, and more, all searchable by air alliance or by airline.
5. And yes, food is coming back! According to Bloomberg.com, free sandwiches may once again be offered as a way to help passengers forget just how uncomfortable the rest of the experience now is. To further distract us, they may also be spending more of their record profits to offer free audio and video streaming. This quote made me laugh/cringe:
"Even the smallest thing can seem like a big deal," said Henry Harteveldt, a travel analyst at Atmosphere Research Group in San Francisco. "When you're an abused animal, even a tiny pat on the head can make you feel like you're loved.
6. Speaking of laugh/cringe, check out this Southwest flight attendant who goes seriously Looney Tunes with the basic safety announcement. Not sure if this is cute or annoying?
7. You may already have these, but Mental Floss's list of 7 Must-Haves for a Comfortable Flight is worth checking out too.
8. In case you ever wondered why airport windows are round—it's to keep the plane from killing you, basically.
Safe travels to all!