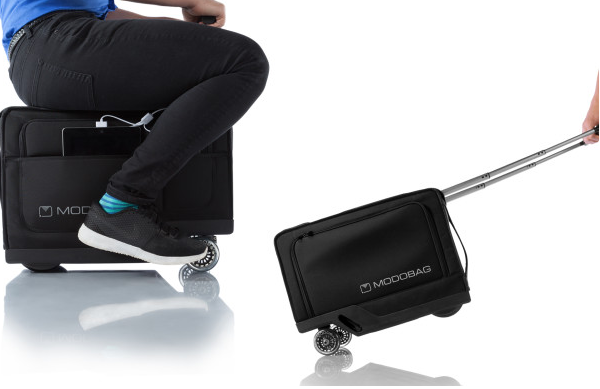 I just so happened to be at an airport when I clicked through a link in a press release for something called a Modobag. My first reaction was to laugh hysterically at the video of people hopping on their suitcases and riding around the airport. My second reaction was to look around to see if anyone was taking one for a test drive—I would so love to see one in action. My third reaction was, "I want one of these." (Disclaimer: I have no connection whatsoever to this company or product. It just really caught my attention in a big way.)
What it is: a rideable, motorized, smart carryon TSA-, FAA-, and IATA-compliant suitcase. It can go up to 8 mph, has a dual wheel-braking system, quick-release foot pedals, and a high-performance steering column. It also has a touch-control dashboard and two USB charging ports, so you can re-juice your cellphone while you zip to your gate. According to the Indiegogo crowdfunding campaign website, the thing only weighs 19 pounds, and the mechanics only take up 20 percent of the packing space, leaving 80 percent to stow your stuff.
The biggest hitch (other than it's still in the crowdfunding stage, though it's already far exceeded its funding goal), is that at $995 it's pretty pricey for a suitcase (though maybe not for an airport transportation vehicle?). Check it out in action:
So what do you think, is it brilliant or just bizarre? I can envision people at meetings using these to store their tradeshow tchotchkes, then ride down the aisle to their next appointment or session. Probably it's not as comfortable as a scooter, but otherwise, it may not be a bad alternative for people with mobility issues at shows, as well as airports. Or is that just too crazy?
And, for those who don't mind and/or have no issues with walking but want to keep their hands free, there's My Hitch, which lets you hook your luggage handle onto your backside so you can drag it along behind you. With an $18 pricetag, I might actually go for this one.