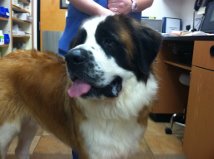 As much as I love the puppy-cuddling stations Meeting Professionals International has been including in its World Education Congresses in recent years, I think the huge music and film festival SXSW coming to Austin, Texas, this week may have them beat in the sweetest/coolest canine corporate social responsibility offering. Attendees who find their mobile device batteries running low can tweet to have a charger brought to them by a St. Bernard! As a Fast Company writeup says, "Dead-battery rescue dogs! It's like the Alps, but way nerdier."
Mobile battery-case maker mophie is partnering with the Saint Bernard Rescue Foundation to send the dogs (and their handlers) to those who tweet a screenshot of their device's perilously low battery to #mophieRescue from noon to 7 p.m. March 13-15 (here's more on how it works). While they probably will get more requests than they have dogs, the mophie folks will select people to rescue and tweet back an interactive map to track the real-time location of their canine charging hero. In addition to a charge, those selected will get a photo op and some mophie swag. There also will be an appropriately Alpine-themed headquarters where people will hopefully meet some of the pups up for adoption and, even more hopefully, find themselves willing to provide a forever home to some of these big, sweet dogs.
Related: The Greatest Myth of CSR at Meetings
In a press release, mophie Vice President of Marketing Ross Howe said, "This year, we tossed in a new element and partnered with the National St. Bernard Foundation for some added assistance to our rescue efforts, while also making the adoption of these lovable dogs easy. The idea is [that] mophie and the St. Bernards save the people of SXSW. The people of SXSW save the St. Bernards."
As someone who volunteers with the Australian Shepherd Placement and Rescue Helpline (we have a lot of great dogs looking for homes too, BTW), I doubt anyone will be able to adopt dogs right off the street. We have a pretty thorough vetting process we make potential adopters go through to ensure that the dog and person/family are a good match, and it looks like SBRF does as well, judging from the application on its Web site. I hope that this does get more people interested in adopting a dog, whether it be a Saint Bernard, an Aussie, or a Heinz 57.
Kudos to mophie for coming up with this cool, creative, and hopefully constructive way to meet an ever-growing issue at most events: The dreaded dead phone/tablet.
What's the most interesting/innovative CSR project you've come across lately? Do you tie your CSR activities to your meeting's objectives, your attendees' professional interests, or, as in this case, a way to resolve a problem they may encounter on site?
Suggested Categories
More from MeetingsNet

---