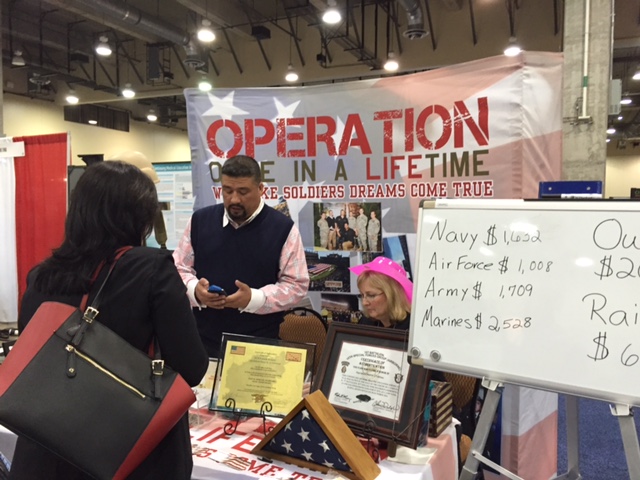 , or CSR, and meetings is a winning combination! And Thursday, January 22 is a day we're setting aside to share what we've found to be most effective and encourage more to participate in corporate social responsibility programs.

I loved the Alliance for Continuing Education in the Healthcare Profession's service project for its annual meeting last week: We raised more than $20,000 for Operation Once in a Lifetime, which provides help, services, and good things to members of the U.S armed forces and their families. They made it into a bit of a contest by having organization leaders split up into teams—Army, Navy, Air Force, and Marines—and attendees could earmark their donation to their favorite person's team. Operation Once in a Lifetime serves all branches, all levels of service, so the money ended up in the same big pot—the contest just added a little more fun to it.
Related: Finally, I get to do my first pre-con CSR activity!
We also have been incorporating some form of CSR into the Pharma Forum, a conference dedicated to those who plan meetings for the life sciences sector that MeetingsNet organizes in partnership with CBI every spring. The first was cleaning soap at the Clean the World facility to recycle used soap from hotels into clean new soap that is distributed around the world to help prevent the biggest global kid killers. Last year we had a dedicated area in the expo hall where people could decorate bracelets that can be hooked to a medical ID band for both boys and girls, which then were donated to local hospitals and children's clinics. One of my all-time favorite activities, though, is puppy cuddling at Meeting Professionals International World Education Congress!
What does your organization do to give back? What have you found really resonates with your participants? Do you tie it into the theme of your meeting and/or your participants' profession? Do you have any tips to share? Share here or on Twitter and Facebook.
Here are a few resources I've seen so far on the Twitter hashtag:
HR and sustainability: partner or pioneer?
Why CSR? The Benefits of Corporate Social Responsibility Will Move You to Act
Associations In Action: A Look At How One Organization Is Inspiring Attendees To Care About CSR
The organizers also are making today's presentations available via Slideshare here.
And, of course, MeetingsNet dedicates an entire section of our Web site to sustainable meetings and CSR: Lots here to get the juices flowing!