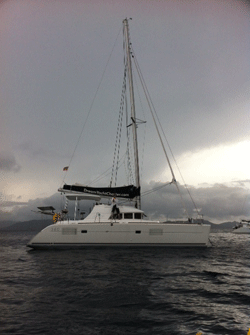 Because you all are never far from my mind, a few things occurred to me while attending my in-laws' 60th anniversary party, then traveling down to the British Virgin Islands for a week-long bareboat charter sail over the past week or so.
• Pick ups or drop offs? The airport limo driver on the way into Boston Logan told us that the volume of business has gone down by half over the past decade or so, starting around 9/11. He says the problem isn't leisure travelers—in fact, he thinks there may be more of those. Instead he attributes the decrease to business travelers who, once they discovered that they could teleconference, Web conference, and use other tech gizmos to talk virtually without having to deal with the hassle and expense of flying, they're not flying as much (and hence not using the limo service as much either).
Lesson for planners: Here's hoping this is just a local phenomenon, though I kind of doubt it. Are you becoming the virtual meeting expert for your organization? If not, why not? Face-to-face isn't going away, true, but it is getter rarer.
• That's just nuts. Not everyone wants to eat dinner at 3 p.m. I know, once you hit 60 years of marital bliss, you get to call the shots. But as delicious as those heavy hors d'oeuvres were, I still actually wanted dinner, or at least something, at the actual dinner hour. I settled for some cashews, but…
Lesson for planners: If you're planning a late afternoon event, don't be surprised to find some hungry Sue-types later on. If you don't want to provide F&B for us, that's fine, but do let us know there's nothing else coming so we can order a pizza or something.
• Business class really is better. I know, it's a no-brainer, but my husband and I only could get one upgrade between the two of us for our trip between Myrtle Beach and Saint Thomas. I kept saying it didn't matter, I'd be happy as long as I had an aisle seat, but he insisted I take the upgrade on the way down, and he'd take it on the way back. As I sat with my seatmate, happily chatting away over a nice (well, as nice as airplane food gets) hot meal, we both giddily decided that business class was, in fact, a whole lot better. It looked even better as I watched my dear husband snooze in that big comfy seat on the way home last night from my cramped coach seat.
Lesson for planners: If at all possible, it's worth it to spring for a little extra comfort for your VIPs, speakers, and anyone you want to be able to hit the ground running. Because business class really is better.
• Don't be gullible. When we headed back to the marina on our last morning (was it really just yesterday??), a cloud of seagulls decided we looked like a soft touch and followed us for miles, swooping and screeching and fighting over access to the nonexistent scraps they seemed to think we were going to toss them. It started to feel a little like Hitchcock's The Birds after a while—they were relentless. Sure, they'd all go float on the waves for a while, but then they'd sneak back in again when we weren't looking and perch on the grill, the solar panel over the dinghy davit, anywhere they could find purchase.
Lesson for planners: Don't feed the wildlife, no matter how much they squawk. While ours were literally scavengers, in your case they'll likely the attendees of that meeting down the corridor, or just general hotel guests who see a buffet and decide it's for them. They can be loud and obvious, and they can be sneaky, but they likely will be looking to dive in and snatch some snacks the second you turn your back.
Lesson for planners: Be ever vigilant or that bag of bread will be toast (well, not literally, but you know what I mean). On the plus side, all they're likely to leave behind is wrappers and plates, unlike what our birdly friends decided to drop on what literally became the poop deck…