After having spent the better part of the last six weeks on the road for either meetings or personal stuff—with a funeral and a wedding stuffed in between trips—my poor introverted little heart is in dire need of some alone time! I love to meet all those new people (I didn't seem to know hardly anyone at the industry events I went to for some reason), but all that networking is as exhausting mentally as traveling from North Carolina to Los Cabos, Mexico, to Palm Beach, Fla., to Las Vegas, then to Connecticut, before finally getting back to my home in Massachusetts, was physically.
Networking is hard, people! Especially for those who aren't traveling with coworkers or customers, and who don't have acquaintances they can meet up with—those who, by choice or circumstance, find themselves having to actually try to find some way to make connections with total strangers.
So I was really looking forward to reading Julie Niehoff's post on Plan Your Meetings called Why your event feels like an 8th-grade dance when it popped up in my recently-much-neglected RSS feed reader today. Because that's exactly how it feels at all too many networking events, with the cool girls over in that corner, the socially awkward standing back by the walls trying to be invisible while simultaneously looking approachable should anyone glance their way, to the boys joshing and elbowing each other...give them power suits and name badges, and they is us all grown up(ish).
I love Julie's idea #3, which is to provide personal introductions before the event. Why have I never, in all my years of conference-going, seen anyone do this (other than trying to pair mentors with mentees at a few meetings)? Or even set up discussion areas for different topics likely to be of interest with that particular crowd?
Her idea #4 also is a winner in my book—I love the idea of conversation starters, be they videos or demos or just lots of interesting objects people can interact with in different ways. One kind of painful/funny one I've seen recently was having some really bizarrely dressed staffers walking among the crowd. Trying to guess what they might be (they themselves didn't seem to know) proved to be an icebreaker of sorts!
One thing Cvent did spectacularly well at one of the meetings I went to, its recent Corporate and Association Meetings Summits, held at the fabulous Venetian in Las Vegas, was to provide "stuff" to play with, such as these cool half-shell thingies that people could (and did) crawl into.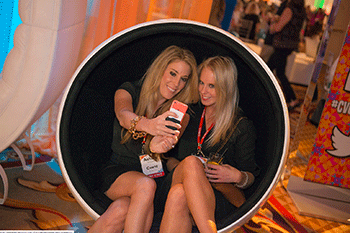 I didn't get a picture of it, but they also had an area set up just for selfie-taking, plus some wild decor (the reception had a kaleidescope theme) that included giant slinkies hanging from the ceiling.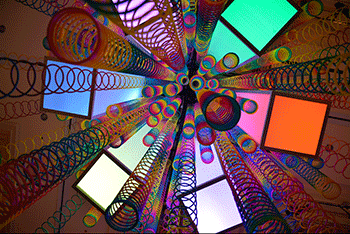 But no matter how well-done they are, I do think that  evening receptions that serve as cocktail hour, dinner, and after-dinner parties are exceptionally hard to turn into good networking events, though eating and drinking are inherently social activities. But when you add in the loud music to the already high-decibel chatter din, conversation gets nigh impossible. Or maybe we should stop trying to make these events "networking" and just acknowledge that they are, by nature, pretty much grown-up versions of those 8th grade dances and lower the expectation that they will be, as they called them in an earlier era, mixers?
Then we can concentrate our networking efforts to more conducive pieces of the meeting, such as pre- and post-session in-between times, breaks, and more formal things like roundtable discussions, CSR events—love that these are on the rise for so many reasons, among them that they are fantastic ways to meet people while doing something good! Again, providing objects to talk about can help, even something as simple but elegant as these fabulous centerpieces made out of bark and succulents at the Cvent general sessions.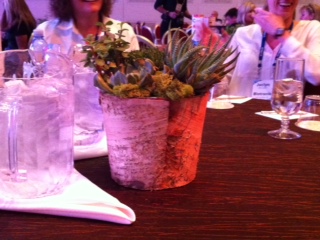 Cvent also provided an Innovation Pavilion, where you could talk with experts in various technologies, see demos and presentations, and have a reason to strike up a conversation with others interested in the same stuff. And Canyon Ranch/The Venetian provided an oasis, a room with massage chairs and green growing things and places to recharge your devices along with your body. While the room itself was more for unconnecting than connecting, they also led a mini Zumba-like activity outside in the hallway between sessions, along with a good stretch, all of which helped refresh my mind and body and help me gear up for another round of networking.
And speaking of networking, I also thought it was very cool that Cvent's opening general session speaker, the amazing artist/author/cool thinker Erik Wahl, showed up at that evening's reception to mingle with everyone and continue to share his ideas on creativity, life, and everything. He also did something so cool that it blew me away, though I'll save that one for another post since this is getting really long.