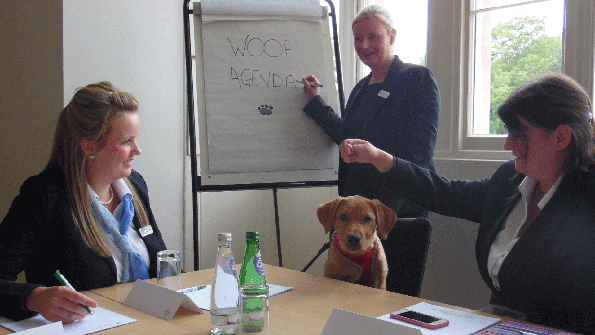 I'm mainly posting this because this is just the cutest photo I've seen today, but it's also a pretty interesting idea.
If you poke your head into a meeting room at the 96-room Stoke Rochford Hall Hotel near Grantham in Lincolnshire in the U.K., you may find a tail-wagging surprise—the general manager's pet Labrador, Russell. As part of its "pets welcome" program, guests were already offered the opportunity to stroll the 28-acre landscaped property with Russell or their own pets, who are welcomed with treats and toys and their own booking process.
But, as relaxing as cruising the expansive property at the other end of a leash may be, what happens in the meeting rooms still can be stressful. Because the research shows that animals can be a calming influence, the hotel's general manager, Barry Clark, decided to throw open the meeting space doors to meeting organizers' pets as well. And if they don't bring their own, Russell is ready and willing to bring his own level of pawsativity to the proceedings (sorry, can't help myself!). In fact, Clark says he sometimes can't find his dog because Russell's snuck off to another meeting!
After seeing very smartly dressed people drop to their knees to snuggle therapy dogs at Meeting Professionals International's World Education Congress, I'm inclined to think having some pups around at least during down times could definitely help lighten the mood. Then again, I adore dogs—those who don't might feel otherwise.
Assuming no one in your group had allergies or otherwise objected to bringing in a canine compatriot, do you think this would more likely help or hinder your meeting objectives?