Today's guest post is from Amanda Lucci, Web editor, MeetingsNet.
If you own an iPad or iPhone, chances are you've already upgraded—or at least thought about upgrading—to iOS 7, the newest operating system from Apple and the most radical change to an Apple interface in recent memory. Whether you use your Apple products for work or play, there are quite a few changes in the new system that can help you be more productive in your everyday life.
Inspired by East of Ellie's post, here are four of my favorite ways planners can use iOS 7 to their advantage (and be sure to check out the event company's post for even more tips).
1. Redesigned apps – A majority of your favorite apps, including productivity apps such as Evernote and Pocket, have a new look that fit better with iOS 7's streamlined feel. Note-taking app Evernote has eliminated those pesky tabs from previous versions so you can view all your most recent notes from the home screen. The coolest new feature about Pocket, one of my favorite apps for saving content to read (and share) later, is that it now syncs in the background while you work in other apps, even while Pocket is closed. (And if you've never used either of these apps until now, iOS 7 is a great time to start – they're both free.)
2. Photo Streams for collaboration – In iOS 6, you could share Photo Streams with a group, but only the creator could add photos. Now, Photo Streams are open so that any member can add to the collection. You can even "like" and comment on photos in a stream, almost like a private social network. This is great for sharing photos with friends and family, or sharing ideas with co-workers and colleagues about an upcoming event.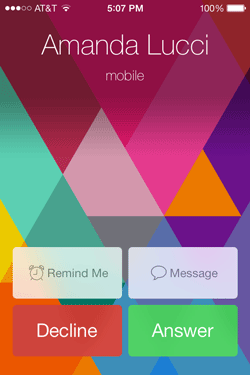 3. New Calendar – The iOS 7 Calendar app is more minimalist, showing you things from a week-at-a-time viewpoint (you still have the option to view things by day, month, or year by tapping the day, month or year in question on the app). Use the plus sign to add a new event, and press the Search button to search all of the events coming up. The Search panel will also show you a scrollable list of every appointment you have planned.
4. Reject phone calls more politely – If you've ever had to reject a phone call when you were in the middle of something, you know how distracting it can be to have to stop and make a note to call that person back, or take a few minutes to compose an "I'll call you back!" text. Now, you have two options for when a call comes in at the wrong time: Tap "Remind Me" to set an automatic reminder to tackle the call later, or tap "Message" to send an automated "I can't talk right now…" text message of your choosing. (You also have the option to block numbers in iOS 7, for those telemarketers who just won't quit.)
Overall, iOS 7 has a slimmer look and feel, with more animated transitions between apps and no more clunky borders or thick fonts taking up space. The built-in functional layers make it easier to switch from app to app without lagging, because your thought process shouldn't be stunted by crashing apps.
A caveat: Beware of updating all devices: iOS 7 is recommended for iPhone 4 and newer, iPad 2 and newer (including the iPad Mini), and 5th generation iPod Touch and newer. Even still, the older devices on that spectrum may run into trouble – it will take approximately 3.5 GB of space on your phone to upgrade to the new iOS, so unless you're willing to part with some of your favorite apps and photos on the iPhone 4, for example, it may not be worth it to upgrade right now. You can't easily revert back to iOS 6, so if you have any reservations about upgrading on an older device, stick with what you know.