As humans, we kind of know without knowing how important AV is to the learning that happens at an event. As meeting professionals, you certainly know that poor AV can crash a meeting in the time it takes for the feedback squeal to reverberate through your attendees' skulls. This morning I got a look at the first of a four-part white paper (download the PDF here) from AV services provider PSAV Presentation Services and BrainStrength Systems on just how AV affects adult learning at meetings, and it's pretty interesting.
For example, did you know that:
A big screen equals more attention paid to a presentation, and more attention equals a more intense experience, which in turn is de facto more memorable?
A sensory-rich meeting room environment—including screens and lighting—gets our dopamine, our happy brain juice, to start flowing?
That the placement of your screens affects how people will react to the messages on the screens? According to the white paper, putting them above eye level helps people retain your message; learners will be more likely to talk about your message if the screen is at eye level; and if you put the screen below eye level, they'll have more of an emotional response to it.
That a red glow to the room can heighten people's sense of smell and taste, make them hungrier, and increase their blood pressure, while blue calms appetites, pulse rates, and body temperatures?
Then there's this, which you've probably heard before if you have ever checked out Jeff Hurt's Midcourse Corrections blog (another great resource if you're into this kind of thing).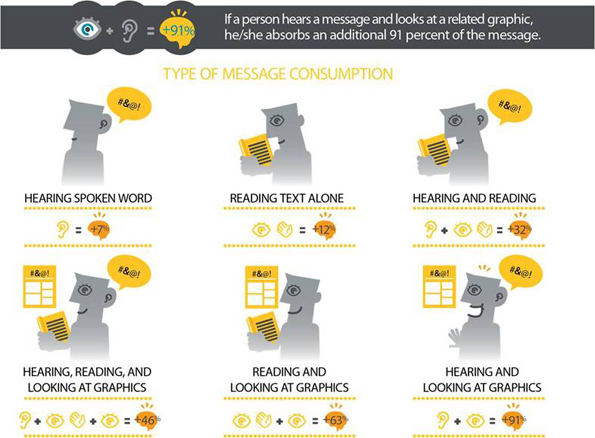 There's a whole lot more cool stuff every meeting planner ought to be aware of in the white paper, which really is more of an infographic, so it's even fun to learn from. I can't get enough of this stuff, so thanks PSAV and BrainStrength for putting this all together in such a fun, informative package!