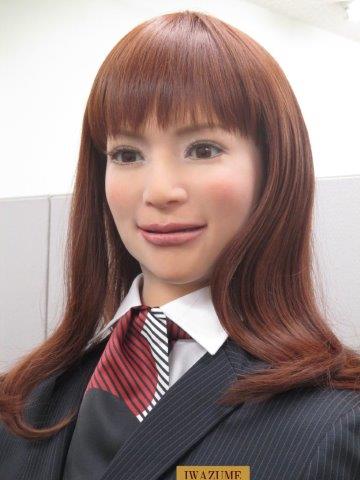 Can you imagine handing your suitcase over to Optimus Prime the bellhop, getting checked in by R2D2, and having the Jetson's Rosie the maid clean your room? While the robots look more human than these mechanical movie or TV stars, they will be manning the bell station, registration desk, and housekeeping carts at a hotel opening this summer in Japan. The Henn-na Hotel, set to open in July in Nagasaki, will start out with a staff of 10 robots, but the plan is to have the hotel services run 90 percent by creepily humanoid bots called "Actroids." The bots also will be able to both speak and comprehend Chinese, Japanese, Korean, and English. Oh, and they can breathe, blink, make eye contact, and respond to body language and tone of voice.
Beyond the robot staff, the building itself is pretty high tech, with facial recognition locks instead of the usual keycard, and rooms that monitor you body temperature and adjust the thermostat accordingly. And during peak season, potential guests can bid for the price they're willing to pay, up to a set limit. And weirdly, all this futurism is going to be settled in the Huis Ten Bosch theme park, which is a replica of a 17th century Dutch settlement.
Related: Meetings in the World of Oculus Rift, Robots, and Augmented Reality
According to The Daily Beast, unstaffed hotels are not unusual in Japan—for example, patrons of its "love hotels" get room codes and pay at machines—but this is a first for a higher end venue. Will it fly? I guess we'll have to wait and see, but the developer seems to think so, since they're already building a second wing.
And if it does, what potentially could it mean for the hospitality industry? According to Shea Gunther on the Mother Nature Network,
"This is a fun and quirky story, but it also is a very real pointer to what the future holds for human employment. Make no mistake about it — robots are going to take our jobs."
Check out this video if you want to start worrying about just how right Shea may be.
But I think meeting planners have a good shot at beating out the droid invasion, unlike my job, which is already being inundated with computers-as-reporters.
I guess I have a little Luddite remaining deep in my tech geek soul, because I'm not loving the idea of a fully automated and robotic hotel, even if it is a lot more efficient and cost-effective. What do you think?
Suggested Categories
More from MeetingsNet

---