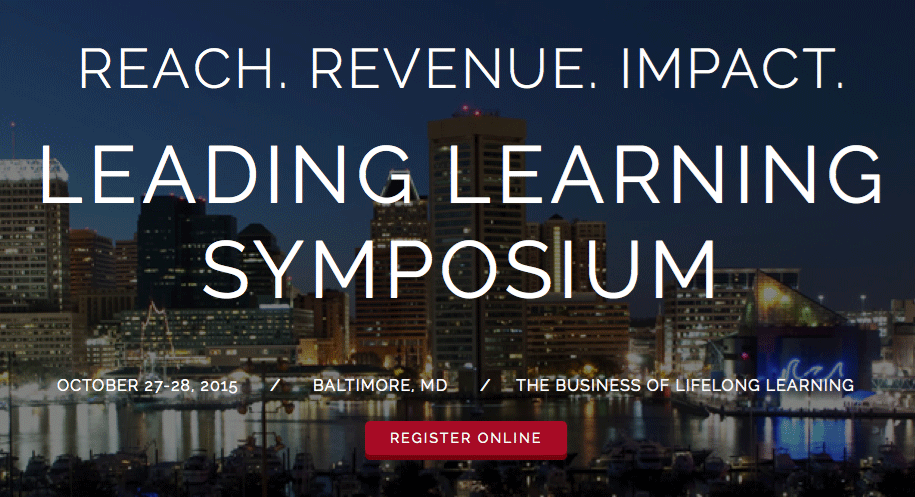 At this year's American Society for Association Executives Annual Conference and Exhibition in Detroit, I was again reminded of the incredibly cool people who hang out in the association space. They may not all be meetings professionals—in fact, many aren't—but they care deeply about adult learning, lifelong education, and designing programs that work.
One of these folks I became reacquainted with is Jeff Cobb, who with Celisa Steele founded Tagoras, a company that helps organizations find and implement the right strategy, learning, marketing, and technology to improve their lifelong learning businesses. They are launching what sounds to be a pretty (business) life-changing event. Called the Leading Learning Symposium and slated for October 27–28 at the Lord Baltimore Hotel in Baltimore, Md., it's designed to be a completely learner-based experience designed specifically for leaders who have strategic and financial responsibility for the success of their organization's education business.
The "consultative conference," as Jeff and Celisa call it, will use a combination of high-impact content, applied learning, and peer interaction to help participants boost the reach, revenue, and impact of their education businesses. It is just for people at the VP, executive, or director level who can effect change on their CE and professional development offerings—so I am not qualified to attend, but what I wouldn't give to be able to cover it as a meeting (and learn a lot about the business of lifelong learning).
Setting a Very Cool Agenda
Setting a Very Cool Agenda
It opens with a "priming activity" where small peer groups work together on a specific task. They do get together in a large-group "community assembly" to talk about trends in the lifelong learning market and introduce the conference's three main themes (reach, revenue, impact), the four threads that affect those themes (strategy, marketing, learning, technology), and the learning techniques participants will experience as they move through the conference.
The remainder of the day is short (five- to 20-minute) content pods, each of which is aligned with the three themes and is designed to provide insights participants can use when they get to the afternoon app labs. Those are facilitated sessions where, using real-life scenarios, participants work with peers and consultants to apply what they learned in the morning to the type of situation they'll be facing when they go back to their offices. The days ends with a debrief and reflection session.
The second day is a continuation of the first, except the community assembly will feature Rohit Bhargava, author of the best-selling book Non-Obvious: How to Think Different, Curate Ideas & Predict the Future, who will provide a non-association viewpoint. As Celisa points out, "The market for lifelong learning is changing dramatically. It has never been more important for leaders in the industry to identify and understand trends so they can meet the education needs of their members and customers." Then more pods and app labs, ending with a "curated connections" session where people with shared interests can discuss their issues in informal but facilitated groups, and then a final synthesis session. (Check out the full agenda here.)
Pre- and Post Work
Pre- and Post Work
Because it's a relatively small symposium—they're expecting to cap it at 100 participants—the organizers are able to dig into the backgrounds of the individual participants and their organizations beforehand so they can match learners with those they likely will learn best from and with. Participants also are being given "emphatically recommended reading" via a conference blog to get everyone on the same page by the time they arrive.
They also are holding a pre-conference Executive Institute, where a small group of senior-level executives will do a deep dive on the issues and opportunities they face with their education businesses.
Faculty being such a key piece of this type of intimate, intense learning model, Jeff and Celisa say they sought people who were not just content experts, but also good facilitators. They briefed faculty members on the learning strategies they would be using throughout the symposium—including interleaving, spaced learning, and effortful recall—and are getting together with them at a day-long meeting next week to make sure everyone knows what to do and how to do it.
And Tagoras is setting up an online community, for both symposium participants and other select leaders in this field, to carry through on the learning and peer-to-peer sharing.
I love the way this learning opportunity weaves everything together, with each piece of education building on the last, with time for reflection and discussion baked in, the pre and post follow-through, the emphasis on connection-building and real-world problem-solving … all of it. And that it's focused on the business of lifelong learning, which is after all, as Celisa calls it, the "lifeblood of associations."
They acknowledge that this type of event can be a little risky. In a conversation earlier this week, Jeff told me he knows that this type of event is harder to pull off than a traditional conference, and the chances that some aspects may not work out the way they plan are higher. But, added Celisa, "No risk, no learning."
What cool learning events do you wish you could attend?
P.S. When I heard that Velvet Chainsaw Consulting's Jeff Hurt was going to be leading a JSAV Educational Series course about the new opportunities today's fast-moving healthcare environment is creating for medical meetings professionals, I think I salivated a little. And that was before I saw that it was going to be held at Tony & Joe's Seafood Place in Washington, D.C. I couldn't make that one either, which happened last week, but if you did, please let me know how it went. Having been to Jeff's sessions in the past, I know he used a lot of the same principles Tagoras is shaping its symposium around, and that it was probably an amazing learning experience.
Yes, I am a conference design nerd!
Suggested Categories
More from MeetingsNet

---