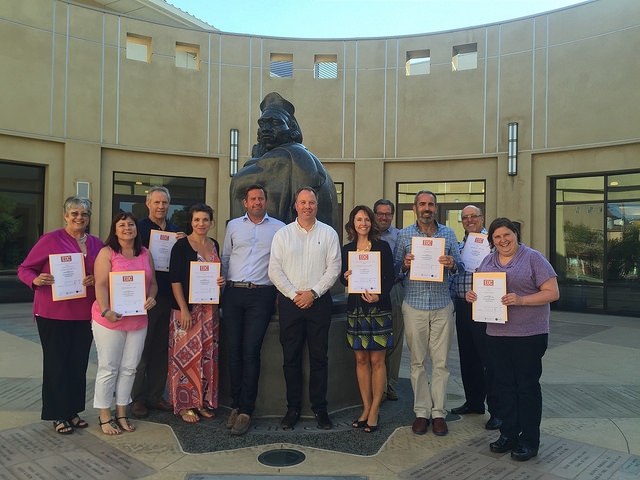 This must be the cool-meeting season, because I keep hearing about standout events that I would love to be a part of. The latest is the first Global Event Design Certificate program, an intensive three-day course held in August on the San Diego State University campus. It appears to have been a hit with the eight graduates who are now well on their way to earning the Mastery Level 3 certification. Participants will have earned 24 hours of continuing education credit, along with their certificate in event design, after they complete a design case study, which has to be finished within six months of taking the course.
I've been fascinated with the model, developed by Ruud Janssen and Roel Frissen, since I first heard them speak about it at the Meeting Professionals International World Education Congress a year ago. You can read all about it on the Event Model Generation Web site (EMG, led by Janssen and Frissen, partnered with San Diego State and MPI to launch the certificate program), but the general gist of it is that you use an Event Model Canvas template to visually chart key meeting elements in 10 steps. From the site: "The canvas articulates how the behaviour changes as a result of having participated in the event as well as stating the required levels of satisfaction against expectations. Additionally the canvas outlines the costs and expected revenues in relation to the customer journey (service design) and the instructional design of the event." According to Janssen, approximately 1,200 people are currently using Event Model Generation to design their meetings.
Anyway, it sounds like a whole new approach to meeting planning, and one that kind of forces you to think about your event in a new way, which could be a big help those who are stuck in the "We've always done it this way" mindset. And it sounds like they used it to create the three-day course, which will be repeated in January and August 2016. Just looking at the photos and watching the video, you can tell that the course was interactive and engaging, and provided the goods to enable participants to consciously design the attendee journey and deliver on the business goals of the event. Just listen to this ringing endorsement from the press release:
"The process allows team innovation to emerge like no other training I've experienced. The event design solutions are imaginative, engaging, provocative, and produce results. This process should be embraced not just by meeting planners, but business leaders who want real bottom-line impact from their event investment."—Ted Mooney, senior director at the Internet Society, who applied the process to a global hybrid event in July, which then drove him to attend to EDC program with his colleague Nicole Armstrong, CMP, CMM.
Frissen, who facilitated the course with Janssen and story engagement engineer Dennis Luijer, says, "The feedback was tremendous. We utilized the Event Model Canvas, a visual chart with elements describing an event's promise, how it helps stakeholders to get their jobs done, resolving pains and creating gains within a set framework of commitment and expected return. In doing so, we could demonstrate to those in attendance how to strategically make each event realize their full potential for both the organizers and participants."
Check out this Storify compilation of user-generated content and pictures to get more of a feel for what it was like to take the course. It sounds pretty intense, but in a very productive way.
Suggested Categories
More from MeetingsNet

---