Recognizing the importance of a good theme to generate interest in a corporate gala, Andy McNeill, CEO of American Meetings, Inc., offers five themes that will make your event memorable.
1. Speakeasy/Roaring '20s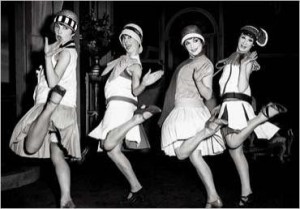 Create a "secret entrance" and include a secret password on your invitation. Hire a Cotton Club-style jazz band and flappers to entertain. Serve specialty drinks like the "Prohibition Bathtub Gin" or the "Spiked Shirley Temple." Suggest attire such as fedoras, zoot suits, wing-tip shoes, long pearl necklaces, and feathers. Use black and white with a splash of red for your décor—think art deco. White Calla lilies and tea lights in martini glasses make the perfect centerpieces.
Put a modern spin on classic American comfort food by featuring Al Capone deviled eggs, shrimp cocktail, Great Gatsby mushroom caps, cabbage rolls, chicken a la king, and barbecue ribs.  For dessert, classics such as pineapple upside-down cake, angel food cake, or candy bars from the 20′s, such as Baby Ruth, Charleston Chew, Milk Duds, and Bit 'O Honey.
2. Go Bavarian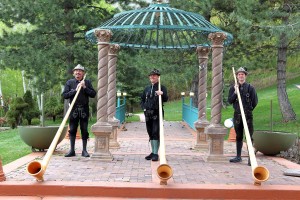 While most people think "fancy" when they hear the word "gala," you can also bring a classy flair to a more casual theme. For example, at a gala event we did when organizing a national sales meeting, we used mini Bavarian checkered flags with a lion crest in deep blue on the invitations. Decorative fairy lights in the windows and deep blue-and-white linens and votives added rich color to the room.
Traditional Oompah band and accordion music is a must once the party is under way; however, why not begin the evening with music from German composers such as Bach and Beethoven? Of course, beer is a staple, and we also recommend serving genuine imports in their original bottles. You can also include Riesling wines and cocktails made with German spirits such as Kirschwasser or Brandy.  
For the menu, some dressed up options can include creamy sauerkraut soup to start followed by a pork tenderloin with dark beer sauce, potato pancakes, pumpernickel and pretzel breads—and what Bavarian event is complete without German Chocolate cake?
3. A Night at the Opera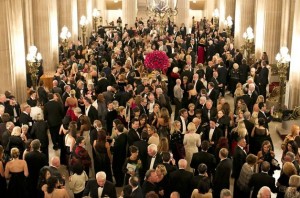 Ideas for a gala always begin with the décor and ambiance. Use a "Phantom of the Opera" playbill for the invitation and provide attendees with a ticket. The focal point of the room can be a dramatic collapsed chandelier on the stage or dance floor, and, of course, dramatic organ music upon entrance followed by ballroom dancing to liven up the event. Deep colors, such as dark purple, rich gold, deep reds, black, etc., evoke an operatic mood, and velvet is the material of choice. Suggested attire should include formal wear and masks covering at least the upper part of the face. 
A French-inspired menu can include crepes, brie, Chateaubriand, soufflé, French wines, and don't forget to "let them eat cake"!
4. The After-Party Party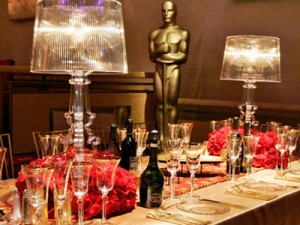 This theme is perfect for a corporate awards dinner.  Have the group move (or the curtain drop) to a second room for an Oscar-type after-party room. Position furniture to allow guests to comfortably lounge and mingle. Décor can include gold silhouettes, deep red roses and hibiscus, gold twinkling lights, and "Swarovski" crystals hanging from the ceiling. A large screen on the stage captures footage from the roaming video cameras in the audience and makes guests feel like a star. 
Serve a Wolfgang Puck-style menu including smoked salmon on Oscar flatbread, caviar and crème fraiche, tuna tartare, crab and lobster louie, and gold-wrapped baked potatoes.
5. Go Retro with a Mad Men theme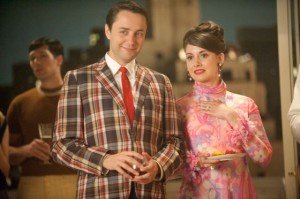 This is a timely and popular event named after the critically acclaimed television series. Invitations can come in the form of a male/female paper doll set with 1960s-style outfits. Add Rat Pack entertainers, a Marilyn Monroe impersonator, a Jersey Boys performer and fun early-sixties music, and you have yourself a party! Props are key to designing your décor. You can create large, blown up advertisements of popular 1960s products, a 60s photo set with a professional photographer to take themed pictures, old spin-dial telephones, slide projectors, typewriters, etc. Suggested attire includes tweed jackets, plaid suits, bouffant hair styles, and funky floral cocktail dresses. 
Be sure to serve martinis, whiskey sours, Tom Collins, beef wellington, turkey tetrazzini, potatoes au gratin, Waldorf salad, and oysters Rockefeller, topped off with apple pie and cherry cheesecake.
While the mission of corporate galas may vary for awards dinners, fundraisers or employee recognition, they all begin with great décor and ambiance. We hope these ideas get your creative juices flowing.
A note from Sue: If you do an era-based theme (roaring 20s, etc.), check out CrazyFads.com, which lists all sorts of things related to different decades.