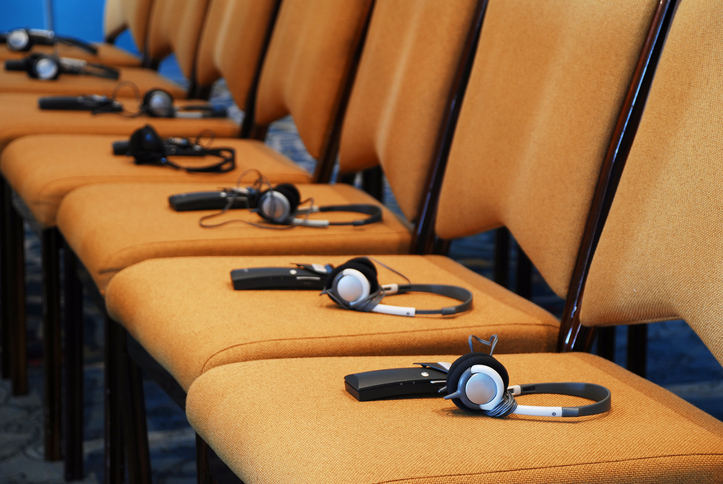 In my last piece, I began to examine the intricate world of language and how basic foreign language knowledge can positively affect the execution of global events.
I'd like to continue down that path and explore the use of interpreters for global meetings.
Before I jump into the tips I learned through trial and error, and from vendors and mentors, let's look at the two types of interpretation encountered during meetings: consecutive and simultaneous.
During consecutive translation, a speaker presents for a few minutes or until they have completed a thought; the speaker will then pause while the interpreter relays the information to the crowd. Think safety announcements during international flights.
Consecutive translation is likely only conducive to one other language and can double the length of the meeting. Most planners will use simultaneous translation instead.
As happens during a United Nations meeting, during simultaneous interpretation, a presenter will continue the meeting while interpreters, usually seated in a booth in the rear of the room, will interpret in real time to attendees wearing earpieces. As you can imagine, this is a more difficult task than consecutive interpretation. An interpreter is concurrently receiving information, processing its meaning, translating it, and relaying it to attendees. Due to this fact and the need for additional audiovisual equipment (earpieces/transmitters for attendees and microphones, booth, and headsets for interpreters), simultaneous interpretation is more expensive than consecutive translation.
Meeting Interpretation Best Practices
Where to start? Begin with a talent search. Your venue and destination management company are good places to start when looking for an interpretation company as they will have likely worked with these service providers previously.
When vetting interpreters, in addition to cost, I would suggest requesting the below information in your request for proposal.
What languages can the company cover? Some languages are easier to source than others. This can be a factor in the hourly or daily rates they charge.
 
If you're hiring simultaneous interpreters, do they have their own equipment? A vendor that not only has its own staff but its own equipment is a plus because their interpreters will also be skilled in handling and setting up equipment.
 
Can the same staff be available for all days/events? Prior to sending your RFP, examine your agenda for all times that you may need interpretation. Do you only need it in the formal meeting setting or will you also need staff present for airport arrivals, registration, or dinner/event functions?
 
Does the interpreter have industry experience specific to your content? Any experience the interpreter has in the meeting's content can enhance the service he or she can provide.
For simultaneous interpretation, in addition to sourcing the actual interpreters, you will need to review your venue RFP to ensure you are requesting a room large enough for not only the attendees and AV setup, but also the translation booth and staff that will be placed at the rear of the room near your AV technicians. 
For consecutive interpretation, or for utilizing a sign language interpreter, you will not need additional space because this person will sit or stand at the front of the room in front of the audience.
Confirm Attendee Needs Through Registration Questions
Knowledge is power; confirm needs with attendees during your registration process.
For example, you may have attendees coming from Latin America, but their native tongue may be Portuguese, not be Spanish. Also, not all attendees coming from countries that speak a different language will require interpretation services. Some attendees may be fluent in the meeting language and are comfortable not using the service.
Asking these questions up front can save your company money. It is also a way to tailor your customer service. 
In the same vein, if you are unable to supply interpretation at an international function, let attendees know in your invitation that the event will only be held in English (or other chosen language of the meeting).
Pre-Meeting Prep
Once you have selected your interpretation vendor, communicate with them frequently leading up to the meeting.
It is important to provide as much background on the meeting subject to the vendor as possible.
Provide content early, even if only in draft form. Recordings or presentations from previous meetings, corporate websites, or related industry articles will also offer additional perspective.  
Clarify any special content, including scientific or industry-specific terminology that may be difficult to translate.
Detail the dynamics of the session and setup specifics. For example, if your speakers will be doing a demonstration, or you will be going between the general session and breakouts, your vendor will need to know this information to ensure they have the correct equipment and number of staff on-site.
Review power and audiovisual needs with your vendor so you can relay this information to your hotel and AV staff.
Provide background on your speakers' style, if available. A very high-energy speaker may pair better with a certain interpreter than one that strictly lectures. 
Coaching Your Speakers
Even the most seasoned speaker may never have performed while interpreters are in the room. Review these quick tips with your speakers during content creation and again on-site to ensure everyone is comfortable with the process.
Speech speed: Inform speakers to slow down and enunciate. Some languages are spoken faster but take more words to complete a thought. Remember your interpreters are either listening and taking notes (consecutive) or processing information on the fly (simultaneous).
 
Technically speaking: Encourage your speaker to stay away from colloquial slang or humor. You don't want the speaker to be looking for his or her big drumroll moment and being left with only blank stares.
 
Dress code: Most speakers will be aware that a lapel and a pocket or waistband is the best wardrobe for wearing a lavalier mic. However, when working with simultaneous interpretation, they will need to wear a second audio pack and an earpiece to hear the translation of audience feedback and questions. Suggest your speakers refrain from wearing large earrings or any type of headwear/hairstyle that may interfere with the fit of the earpiece.
In summary: Encourage speakers to do a high-level recap at the close of each major section of their presentation to clarify any confusion during the original translation.
On-site Execution—Practice What You Plan
If you have followed the above tips, you should have a smooth transition from planning to on-site execution. Continue to keep lines of communication open with all parties.
Include translation staff in any dry run or slide review activities on-site. This will allow you to test any audio equipment, as well as enable the translators and speakers to familiarize themselves with each other.
Translators' language capabilities should be listed on their name badges.
After the first session or event of the meeting, have speakers review the presence and process of the translators.
Following the conclusion of the meeting, ask translators to join the speaker(s) at the front of the room for any additional one-on-one questions attendees may ask. You also can hire translation staff to clarify any questions your staff have while working on post-meeting notes or executive summaries.