Today's guest post is by my former MeetingsNet colleague Alison Hall.
Meeting planners hope their events drive attendees to some kind of understanding, an action, even change. The 2017 RESULTS International Conference did all three for me, along with giving me new skills and a little dose of getting over myself.
RESULTS is a grassroots network of everyday people using their voices to influence political decisions that will bring an end to poverty. On July 22, I joined more than 500 other volunteers for the organization's conference at the Washington Court Hotel, a short walk from the House and Senate office buildings that surround the Capitol.
Three days later, we would enter those buildings as citizen lobbyists, heading for appointments with legislators and staff. But first we would get our stories straight, our courage up, our facts in hand, and our "asks" clear.
Day One
I've been to a lot of meetings but I saw right away that this one was different. Putting "reserved" tape across the back rows of seats to encourage people to move up? Unnecessary. These peeps pack the front of the room.
Then there was the state and country roll call. When each location was called, attendees were to cheer. OK, I thought, I know this drill. There weren't many from Massachusetts, my state, but I was ready to hoot and holler competitively.
Except it wasn't a competition. We were just celebrating. Everyone cheered for each place (which, by the way, was all 50 states and 20 countries). By the end (Zambia), I was laughing. It was a blast.
This is a big advantage RESULTS has when it comes to on-site engagement. Attendees are already passionate about being there. Their whole mission, essentially, is showing up.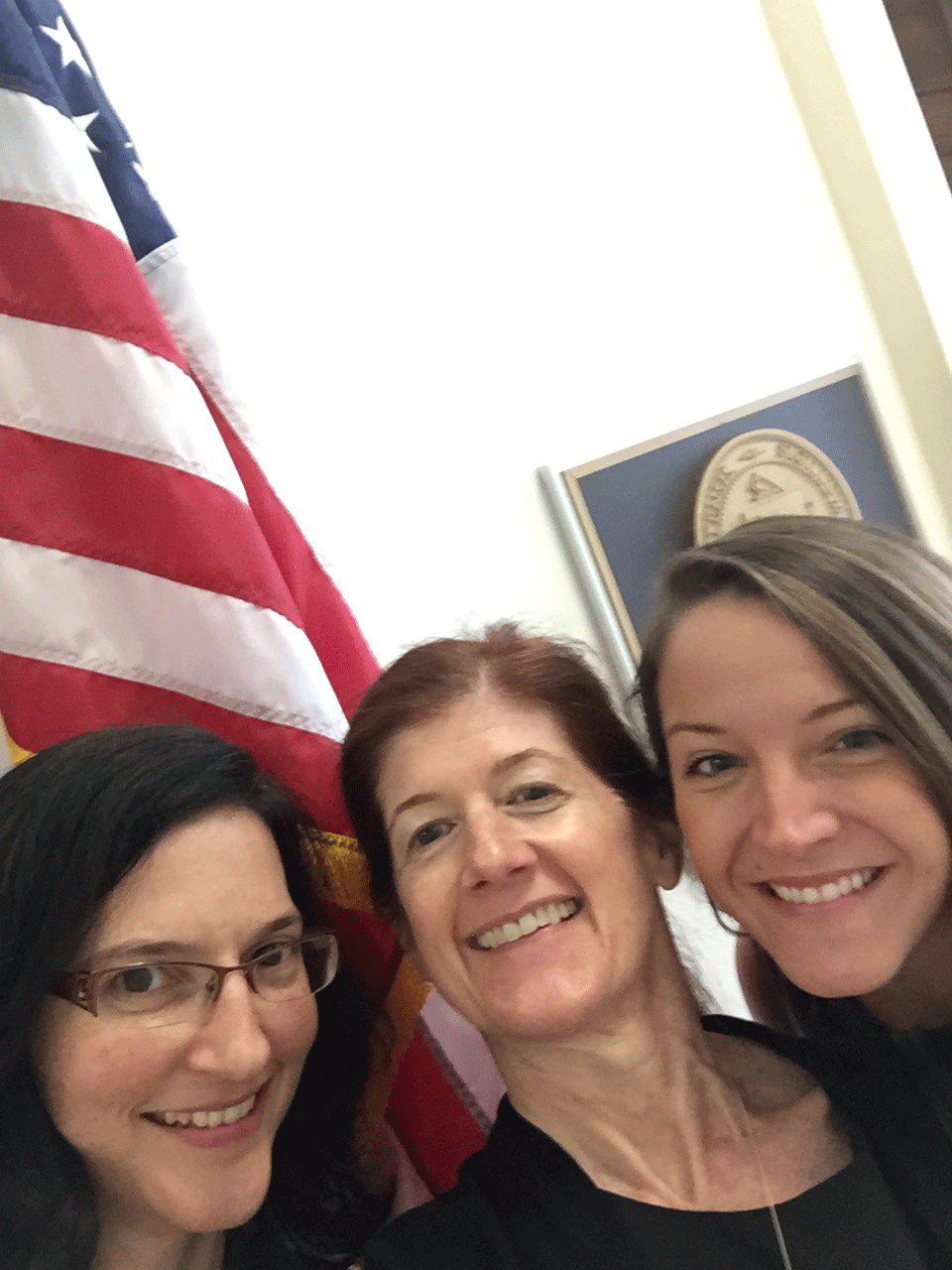 Citizen lobbyists (from left) Cynthia Tschampl, Alison Hall, and Danielle McCrary participated in eight Capitol Hill meetings as part of RESULTS Lobby Day July 25.
Brass Tacks
But that's just step one. While RESULTS brings on the inspiration and aims high—"the power to end poverty"—it is also relentlessly practical. The priority is on teaching volunteers how to turn their passions and life experiences into targeted messages that move lawmakers. (That's how you get, yes, results.)
In fact, one of the things that impressed me most was the repetition. I went to a session each day that covered much of the same ground: how to persuade lawmakers to protect anti-poverty programs currently under threat, including Medicaid and SNAP (formerly food stamps).
For me, a first-time Hill visitor, this was really important in building my confidence. For example, understanding how Medicaid is funded, who receives benefits, the program's place in our healthcare system, and what restructuring it would mean for people on the ground takes more than one session—even when you've already done a lot of homework.
And RESULTS presenters not only guided us through the details and data points of issues, they also did the distilling for us. Among the advocacy tools available were "laser talks"—actual scripts that help volunteers engage a staffer or lawmaker, succinctly state a problem, illustrate its impact (with a personal story, in the best case), and make a specific call to action.
Talking it Out
Of course, reading a script is not the same as articulating it. In a lobby-prep session the afternoon before our Capitol Hill meetings, a RESULTS staffer said the conference words I dread, "Now we're going to break into small groups for a role-playing exercise." The role I like to play is observer and note-taker. But I was attending the meeting for a reason. I wanted to engage with our democracy. I wanted to protect programs that help struggling Americans eat and go to the doctor and pay rent.
So I gathered with four other volunteers and we took turns practicing our conversations with RESULTS staffers playing the roles of legislators, getting a feel for the agreement or disagreement we might experience at our actual meetings. My group included a man who was not a natural communicator, who in fact seemed to struggle a bit even in casual conversation. I asked if he'd been to the conference before. He had.
Two days earlier, there'd been a session about language and about taking care not to speak "for" people living in poverty but rather as partners with them, not to see yourself as a savior but as an equal voice in a movement for justice, and to be aware of your own privilege.
In speaking with my hesitant fellow volunteer I was brought up short. I thought about how many times I'd expressed to people that I was nervous about the Congressional meetings, I felt overwhelmed. Maybe. Or maybe I had an awful lot of advantages I ought to acknowledge, and then get over myself. 
Walking the Talk
The RESULTS conference planners managed to create an agenda that balanced the nitty-gritty "how to" and the grander "why" while also living the organization's values—taking risks, championing equality and diversity, using the power of story telling, and ensuring that those living in poverty are part of the conversation.
Many conference speakers fulfilled more than one of those objectives. For example, the first person to welcome attendees to the opening plenary session was a 17-year-old Muslim girl from Vermont attending the conference for the first time. As she shared her passion from the stage, anyone who was young, female, Muslim, a first-timer, or in any way feeling like an outsider or a little uncertain felt an immediate connection and was put at ease. She'd put herself out there and she was fine!
She got a standing ovation, as did Dr. Joanne Carter, executive director at RESULTS, who took the stage next. (Standing ovations are a RESULTS conference hallmark.)
Dr. Carter (a veterinarian before she joined RESULTS as a volunteer and, as she put it, "got hooked") congratulated attendees for being part of the grassroots upsurge to protect healthcare and Medicaid. "We will look back at this as the big story of 2017," she said.
As the leader of RESULTS it was also her role to push volunteers toward bigger goals. "We need to dismantle the forces of oppression and recognize where power lies. We won't win every fight, but we can't lose our vision of what is possible."
Panels that Work
A panel of RESULTS volunteers who have experienced poverty firsthand—Real Experts on Poverty, as RESULTS calls them—followed Dr. Carter on the plenary stage. "I am the person you don't see when you go in a room and cut SNAP," said one, who had relied on food stamps as a child.
All of their stories were moving, some intensely so. A woman who had benefited from government assistance when her two children were born said, "You're telling me to pull myself up by my bootstraps. Well, here are my circumstances: I was 15 and in an extremely abusive relationship. I had no control over having kids." She stopped to let that sink in.
Another described the therapy that Medicaid enabled her to get for her son with autism—therapy that helped him go from mostly non-verbal to having conversations with her. It is her fervent desire that other moms living in poverty be able to access these services for their children.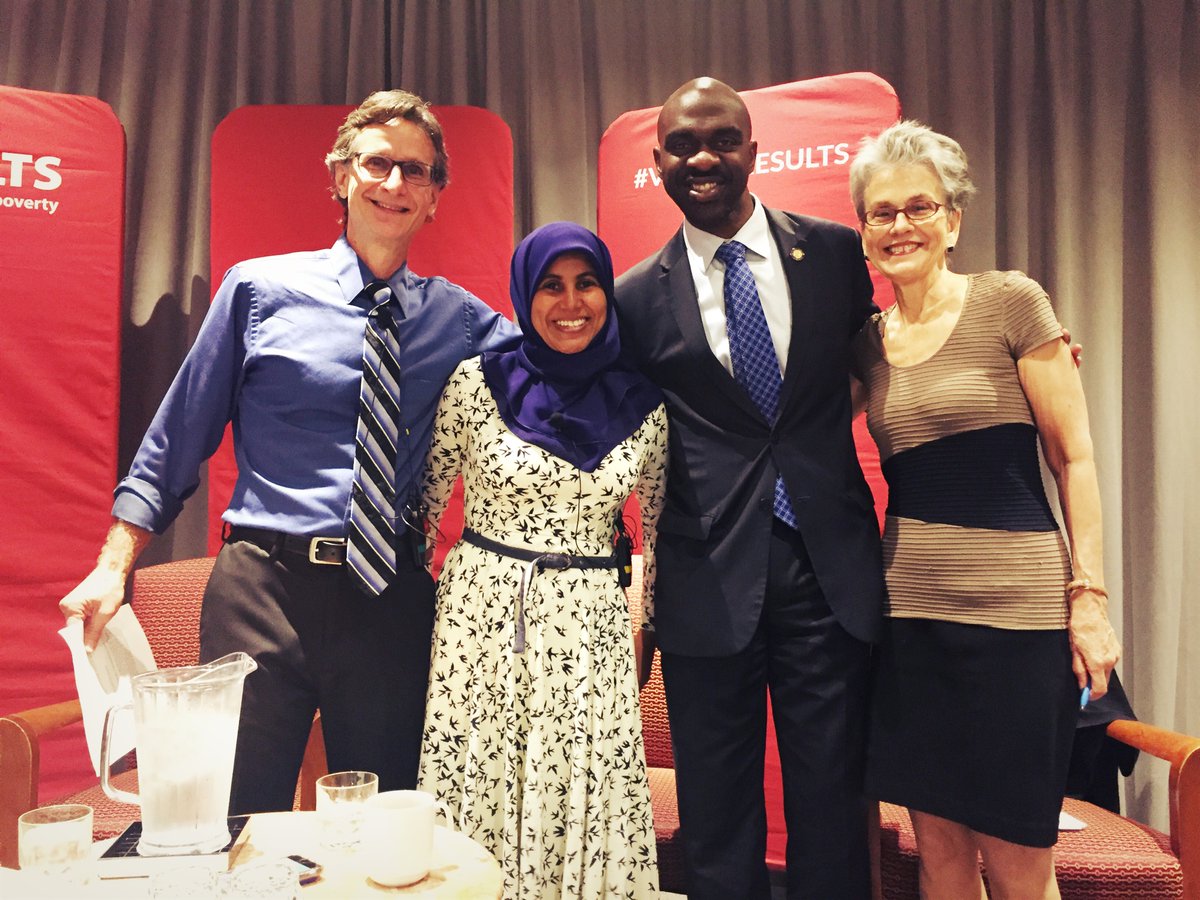 How to do diversity: A panel at the 2017 RESULTS International Conference in July featured (from right): Frances Moore Lappé, author of the groundbreaking 1977 book Diet for a Small Planet; Michael Blake, New York Assemblyman from the 79th District; Khadija Gurnah, campaign director at Moms Rising; and moderator Ken Patterson, director of global grassroots advocacy for RESULTS
The Charisma Panel
Then there was the group I came to refer to as the Charisma Panel: Frances Moore Lappé, author of the groundbreaking 1977 book Diet for a Small Planet; Michael Blake, New York Assemblyman from the 79th District; and Khadija Gurnah, campaign director, healthy kids, at Moms Rising.
Blake went first. As his voice rose and he used some lovely wordplay—rhymes and repetitions—he paused and said, "If you couldn't tell, I'm also a preacher." We could tell.
Up next, Khadija Gurnah wondered aloud how to follow such a speaker. I wondered, too, but she needn't have worried. Her quieter but no less passionate presentation on behalf of bringing diverse voices together around issues of common interest such as early childhood education and family leave had the audience just as rapt.
She was so endearing that I felt for Frances Moore Lappé, up next. But again, she brought her own energy to the stage along with an incredible optimism ("I'm 73 and I feel like I'm just getting started"). She called on Americans to reframe their view of government as distant and untrustworthy and instead to participate, thereby creating "a living democracy."
The common thread was the authenticity of each of these presenters. Their charisma came from speaking their truth.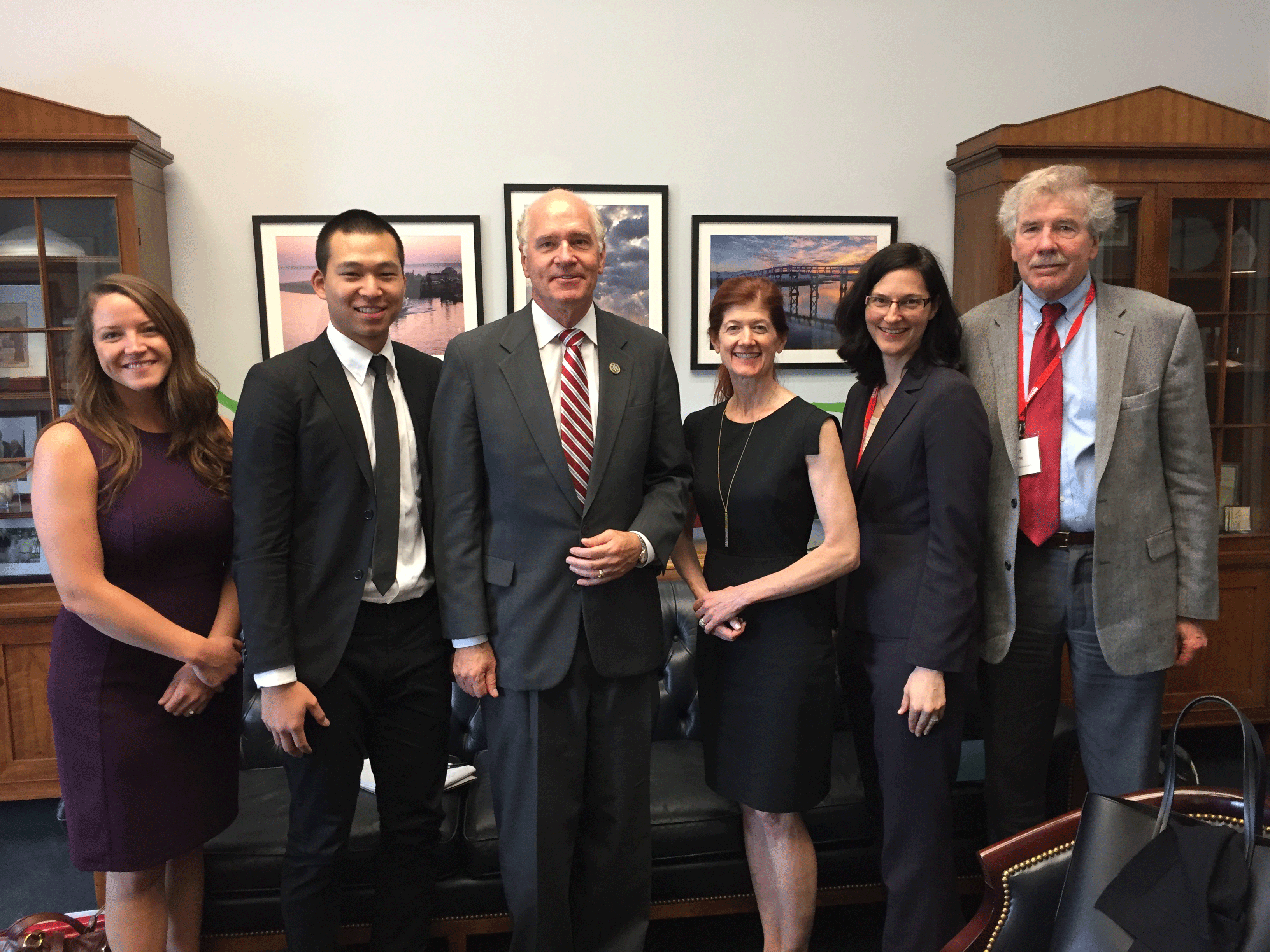 RESULTS volunteers from Massachusetts met with Congressman Bill Keating. Pictured, from left: Danielle McCrary, Vincent Lin, Keating, Alison Hall, Cynthia Tschampl, and Jeff Ashe
The Big Day
My small group had planned 12 meetings—three with Rhode Island lawmakers and nine with Massachusetts offices. I attended eight of them, two with actual members of Congress and six with staff. Just walking the halls and tunnels of the Congressional office buildings was energizing, and listening to my fellow advocates' stories for the first time was moving.
One was part of a large family that received SNAP benefits when she was a kid. She's now earned a PhD and her siblings are similarly accomplished. Another escaped poverty and Ebola in Liberia as a toddler. Now, as a 19-year-old pre-med student, he advocates for global education programs.
Our conversations generally lasted 20 to 30 minutes and while they were not all in-depth, our impact always felt significant. We were repeatedly told that our visits were welcomed and valued, even for lawmakers already fully on board with what RESULTS advocates.
"It's important to come and talk about this stuff," one aide said. "Elections have consequences and we are all living through these consequences together." Another told us, "We learn from you."
We heard the same notes of thanks and appreciation from members of Congress who attended a RESULTS reception that evening, including Derek Kilmer (D-WA), Dan Donovan (R-NY), Denny Heck (D-WA), Nita Lowey (D-NY), Gwen Moore (D-WI), Brenda Lawrence (D-MI), and Jan Schakowsky (D-IL). Their energy was a terrific motivator for keeping up the fight.
As it happened, our meetings were held the same day the Senate voted to start debate on the healthcare bill. Late in the afternoon, on our walk back to the hotel, we saw a gaggle of senators on the Capitol steps with a bullhorn. We stopped in the gathering crowd to hear Sen. Elizabeth Warren, Sen. Cory Booker, and others express their dismay at the Senate's healthcare proposals, all of which do away with the Medicaid expansion and threaten the future of the program itself.
It was another jolt of participatory democracy that I wish more Americans could experience.
The Takeaway
In the end, I found the conference most impressive because it made no room for cynicism. Believing you can make a difference and having hope for the future are absolute prerequisites for advocacy.
Not that it's fast or easy. There are immediate objectives like fighting cuts to specific programs. But the larger goal is a bigger ask. It's to reverse the continuing trend toward greater economic inequality and to close the racial wealth gap.
Created by our country's history of discrimination in housing and tax policies, it's not hard to see the how the racial wealth gap perpetuates: In 2017, 43 percent of Black households owned homes while 72 percent of White households did; for every $1 of wealth White Americans have, Black Americans have 8 cents; while one in two White Americans get some financial assistance or inheritance from their parents, only 1 in 10 Black Americans do.
Having developed over decades, these trends will be tough to reverse. But RESULTS volunteers continue to build powerful relationships with lawmakers, doing steady, persistent work to keep moving forward toward the vision of an end to poverty.
The Time Is Now
A lot of people have tried to become more engaged in the political process since Donald Trump took office. The RESULTS conference saw my tentatively raised hand and welcomed me as a partner. I did not leave the meeting the same as I went in. I'm more aware of my privilege, I understand that government assistance programs are critical as a bridge to a better life, I no longer make assumptions about what people in poverty look like, I see how citizen lobbyists really can make change.
I'm nowhere near done finding my own authenticity in this fight. But if Frances Moore Lappé can say she's just getting started at age 73, I shouldn't be afraid to say the same at 53.
Lappé's line struck a chord, but this is the one that stays with me, said by an Expert on Poverty: "Everyone is equally worthy just because."
Post Script
RESULTS was launched in the late 1970s focused on global poverty, which is still half its work. This July 4 op-ed by David Bornstein in The New York Times is worth a read to learn more about the organization, including highlights of the global programs for which RESULTS has garnered bipartisan support in Congress.