The Center for Exhibition Industry Research's CEIR Total Index found a "decent" 1.8 percent year-over-year increase for the first quarter of 2018. While the industry is still lagging behind the overall macroeconomic growth rate, "The increase in the first quarter supports our prediction that the exhibition industry will finally enter into an expansion phase in 2018 with the Total Index surpassing its previous peak," says CEIR economist Allen Shaw, PhD, chief economist for Global Economic Consulting Associates Inc.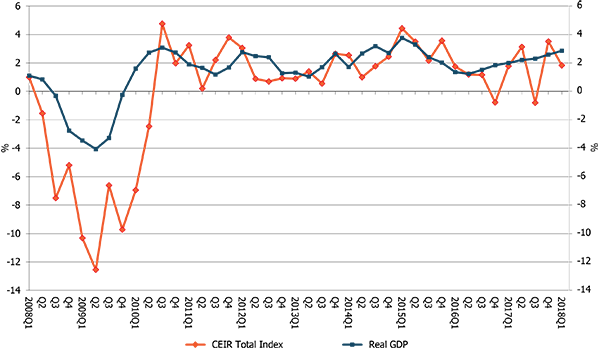 The winners so far are expositions that represent the building, construction, home and repair, industry/heavy machinery and finished business inputs, and government communities, all of which posted robust gains. The biggest winner was CES, the mega consumer technology event that featured 3,900 exhibitors in its 2.75 million-net-square-foot expo floor at the Las Vegas Convention Center in January, and drew more than 175,000 attendees from 150 countries. On the flip side were consumer goods, retail trade, and education shows, which posted year-over-year declines. 
The biggest metric gains came in real revenues (nominal revenues adjusted for inflation), which increased 2.8 percent. Net square footage grew 2 percent, while the number of attendees and exhibitors rose 1.8 and 0.7 percent, respectively.
"The first quarter of 2018 demonstrates that even in times when some sectors may be struggling, the total CEIR Index indicates the exhibitions industry is poised for steady growth," says CEIR CEO Cathy Breden, CMP, CAE.
Visit CEIR.org for more information.