A century after its debut, the National Restaurant Association's annual Restaurant, Hotel-Motel Show remains a strong draw, attracting 40,000-plus attendees and nearly 2,500 exhibitors to Chicago for four days every May. The largest U.S. foodservice trade show has an air of familiarity, with many exhibitors returning year after year. But events can't stand still and survive. Nearly every year brings new tactics to keep the event fresh and relevant. Marc Lapides, the association's vice president of marketing, communications, and programming–convention, shares six challenges for the NRA trade show and the solutions it's cooked up to keep the show enticing.
The challenge: Creating new ways for exhibitors to engage with potential customers
The days of collecting business cards and scanning badges for sales leads have been replaced with a desire to connect on a more personal level. "Many exhibitors want more activations, more data," Lapides says. "They don't want to just stand in their booths. They want to sponsor things, deepen their connections with attendees."
The solution: The 2018 show tacked on a separate two-day paid conference targeting restaurant revenue growth—arguably the most pressing concern for any restaurant operator. A number of large restaurant brands and some smaller organizations paid $799 to $899 for the chance to pick up actionable ideas and network at the intimate event, while some heavy-hitting exhibitors (Coca-Cola, Sysco, P&G) were eager to be associated as partners or sponsors. The conference will be back next year.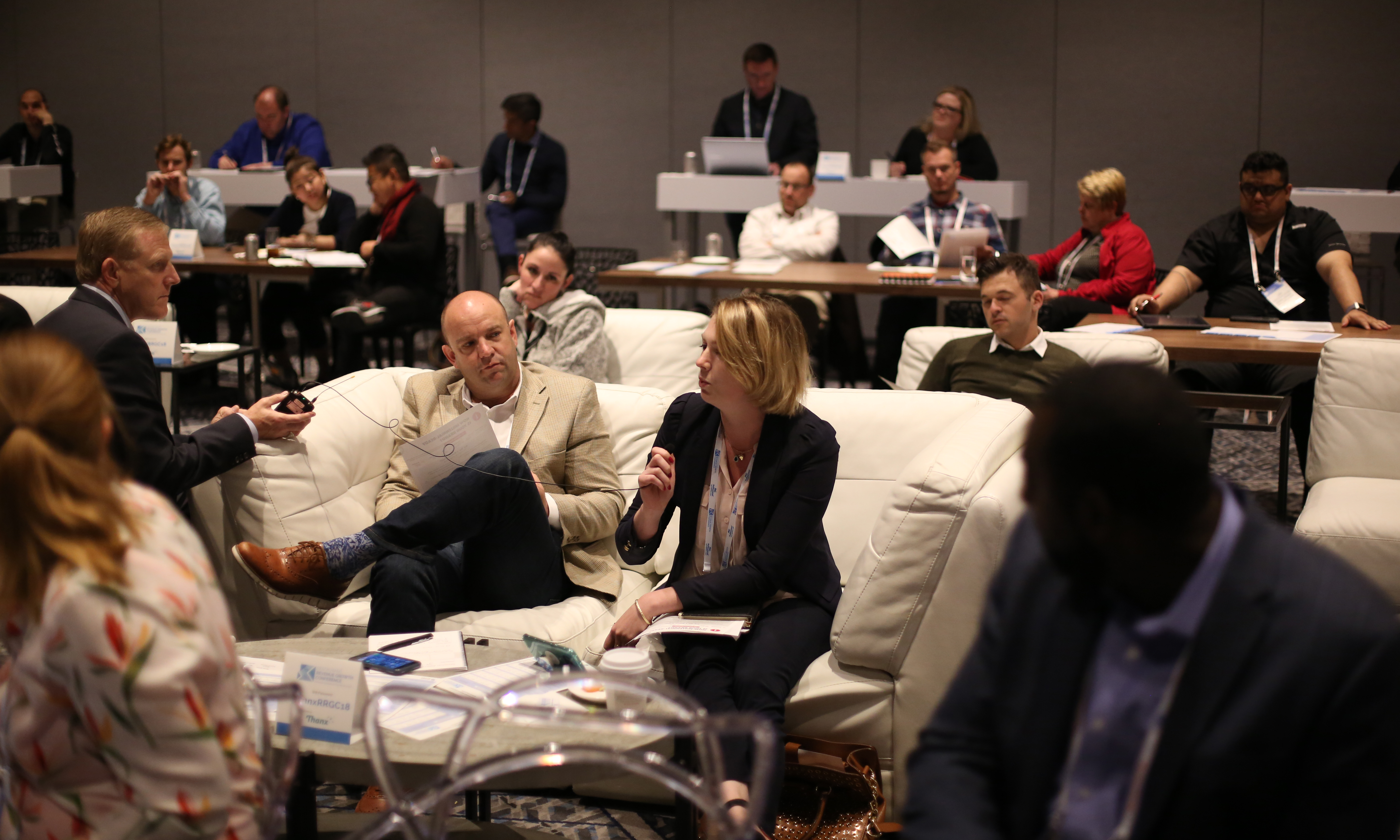 The challenge: Designing a better way to call out cool new products
One of the big reasons people attend the NRA conference is to discover new products and solutions for their restaurants. But finding those special new items in the aisles of a vast 715,000-square-foot trade show floor can be hit or miss. Some years ago, the association set aside a central location to showcase award-winning new equipment, but the best new food-and-beverage products didn't have anything similar. They didn't lend themselves to a single spot on the show floor since they cut across many categories. Exhibitors had to settle for booth signage promoting their winning products—but again, with acres of booths, the message often was lost.
The solution: This year, NRA invited companies singled out for award-winning new food-and-beverage items to provide samples at a popular hands-on demonstration classroom where attendees learned about trending foods and techniques. The setting was ideal because participants in the demos were already primed for new ideas, so exhibitors had a captive audience hungry to hear about their award-winning products. The strategy paid off. "It might have actually been a little too crowded, but we know the award winners (exhibitors) really liked it," Lapides observes. 
The challenge: Better connecting co-located show exhibitors
The BAR Show was originally positioned as a separate trade show dedicated to beverage, alcohol, and bar management. It was roped off, with attendees needing to register and pay separately to visit booths and sit in on tastings, demonstrations, and classes. "Alcohol is such an important revenue generator for so many restaurants, beyond bars and taverns, that we wanted to open up that area for all to experience," Lapides says.
The solution: Reconsidering the return on investment for attendees and exhibitors, versus registration revenues, this year the association dropped the velvet ropes on the BAR Show. Now, all NRA show registrants are welcome to cruise the boozy aisles. Not surprisingly: "This year it was more crowded than in the past, and there was a lot of good energy on the show floor," Lapides says.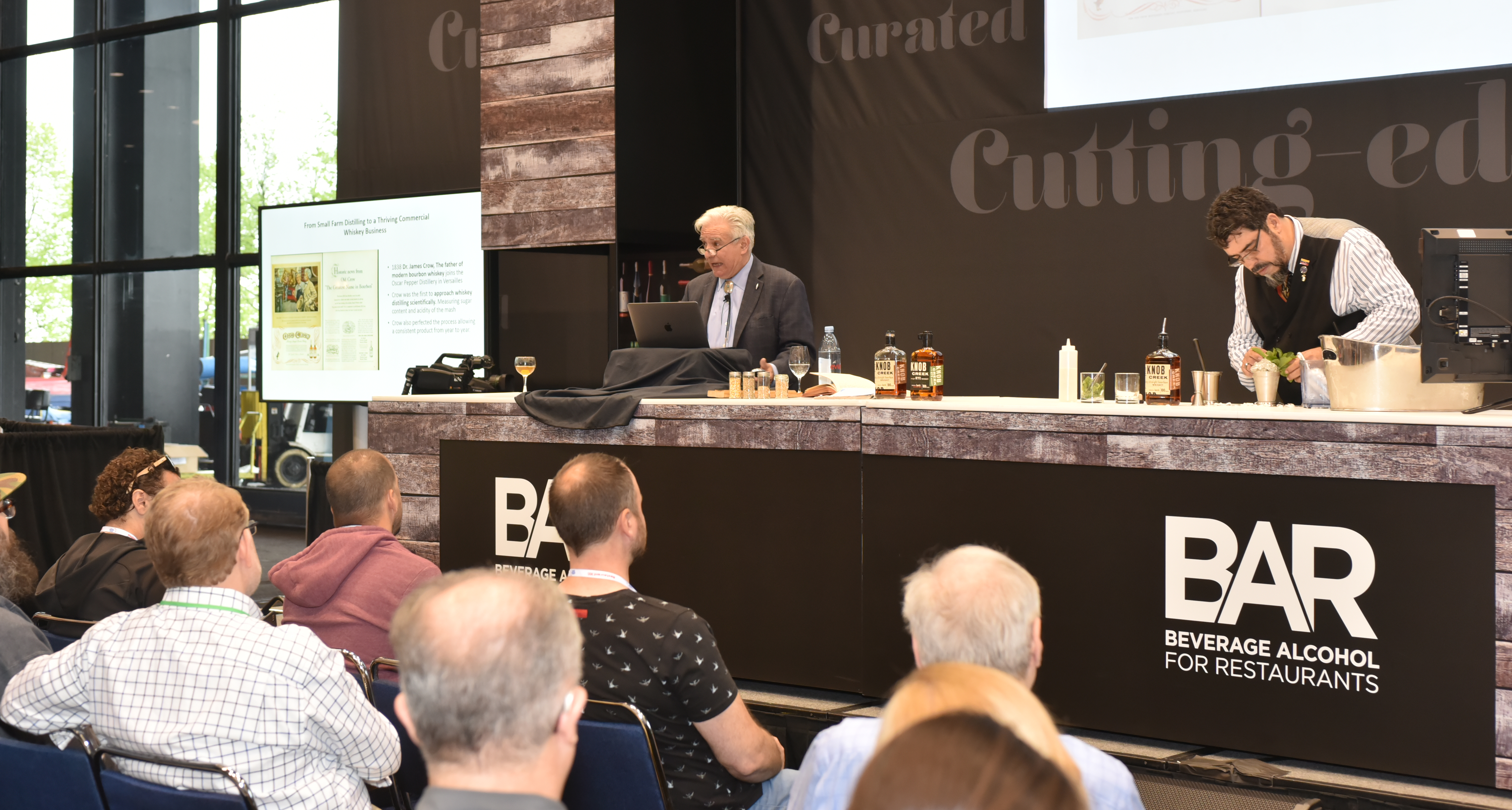 The challenge: Finding a healthy balance between learning experiences and a high-energy exhibit floor
Learning is a key component of the restaurant show, which brings in chefs, consultants, and industry leaders for dozens of cooking and mixology demonstrations, panels, and professional development sessions. Until recently, the bulk of this programming took place on a separate level of McCormick Place, a good 10-minute trek from the center of the trade show floor. It was inconvenient for attendees and tended to pull traffic away from the exhibits.
The solution: Now, educational programming is held in mini classrooms at the end of exhibit aisles. The switch provides more convenient access for attendees and keeps the energy centered on the exhibit hall. In some cases, such as an innovation theatre and the BAR stage, the classrooms tie in directly with adjacent exhibits, which tend to be grouped by product category.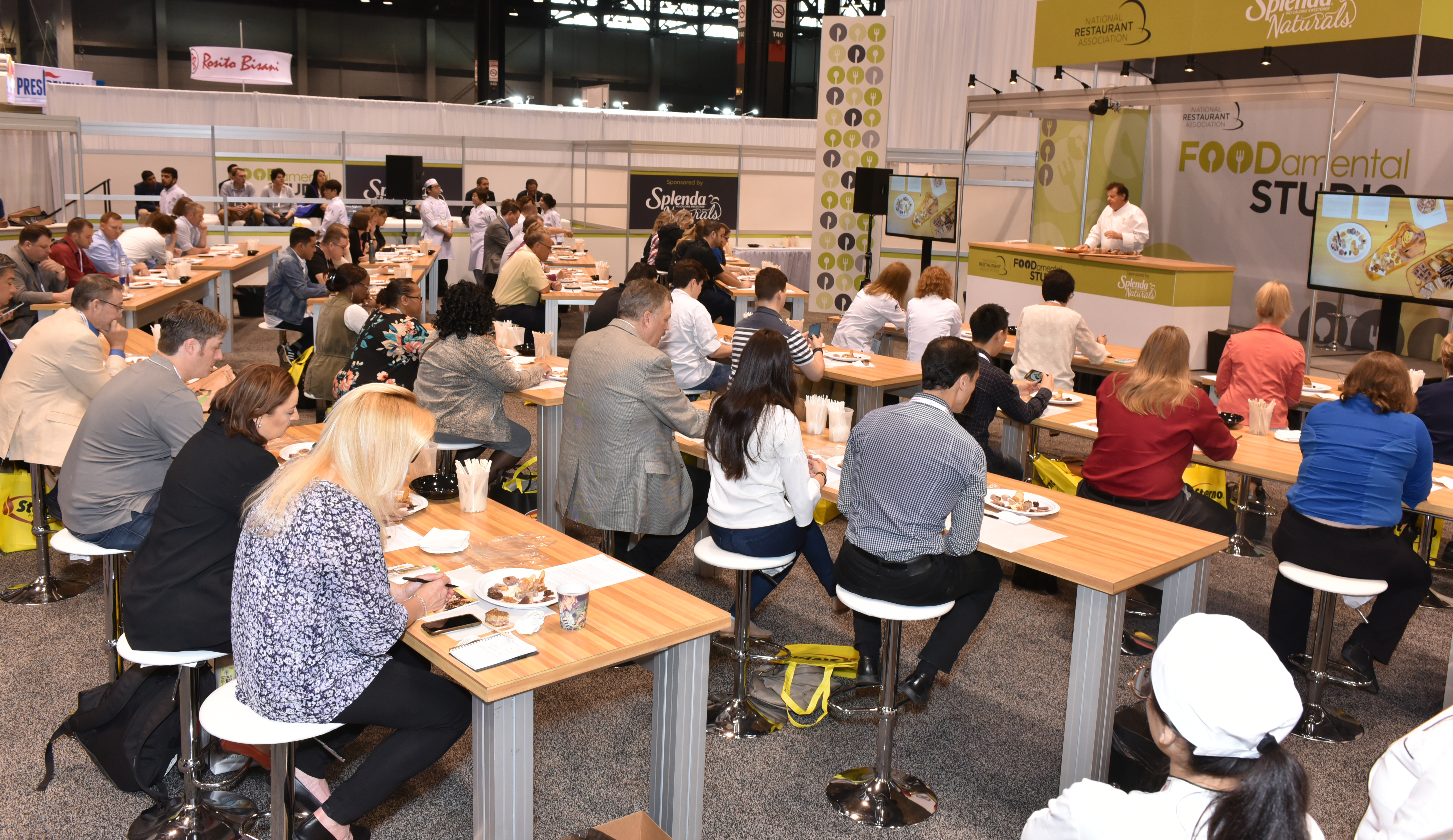 The challenge: Providing engaging content, year after year
Typically, presenters suggest session topics, which go through the programming staff for approval. NRA emails attendees and exhibitors a post-show survey, and audiences are asked to rate each educational session, so the convention staff knows what works and what doesn't. "One of the things we saw in our research is that people want to network more and to talk about topics they're interested in," Lapides says.
The solution: For the 2018 show, the Water Cooler, a new space on the show floor, was set up to host crowdsourced conversations and group meetups. Showgoers voted for their favorite discussion topics on social media; the schedule listed the issues up for discussion, and the show staff seeded some of the discussions and topics since this was the first time out for the Water Cooler concept. Meetups gave members of special-interest groups—students at the show, sustainability devotees, mixologists—a central place to connect. "It was usually full of people," Lapides says. "We saw busy whiteboards (large Post-it notes, to be exact) and lots of small group conversations."
The challenge: Maintaining or growing attendance
Signing on exhibitors hasn't been a problem for the NRA—for the last several years the show has sold out—but like many shows, organizers have to get creative to continue to attract attendees year after year.
The solution: NRA is working to create a more curated experience for attendees and increase international registration. "We have a lot of data to make the experience better, more relevant, and more segmented," Lapides explains. The Water Cooler was one effort to listen to the diverse needs of the audience. For next year, a new learning track built around emerging issues and technologies is under consideration; a keynote panel on the topic was one of the highest-rated events during the 2018 show. "We think people want help understanding the future of the industry—they want to see where it's going," Lapides notes.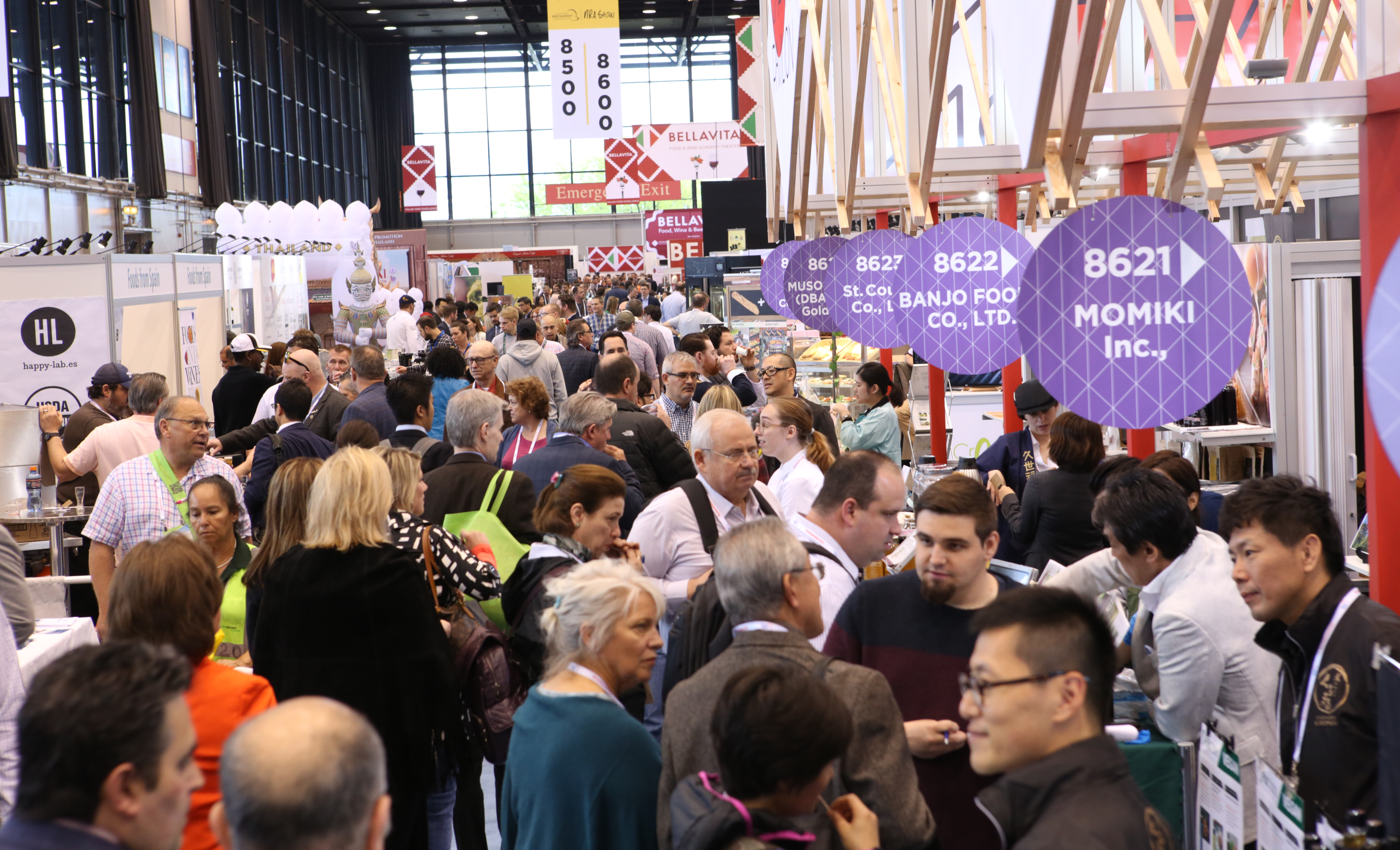 The number of international attendees at the show is up—now about 12 percent of the total—and Lapides says there is room to expand that, but overseas visitors need to be assured that the trip is worth their time and investment.
The show management team tackles these and other issues with interdisciplinary work groups, which each have five to eight people considering strategies to make the next show better. Lapides thinks that approach, together with a staff that combines veteran convention managers and others with experience outside the industry, is a winning formula. "It helps us stay on top of things and stay creative," he adds.