Yesterday was Global Exhibition Day, and many trade show organizers and others in the expo community from 85 countries and regions from Albania to Zimbabwe took the opportunity to shout out loud about the economic importance of the industry. The goal of #GED18—and its U.S. version, #ExhibitionsDay, was to advocate with politicians and other stakeholders for the industry's issues and educate them about the economic power of the industry. Another specific goal of #GED18 was to connect with the young people who will become the next generation of exhibition professionals.
Here are a few key statistics gathered by UFI, the Global Association of the Exhibition Industry, which spearheaded the worldwide campaign in collaboration with 41 partner associations:
UFI—The Global Association of the Exhibition Industry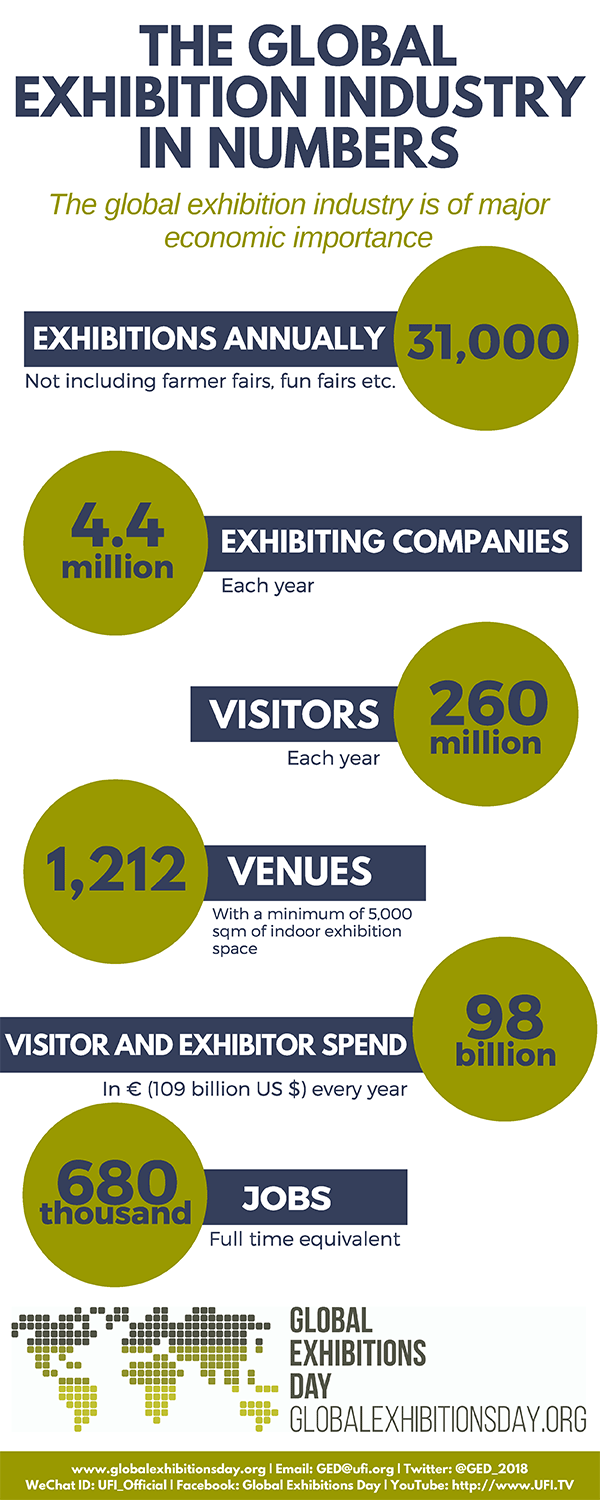 According to UFI, "Preliminary data analysis shows that on Global Exhibitions Day alone, joint initiatives by the industry reached a record number of people all over the globe—both face-to-face and on social media. Initial research suggests that the number of GED events and projects has risen yet again year-on-year. On social media, more than 4 million individual twitter accounts were reached through messages using the #ged18 hashtag alone on GED itself—up by at least 30 percent from last year." Here is a full list of the networking and education activities that happened under the GED umbrella on June 6.
One announcement that came yesterday was from International exhibition and convention company RAI Amsterdam, which celebrated the day by saying that it plans to organize an event industry hackathon on October 31 that will pull together a team of experts, scientists, students, and professionals to tackle challenges related to sustainability, matchmaking, experience, logistics, and other event issues. The goal is to collaborate throughout the 24-hour hackathon to find solutions to challenges, which any interested party can submit until August 1. The winning team also will be awarded €2,500 to donate to a charity of its choice. To learn more about the event, submit a challenge, or register to participate, go to www.rai.nl/hackathon.
Meanwhile, Back on Capitol Hill
In the U.S., exhibition-related businesses and associations celebrated Exhibitions Day by storming Capitol Hill to educate lawmakers on issues including online booking scams, safety and security issues, travel challenges, and infrastructure investment (click here for more specifics on these talking points). If you missed it, it's not too late to tweet your local member of Congress—and if you're not sure what their Twitter handle might be, the Exhibitions Day website has a handy tool to help you do just that. Here are a few tweets from the U.S. and abroad: