"We have been inspired this year to lead from the front," said outgoing chair of the American Society of Association Executives Scott Wiley, FASAE, CAE, at the ASAE Annual Meeting and Exposition, held August 12–15 in Toronto. The world—and the world of associations—is changing rapidly due to the influx of new Millennial members, changing membership models, and changing member expectations, said ASAE President and CEO John Graham, FASAE, CAE, at a press conference. These changes all require different tools and skill sets, and ASAE has been focusing on providing what today's associations need for its own success and that of its members.
Among the initiatives ASAE has been working on:
• The Experience Design Project, or XDP, replaced the organization's long-running Springtime expo in May of this year at the Gaylord National with an experiential learning design that, according to Graham, was greeted with enthusiasm. "More than 75 percent of survey respondents said that XDP delivered an idea or concept that they planned to implement or try at their own next event," he said. While not all of the experiments ASAE tried at XDP lived up to expectations, the organization is rolling the lessons learned into the 2018 XDP, to be held April 19–20 2018 at the same venue.
• Digital Convergence, a new conference that aims to bring together senior-level association executives to learn how to get ahead on game-changing tech trends, is scheduled for September 13–15 at the Hyatt Regency Chicago. 
• A pilot Innovation Lab, coming in early 2018, that ASAE is designing in collaboration with its corporate partner Visit Salt Lake. The two-day event, which will be held in Salt Lake City, Utah, in conjunction with the Sundance Film Festival, will bring teams of up to six people each from three associations to work on a challenge using design-thinking techniques. The goal is for the groups to generate and evaluate potential solutions and leave with a prototype.
• The ASAE Learning Online platform, launched earlier in 2017, enables association professionals to define their career development needs, do skills gap assessments, access almost 300 programs, and track their progress. The platform is open to both members and non-members because, Graham said, "We're all about helping people to do their jobs better."  
• The ASAE Insurance Source, a new platform designed to provide associations with customized and competitively priced property-casualty insurance and risk-management programs offered by Aon Affinity Nonprofits and AXIS PRO.
•A hybrid membership model, launched a year and a half ago, allows associations and association management companies to purchase individual memberships for their staff members. Graham said the new model has resulted in growing membership from 21,000 to more than 39,000 in 18 months.
• The ASAE ForesightWorks project that marks the reboot of the ASAE Foundation's trend research work. The research will be an ongoing effort to scan the environment for factors that affect associations. So far, the project has cultivated 41 drivers of change to focus on and offered three "action briefs" at the meeting in Toronto. According to Graham, the emphasis will be on practical solutions and concrete ways to apply the insights the research uncovers.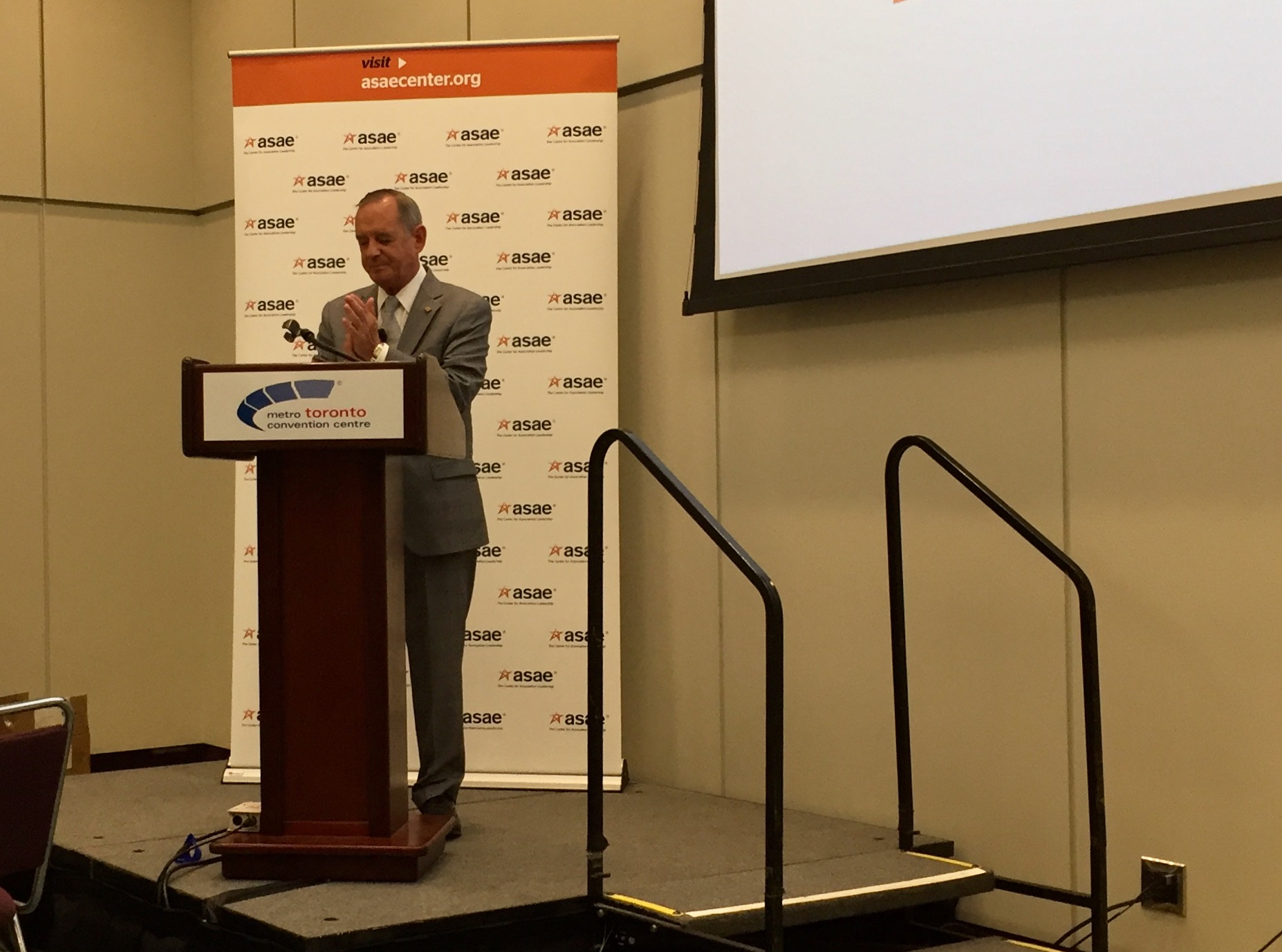 • Three new organizational assessments will be offered under ASAE's AssociaMetrics initiative:
1. An Association Inclusion Index, modified from the existing ASAE diversity and inclusion tool, which associations can use to assess their cultural competency;
2. A Global Maturity Assessment that associations can use to help determine their readiness to expand globally; and
3. A Technology Readiness Assessment that members can use to determine how savvy they are about today's technology, and their readiness to adopt new technology strategies.
ASAE also plans to keep up its advocacy efforts, which recently have been focused on fighting state "bathroom bills" that discriminate against LGBTQ people, and on the proposed travel ban on people coming from select Muslim-majority countries. This year the organization is adding the overtime rule, whose implementation is currently on hold, and tax reform to its watch list. The overtime rule, approved by the Department of Labor last year, would almost double the minimum salary requirement for overtime pay, which ASAE believes would put an undue burden on associations. ASAE's position is that the overtime threshold should be adjusted annually to reflect inflation, and that the threshold should be adjusted based on location, since cost of living and salaries vary widely in different parts of the U.S. When it comes to tax policy, Graham said that ASAE is concerned that Congress will be looking for other things to tax now that the border tax is off the table—such as removing the trade show exemption and other exemptions the nonprofit community currently enjoys. "Any issues that affect our community, we'll be on top of," he said.
This year's Annual Meeting drew just north of 4,500 attendees, more than half of whom were association executives. The 2018 Annual Meetings and Exposition is scheduled to be held August 18–21 at McCormick Place in Chicago.