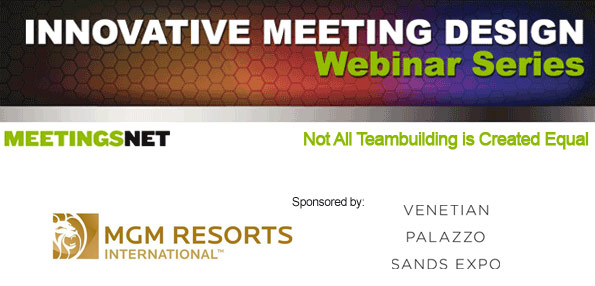 Thursday, May 15, 2014 @ 2 p.m ET / 11 a.m PT
This free webinar on May 15 at 2:00 p.m. ET will focus on three very different types of teambuilding for groups: activity-oriented, CSR-focused, and destination-based.

Our three experts will discuss examples of different kinds of teambuilding exercises they have used for various types meeting groups. Learn to tailor your teambuilding activities to the participants and the meeting's objectives to achieve maximum success.
Alan Ranzer, managing partner and cofounder of Impact4Good, has created and implemented hundreds of teambuilding activities for major corporations which have contributed immeasurably to local charities in the United States and abroad.
John Palmisano is a senior meeting manager/team lead with American Express Meetings & Events. He is responsible for the executive meeting and events team of the American Express company and also serves as the senior meeting manager, planning and executing events sponsored by the chairman's office.
Paul Miller is managing director of Spectra and 2014 Site president, who will discuss destination specific teambuilding events he does with clients visiting London, including an Abbey Road recording studio activity.