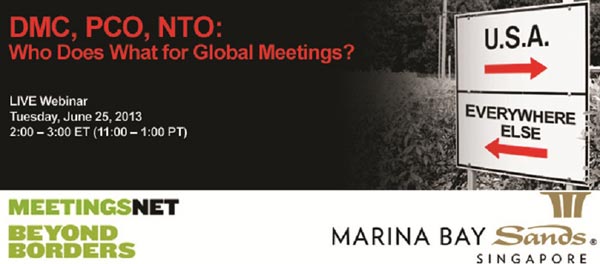 Planning international meetings can be confusing: understanding the subtleties between different suppliers' roles (DMC vs. PCO vs. CVB), the differences in hotel ratings and standards from country to country, and the ever-changing visa rules for attendees from different countries.
Join panelists Bobby Badalamenti, Director, Siemens Event Management Services, Siemens Corp.: Agnes Canonica, CMP, CMM, General Manager- Americas, MD Events; and Phelps R. Hope, CMP, Vice President, Meetings & Expositions, Kellen Meetings; for a free webinar June 25 at 2 p.m EDT as they share the challenges they've faced when planning international meetings―and find out what they do to avoid misunderstandings.

You'll learn about:
questions to ask your meeting suppliers
differing visa requirements from country to country
how to distinguish hotel quality and ratings from one country to another.
Don't miss this free webinar! Register now.
Panel:
Bobby Badalamenti, Director, Siemens Event Management Services, Siemens Corp.
Agnes Canonica, CMP, CMM, General Manager- Americas, MD Events
Phelps R. Hope, CMP, Vice President, Meetings & Expositions, Kellen Meetings
Moderator: Barbara Scofidio, Editor, Corporate Meetings & Incentives