The last quarter of 2013 was very good to trade shows, according to the Center for Exhibition Industry Research Index. The 3 percent increase in four key metrics was more than triple the 0.7 percent growth experienced in Q4 2012, and leaps and bounds ahead of the 0.4 percent trade shows grew in Q3 2013. In fact, the latest overall trade show performance numbers outstripped the overall GDP's 2.7 percent Q4 growth, and marked the 14th consecutive quarter of growth for the expo industry. Overall, trade shows grew 1 percent in 2013, just slightly below the forecast 1.1 percent growth. The four key metrics used to measure performance are net square feet of exhibit space sold, professional attendance, number of exhibiting companies, and gross revenue.
"With the fourth-quarter's results, 14 consecutive quarters of growth, and our predictions closely matching outcomes, we are confident in the continued growth and progress of the industry," said CEIR's economist, Allen Shaw, PhD, chief economist for Global Economic Consulting Associates Inc. "The exhibition industry has survived and emerged from the Great Recession, and we are confident that the upswing will continue."

Of the four metrics, professional attendance was the big winner, showing almost 6 percent growth in 2013, though lifts were also seen in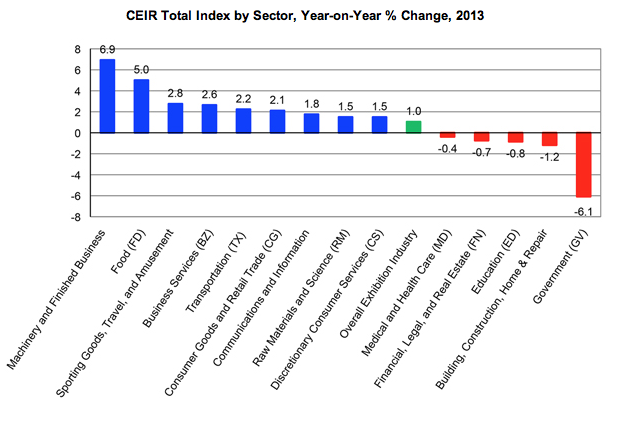 exhibitors and real revenues to the tune of 3 percent and 3.6 percent, respectively; only net square feet showed a decline over 2012 numbers, dropping a scant 0.5 percent.
Among the 14 key sectors tracked by the CEIR Index, industrial/heavy machinery and finished business inputs showed the highest increases, at almost 7 percent. Food was not far behind at 5 percent growth, followed by sporting goods/travel/amusement, business services, transportation, consumer good and retail trade, raw materials and science. and discretionary consumer services.
The government sector showed the biggest decline—down more than 6 percent—likely due to government budget cuts that included trade shows. Medical/healthcare, financial/legal/real estate, education, and building/construction/home repair also showed slight declines over 2013.
The full 2013 CEIR Index with three-year projection will be released in April.