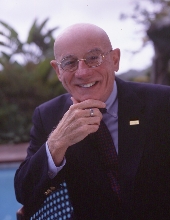 Bob Dallmeyer, CEM, who passed away in his Los Angeles home February 8 after a three-month bout with throat cancer, will be missed by the trade show industry he served long and well. He was president of RD International, a global exhibition company, for 30 of his 51 years in the trade show industry. His career also included directing all trade show activities for United Technologies' more than 200 exhibitions worldwide.
According to a message sent to members by the International Association of Exhibitions and Events, Dallmeyer was "an incredibly kind and exceptional visionary, entrepreneur, leader, mentor, educator, and friend." In addition to serving as IAEE's chairman in 2001, Dallmeyer held leadership positions on both the IAEE international and chapter levels, and "dedicated hundreds of hours to educating professionals at all stages of their careers by teaching exhibition management and the CEM Learning Program around the world." He also received IAEE's two highest awards, the Pinnacle Award (formerly the William Hunt Eisenman Award) and the Chairman's Award.
The capstone to his career came in 2006, when he was inducted into the Convention Industry Council's Hall of Leaders. Dallmeyer, who was the only person to chair both IAEE and the Trade Show Exhibitors Association, also received the Trade Show Executive's Legend and Leader Award. Here's the video from his induction into the CIC Hall of Leaders in 2006:
The IAEE note also said, "Bob's contributions through his vast experiences, unwavering dedication, deep knowledge, and never-ending humor shaped the industry and made it what it has become today. … He will be dearly missed but always remembered by all of us who knew him." This is clearly evident from the outpouring of photos, memories, and emotions on his personal Facebook page.
According to an obituary in the Los Angeles Times, Dallmeyer was "energized by every moment of life, every person he met, and lived life to the fullest. He was a true inspiration to all who came in contact with him. Beyond that, he was a poet, mentor, teacher, speaker, world traveler, radio show host, published author, activist, and friend. One of his great passions was serving the LGBTQ community throughout the country, most recently, in LA, through The Lavender Effect and the L.A. Gay & Lesbian Center."
In addition to a wealth of industry friends and colleagues, Dallmeyer leaves behind his husband, John Vannucci; his daughters, Kristen and Kimberly; his sons-in-law, and five grandchildren.
In lieu of flowers and cards, the family has requested contributions be made to the IAEE Bob Dallmeyer Education Fund that has been created in his honor.
Send checks to: IAEE Bob Dallmeyer Education Fund, 12700 Park Central Drive, Suite 308, Dallas, TX 75251. For contributions by credit card, please contact Beverly Elliott at (972) 687-9203, or [email protected] The family also welcomes contributions in his name to The Lavender Effect and the LA Gay & Lesbian Center.
According to the Times, a "Celebration of Life" memorial will be held in his honor this summer.