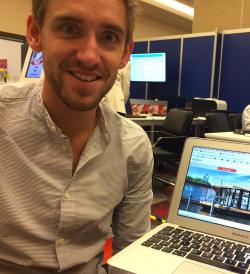 Spacebase, a website for finding and booking unconventional, non-hotel venues for small meetings, has just crossed the pond. The company, which has been operating in Europe for two years, began offering New York City venues in late October.
Ranging from trendy white lofts to playful photography studios to small conference rooms to galleries and more, Spacebase currently has 110 NYC property listings and expects to include 300 by the end of the year, says Julian Jost, CEO and founder of the Berlin-based company that has 2,000 listings around Europe (1,000 in Germany).
Spacebase isn't the only website that can help you book a nontraditional location for your New York City off-site—consider Eventup, Splacer, and Peerspace, for example. However, the site is unique in that it is focused on small meetings of up to 100 people (30 people is the sweet spot, says Jost) and is not intended as a site for booking Christmas parties, wedding receptions, large corporate events, or anything outside its small-scale, business-specific niche.
The Spacebase website, which will be familiar to anyone who has scrolled around Airbnb.com, includes multiple photos of the venues, user reviews, an availability calendar, and pricing by the hour and by the day. Pricing runs the gamut at Spacebase's NYC listings from a tiny office for two for $9 an hour in Midtown to an avant-garde penthouse for $750 an hour in Tribeca. In addition, the site provides capacity information for a variety of room setups, and the ability to order flipcharts, a projector and screen, lunch, coffee, and a few other meeting basics.
Jost believes that the confluence of a couple business trends make it the time right for a site like his. First, he says, more people are working at home, and therefore need a place for small meetings with clients and teams. And second, people are looking for experiences, not just another business meeting, making a loft, gallery, or studio ideal for an off-site planning session.
Down the line, Jost expects to branch out to other U.S. cities, as well as continue the company's growth in Europe and elsewhere.