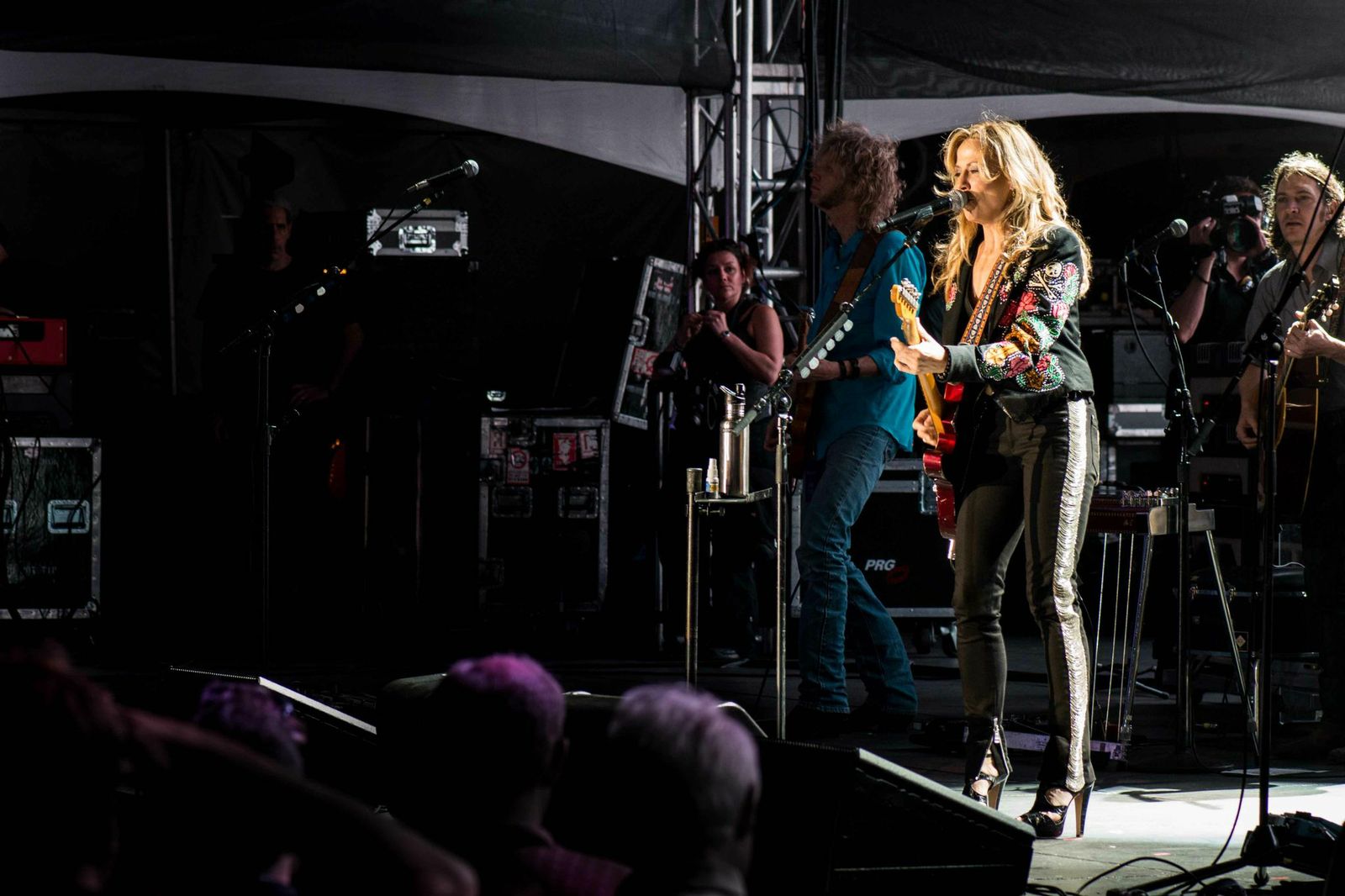 Nashville is the kind of city that draws people in, whether they're hopeful young musicians looking for their big break, established stars capping their careers with an appearance within the hallowed walls of Ryman Auditorium, tourists looking for a brush with fame, or conference-goers experiencing the city's mix of history, honky-tonks, and down-home hospitality.
It was education, not twang and glitter, that drew almost 100 faith-based meeting planners and hospitality professionals from 14 different states to the Sheraton Music City hotel May 20–21. But, in true Nashville fashion, participants at RCMA's first-ever Aspire conference did end up having a brain-busting, foot-stomping, tambourine-shaking, friend-making, memory-collecting good time crammed full of ideas, education, inspiration, and camaraderie.
Getting to Know Each Other—and the Host City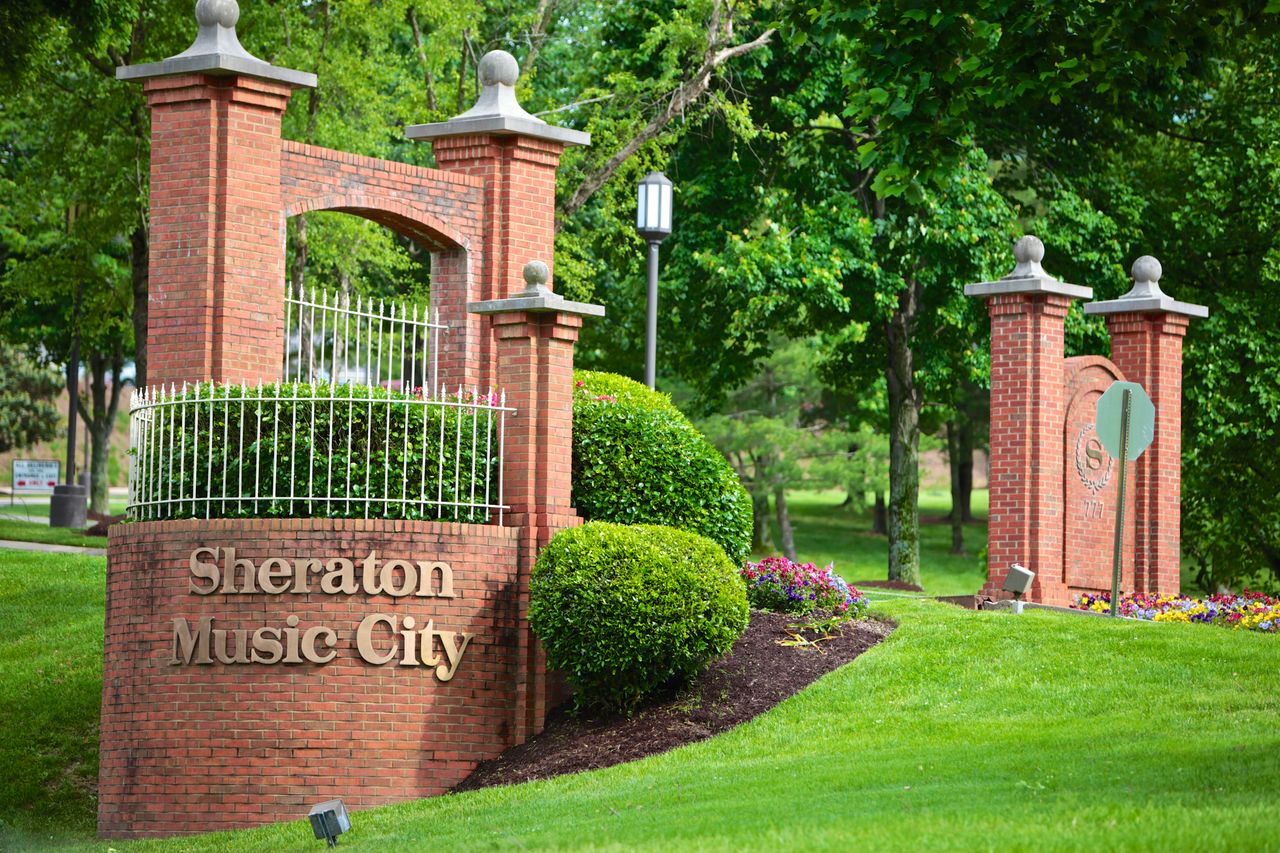 The conference was sponsored by the 410-room Sheraton Music City, a beautiful property with more than 33,000 square feet of meeting space that, while just minutes from Nashville's airport, feels like a country estate, and Visit Music City, Nashville's convention and visitors bureau. Attendees knew they were in for something special as they swept up the long drive, through the Sheraton's gates, to the spacious, gracious lobby, where they were treated like the eagerly anticipated guests they were.
RCMA staffers were on hand to make sure all could register seamlessly and to usher them into a session room for a musical greeting from singer, songwriter, and fiddle player DeMetri Moon. Acquaintances became friends as RCMA's director of conferences and events Dean Jones helped break the ice with some interactive activities, and strangers warmed into colleagues as planners and suppliers got to know each other—and the organizations and venues they represent—at the adjacent trade show.
The conference coincided with the grand opening of the new Nashville Music City Center, so Aspire conference attendees toured the facility on the first day of the conference. And what a facility it turned out to be.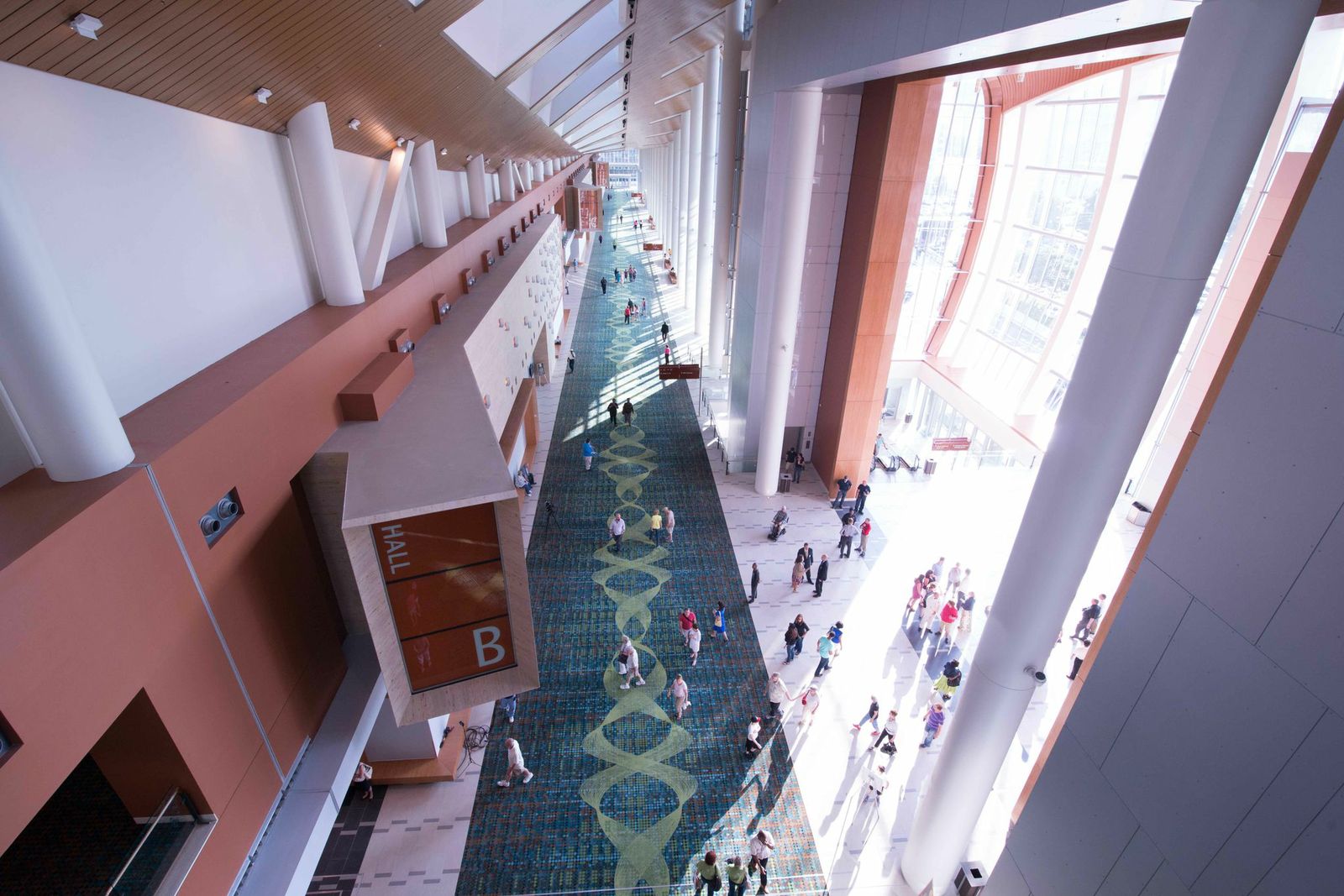 Aspire attendees were awed by the city's new convention center, a 1.2-million-square-foot facility that boasts an eight-acre expo hall, a 57,500-square-foot Grand Ballroom, an 18,000-square-foot Junior Ballroom, breakout rooms galore, and a 175,000-square-foot green roof, designed to mimic the rolling hills of Tennessee.
The artwork alone was jaw-dropping, with pieces including the multistory "Euphony," a stunning sculpture of steel ball chains by artists Benjamin Ball and Gaston Nogues. The center commissioned eight original pieces for permanent installation, along with hundreds of non-commissioned artworks that peek out at visitors from every nook. The center also is seeking to achieve LEED—Leadership in Energy and Environmental Design—Silver certification for its environmentally friendly design, which includes a 360,000-gallon rainwater collection tank that will store rainwater from the roof, which will then be used to irrigate outdoor landscaping and flush the hundreds of commodes in the building.
Opening in September is the adjacent Omni Nashville, with 800 guest rooms, 54 suites, and a 25,013-square-foot ballroom, a 15,013-square-foot junior ballroom, and more than 49,000 square feet of pre-function space.
In between the Music City Center and the Omni, which abuts the Country Music Hall of Fame and Museum (in the midst of its own 220,000-square-foot, $75 million expansion, including a 10,000-square-foot glass-enclosed ballroom), is a plaza dedicated to public concerts. In fact, to top off the first day's events after a private dinner in one of the Music City Center's meeting rooms, Aspire attendees, sitting in a VIP section, enjoyed a concert by the Gospel-inspired Fisk Jubilee Singers, old-time pickers The Time Jumpers featuring Vince Gill, musician Mikky Ekko, and pop singer Sheryl Crow. The happy but tired crew, wowed by the fireworks that exploded in light-soaked glory overhead at the evening's finale, headed back to the Sheraton Music City for a good night's rest before the next day's educational activities began.
Beginning With Some Inspiration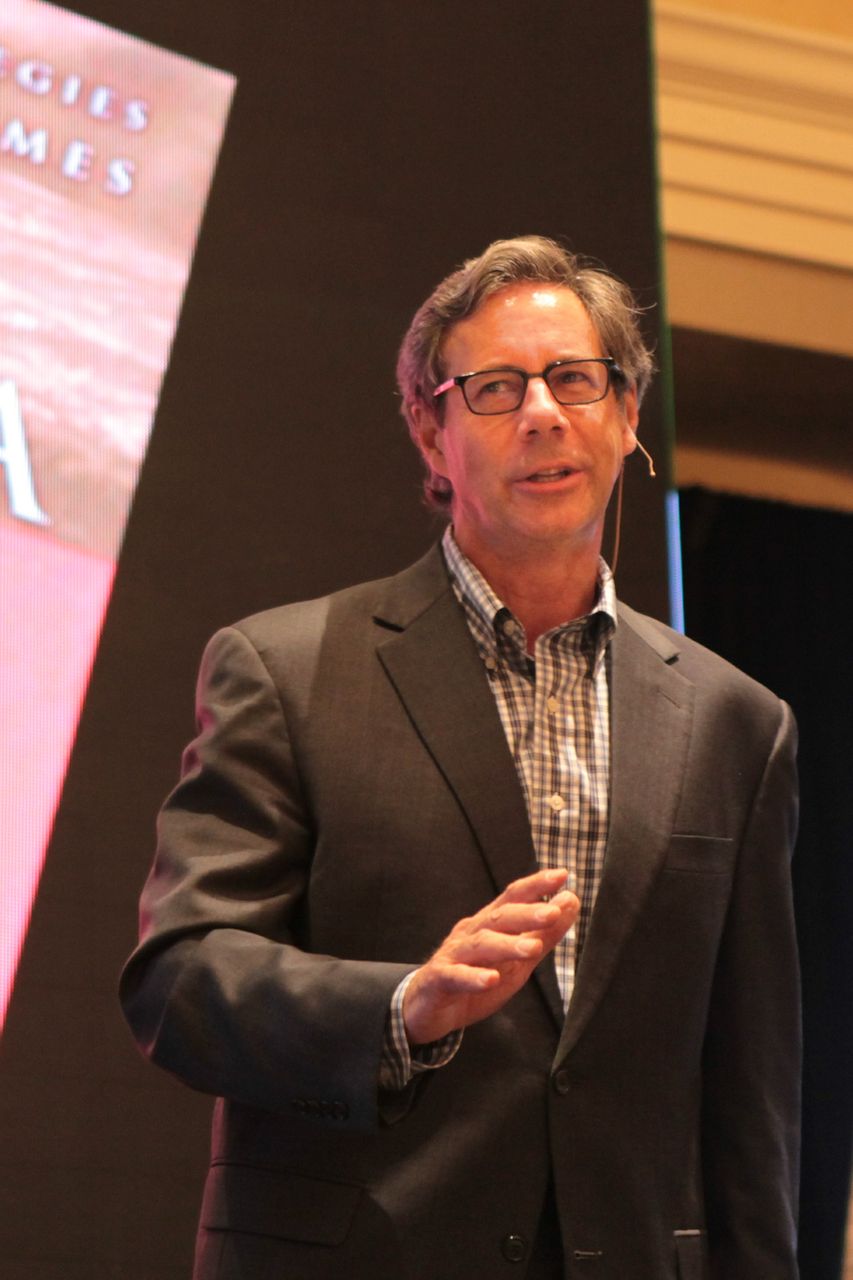 The aroma of bacon, freshly made omelets, and lots of good hot coffee wafted though the lobby as Aspire's meeting and hospitality professionals regrouped the next morning. The sound in the room rose as people wandered in, plates in hand, and began learning more about what it means to be a religious meeting planner, and what it takes to service this specialized market niche.
Robert J. Morgan, pastor of Nashville's The Donelson Fellowship and the best-selling and Gold Medallion–winning writer of more than 25 books, ratcheted up the energy level in the room as he bounded to the stage to explain the life rules he learned while reading the Bible during a plane ride several years ago. His heart had been heavy because he had a big problem to solve and no idea how to approach it as he settled into his seat to begin his daily devotions on that fateful journey. Then he started reading Exodus Chapter 14 about the plight of Moses and the Israelites as they found themselves trapped between "the devil and the deep blue sea." As he read, he started to devise a strategy to help solve his problem.
Then, "as preachers tend to do, I turned it into a series of sermons," he said to the laughter of the crowd. The sermons then morphed into a book, The Red Sea Rules. Morgan discussed each of the 10 principles he lays out in the book, such as, "Recognize that whatever you're facing, God has placed you where you are. We're not just wandering stars in life—the Lord has a plan for us," he said. Other rules include, "Be more concerned about God's glory than your release," "Stay calm and confident and give God time to work," and "Trust God to deliver in his own unique way." You may not know how or when God will provide help—but then again, the Israelites weren't expecting the sea to part, either. He told a story about a former Vietnamese prisoner he once spoke with who epitomized the ability to live this rule. "'Either we'd get out of prison, or He'd deliver us to Heaven,' said the former prisoner through an interpreter. 'Either way, He'd deliver us.'"
Another rule that seemed to resonate with the crowd was "Acknowledge your enemy, but keep your eyes on the Lord." Morgan said, "We can keep our eyes on our problems and acknowledge the Lord, or we can keep our eyes on the Lord and acknowledge our problems. That change in focus changes both our approach to solving a problem, and our attitude toward our approach.
Tapping Into Collective Wisdom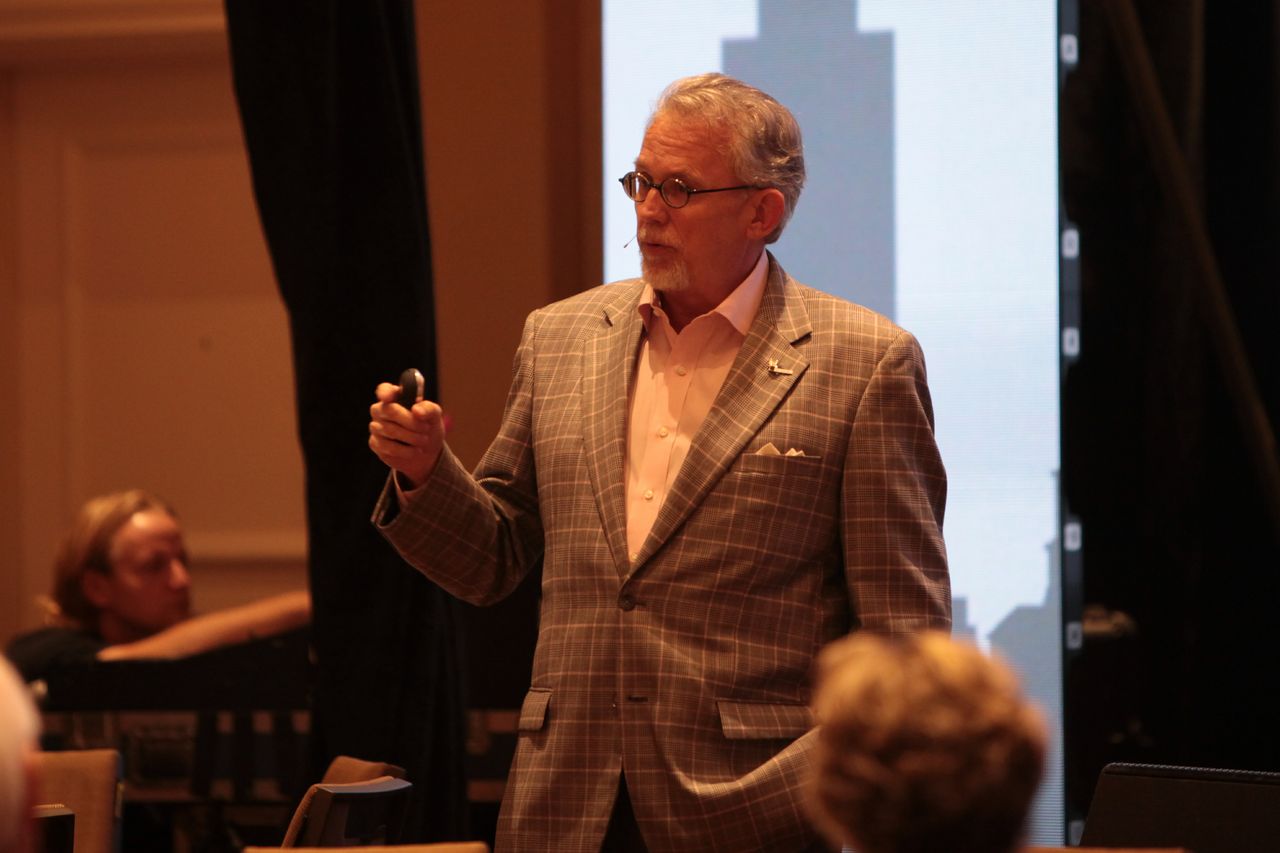 Following up that inspirational session would be no easy task, but Michael Owen, CEO and managing partner of event production and destination management firm EventGenuity, brought a different energy to the room by laying out what he sees as the most buzzed-about topics at meetings and events industry conferences, then turning the conversation over to Aspire attendees. "This collective room is smarter than I am," he noted before launching into the hot topics.
The first trend he talked about was corporate social responsibility, often abbreviated as CSR, which is "the commitment to behave ethically and contribute to economic development while improving the quality of life of our workforce and their families, as well as the communities in which we work." This often includes sustainability, where social, economic, and environmental needs overlap, said Owen.
Meetings industry advocacy is another top-of-mind topic today, especially after the "AIG effect" and other meeting-related scandals highlighted in the media in recent years. "We have to demonstrate our value and the economic impact of meetings," said Owen. Meetings industry show trends also are on planners minds as they see hosted-buyer programs—where vendors pay for qualified planners to attend an industry show in exchange for appointments with the planners—shift from a European phenomenon to U.S.-based events such as RCMA's Emerge.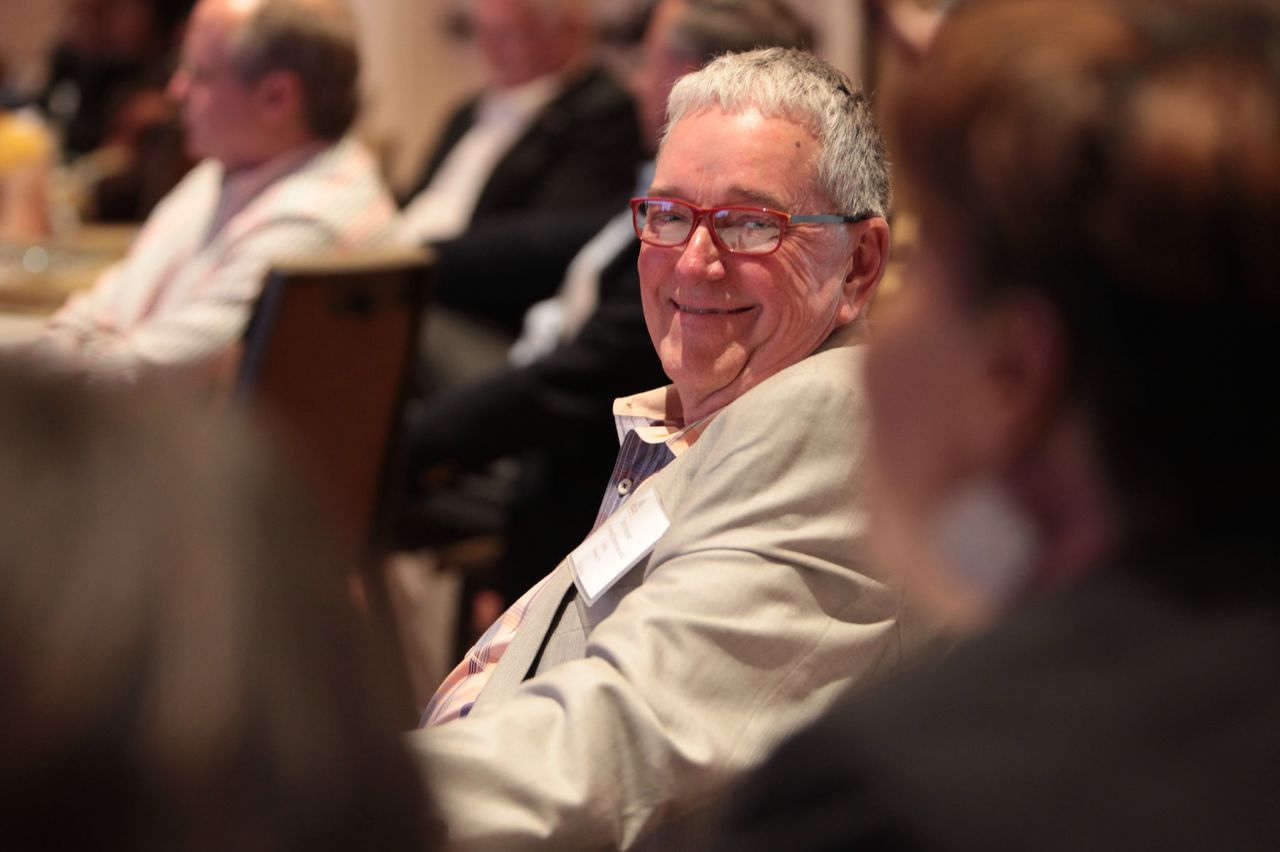 The Convention Industry Council's Accepted Practices Exchange, or APEX, initiative also is, if not a hot topic, at least warming up, said Owen. APEX is designed to make meeting planning more efficient, save time and costs, enable better communication among the various players, and streamline processes involved in meetings, he said. To date APEX has put together a 1,400-term industry glossary that, as Owen said, "gives a starting point for speaking the same language."
 It also has developed a series of best practices around requests for proposals, an event specification guide, post-event reporting, contracts, housing and registration, and meeting site profiles, many of which include templates planners and hospitality partners can download and use. APEX also has developed a series of sustainability standards in conjunction with ASTM on everything from accommodations and AV to exhibits, food and beverage, meeting venues, and transportation (there are nine standards in all). The glossary and an RFP workbook were introduced between 2011 and 2012. Current projects the APEX initiative is tackling include high-speed Internet access, or HSIA; eRFPs, and new formats for post-event reports and the event specification guide.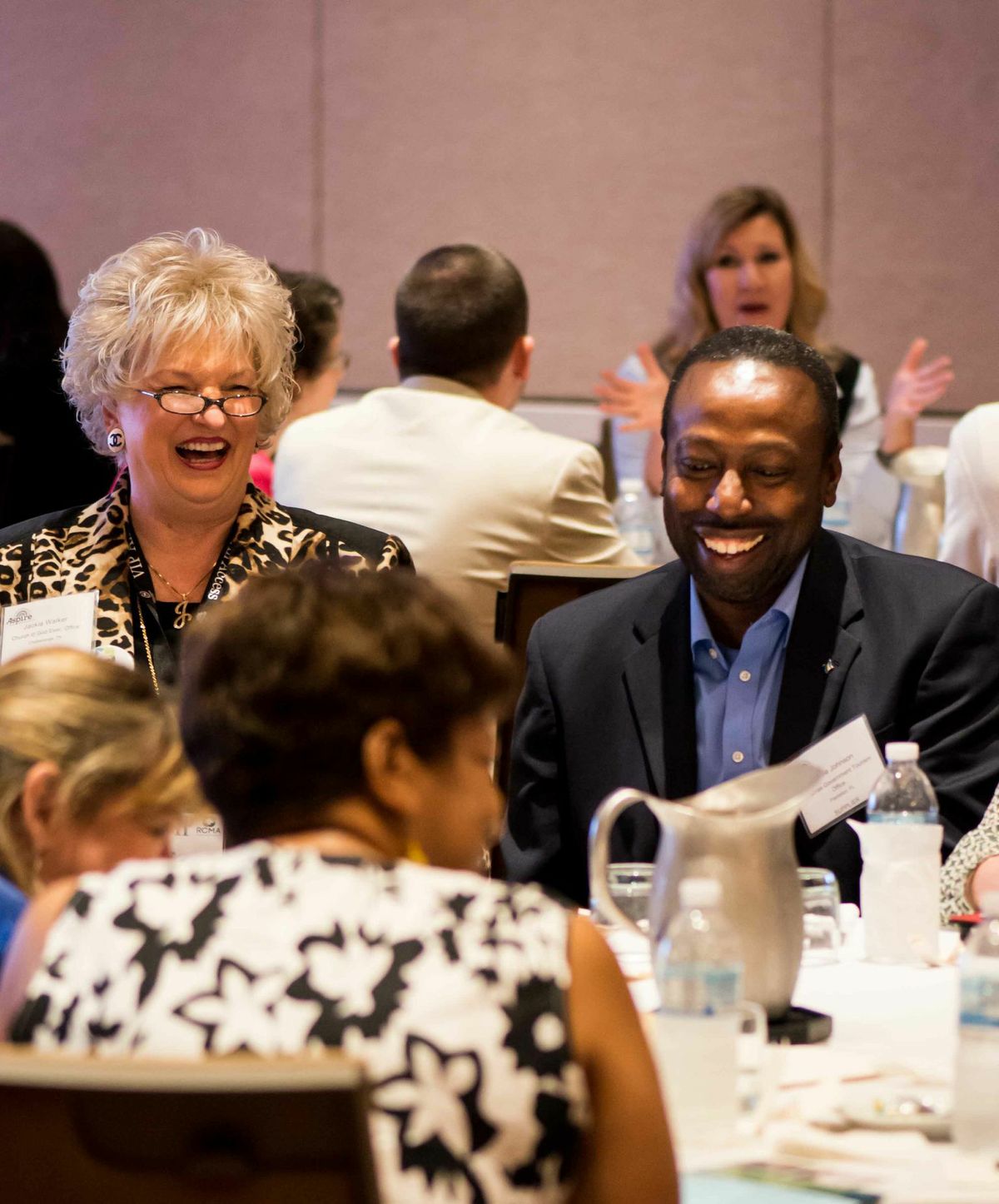 The final topic Owen introduced was the one that really got the room buzzing: HSIA. And Aspire attendees aren't alone in finding that topic daunting. "This is the hottest topic I've seen in any group in years," he said. Some think free Internet should be standard, but Owen questioned whether that would be sufficient, since it may not provide the level of access some attendees are expecting. Nowadays planners need to be very specific about asking for exactly what they want, not just "free Internet," he added. "Would you go into a meeting and just say 'We want food'? Of course not. You'd have to say how many people, steak or hot dogs, etc. It's the same thing with Wi-Fi." 
Ears did perk up when he mentioned the APEX bandwidth estimator, where you can plug in a meeting's specific parameters and get a rough idea of how much bandwidth you'll need, though the larger the meeting is, the less dependable the results become. Among the factors determining bandwidth are how many people will be using it, what they'll be using it for (just to check e-mail, or live-streaming video?), and the number of devices per user and the type of devices they're using.
Among the takeaways the audience got from their small-group discussions were to ask attendees when they register how many and what type of devices they'll be bringing to the meeting; to get a trusted adviser who can help translate your Wi-Fi needs into language the facility can work with; and that you can provide basic Wi-Fi for free, then get sponsors for higher levels of bandwidth—sort of the 2013 version of sponsoring Internet cafes that were so popular in the pre-smartphone and tablet days of not-so-long-ago.
Reinventing RCMA: A Progress Report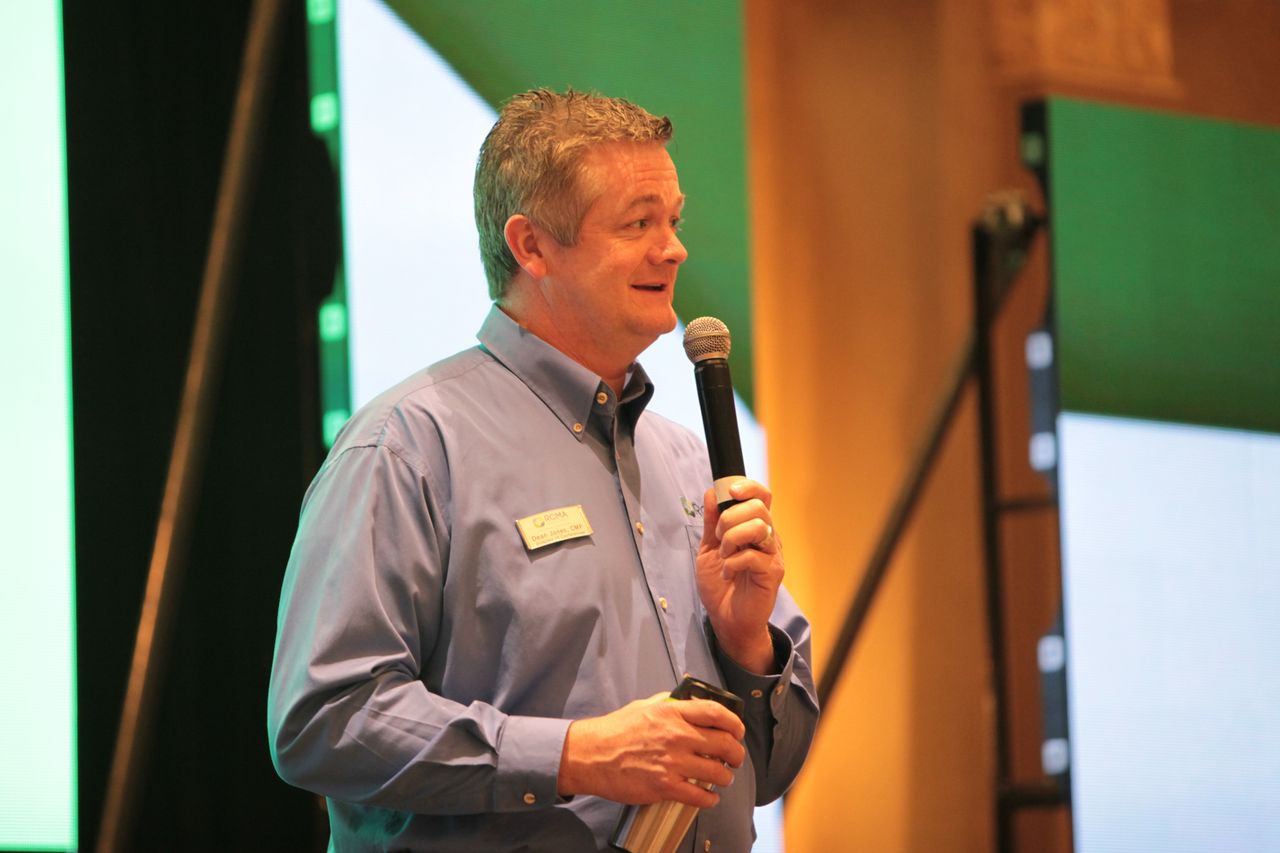 RCMA Director of Conferences and Events Dean Jones wrapped up the conference with a highly interactive session on what the organization has been up to lately, from its reinvented Emerge conference to its rebranding efforts, and a look at some of what's currently under development.
 The new logo reflects both the community and the forward movement the organization is taking. The new Web site also features the Membersuite membership management database, which members can update themselves. Planners also can input information about their own meetings into an upcoming-meetings database on the site. He also mentioned RCMA venturing into social media with its own Facebook page, and the new size, design, and format of Religious Conference Manager magazine.
When it comes to Emerge, RCMA's flagship conference, Jones said the organization is always looking to add community-building opportunities. For this year's conference, these included receptions, late-night networking sessions, and a free night when planners and hospitality folks could meet on their own.
For 2014, which will be held in Sacramento February 4–6, look for the addition of a morning fun run. And while 150 people did come to the topic-themed late-night networking sessions at this year's Emerge, Jones pondered if an early-morning time slot might be better for next year, because there will be a preponderance of people not yet adjusted to West Coast time for whom 9 p.m. will still feel like midnight. The majority of the crowd agreed.
The morning devotion will continue for the 2014 Emerge, as will the appointments—though RCMA is going to use a different appointment-setting software program. RCMA also would like to help coordinate more meetings during Emerge among planners who share a denomination. After Sacramento, Emerge will head to Birmingham, Ala., January 26–29, 2015, where it hasn't been in 20 years.
The Road Ahead for Regionals
As for the regional events, of which Nashville Aspire was just the first, Jones explained that they won't all be the same, and may not even share the same length. "Some will be longer because of travel time needed to get there, some will be shorter," he said. The next Aspire is set for Colorado Springs, Colo., November 11–13, which is the headquarters city for more than 300 ministry organizations. RCMA is considering adding two more regional meetings in 2014, possibly in the Chicago and Southern California areas. More regional meetings may follow in 2015, possibly in the Dallas/Fort Worth and Washington, D.C./Baltimore areas.
But don't wait for an Aspire conference to come to your town to reach out to your fellow planners in faith, he said. "If you are going to meet in a community, engage with other members in that area. Connect planner to planner."
Future initiatives being planned include a supplier institute and/or a convention and visitors bureau summit to help train hospitality professionals, especially those new to the field, on how to best serve the faith-based meetings market. "There is a lot of lost business in this market because people don't understand who they're talking with," Jones said. "Our goal is to make you all better at what you do so you are able to accomplish more together than separately."
One First-Time RCMA Attendee's Experience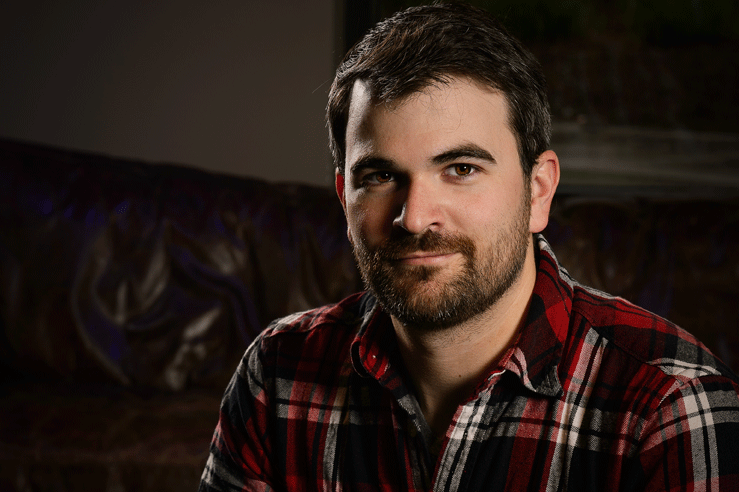 By Joshua Clark Hendrick

As a professional photographer, I am not the type of person who would think that an organization like RCMA would have any benefit for me. But that changed in a matter of two days as I experienced my first RCMA event, the Aspire conference, held in Nashville May 20–21.
I first heard about RCMA while I was in Anaheim for the annual Christian Leadership Alliance conference. Wandering the expo, I met Dean Jones, RCMA's director of conferences and events; Harry Schmidt, executive director; and Fred Reichelt, member engagement specialist. They told me that RCMA helps professional conference planners and suppliers come together in a faith-based community. I was impressed by their demeanor  and ended up contacting one of them a week later. He invited me to take pictures at and then attend RCMA's first-ever regional event.
Getting to Know RCMA
Being a photographer, I tend to show up early— when I arrived at the Sheraton Music City, they were still setting the stage and tables. I met the RCMA staff, and I was impressed by the nature of each person. Planners and suppliers soon filled the conference room, and Aspire officially started. Dean Jones used a series of questions as icebreakers that got us all laughing and talking together. After a half-hour, the session concluded with Dean reading the "most interesting" answers.
After the first session, we went into the adjacent meeting room to meet suppliers from hotels, convention centers, and entire cities. After an hour, I had a stack of business cards and a new group of friends with a deep knowledge of the conference and event planning world.
That evening, planners attended the grand opening of the Nashville's new Music City Center. Tammy Cardona from the Nashville Convention and Visitors Bureau led a private tour of the facility, aided by multiple tour directors who explained details of the build, and offered information ranging from attractions to the local art that is currently displayed at the center. After the tour, we sat down to a traditional Southern dinner, conferred about the day, and discussed our ministries and organizations. After dinner, everyone was given VIP passes allowing access to a concert. I spent the rest of our time talking with fellow attendees and enjoying the music.

Learning and Sharing
At Tuesday's buffet breakfast, sponsored by Hyatt Hotels and Resorts, I sat at a table with a few guys from outside the Nashville area. I was amazed to hear how differently each person's ministry affects their community. After breakfast, Robert J. Morgan spoke on his 10 "Red Sea Rules" for getting through a difficult time. This was particularly relevant for planners since most events don't go perfectly. For me, it was a simple reminder that a crisis is God using our current situation to create something better.
After a break (and a much-needed refill on coffee), Michael Owen, CEO and managing partner at event production and destination management firm EventGenuity, guided us through discussions on everything from event sites and bandwidth, to the atmosphere within different cities. I was able to gain advice from the immense experience that filled the room.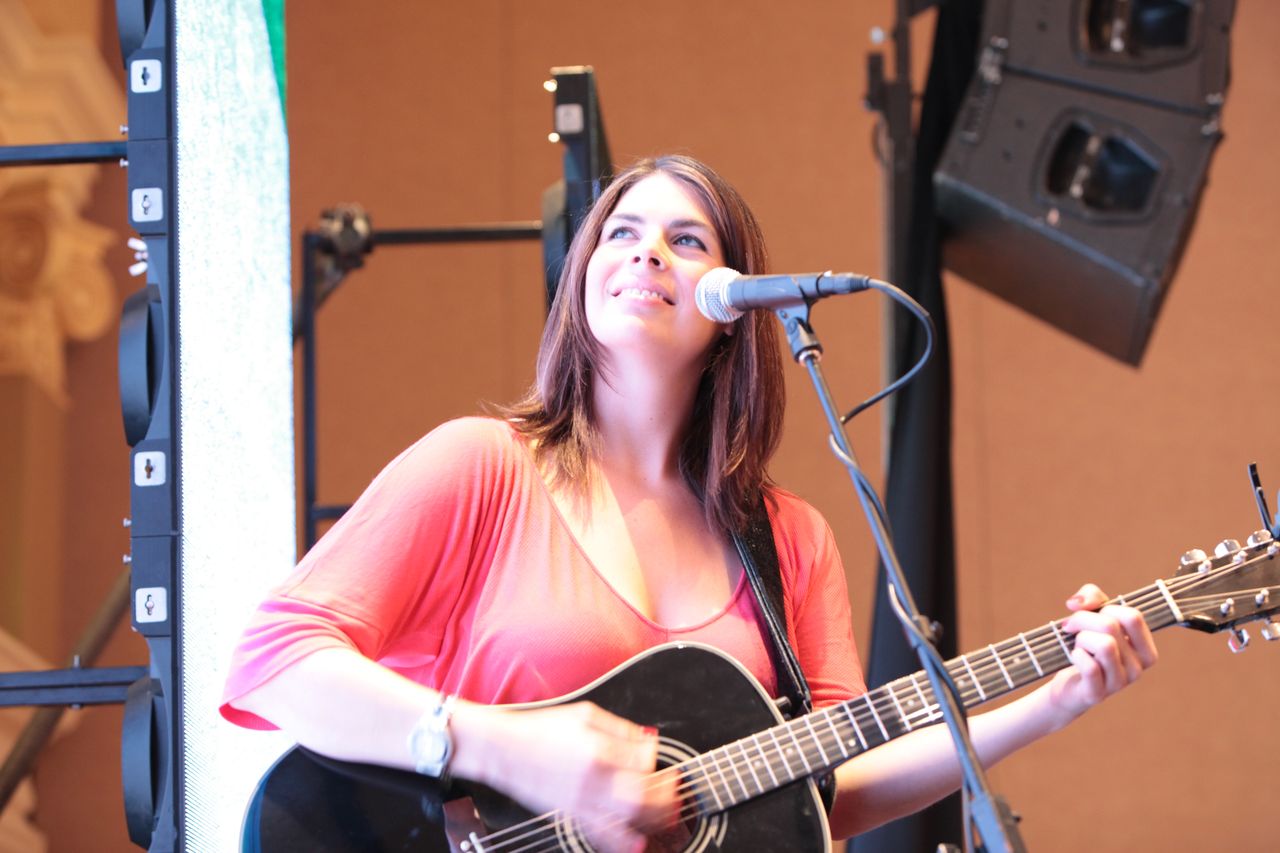 We broke for lunch, then Billy Kirsch, from Kidbilly Music, started us on a creative journey. Billy lead nearly 100 planners and suppliers, most of whom are A-type personalities, through the process of writing a song about event planning, with audience members shouting out ideas for lyrics related to event planning for religious organizations, and RCMA membership. [You can listen to the song here.] Once we finished writing and performing the song, it was clear that this group of devoted, faith-based planners saw their occupation as a higher calling. This group is not interested in just creating a good event, but also a meaningful experience.
After the final Day Two tradeshow, RCMA's Dean Jones hosted a discussion of where RCMA has been, and where it's going in the future.
During this moment, I felt like I was member of the group. I have new friends, and I know that I have resources if I ever need anything in the event and conferences realm. One of the most difficult circumstances in running a ministry is a getting support, especially from colleagues who have experienced what you're going through. If your ministry has a conference or an event, RCMA will make sure that you have help throughout the process. Even though I am not technically a planner, I see RCMA being vital to my ministry. If you were not able to attend Aspire in Nashville, I encourage you to make the trip to the next Aspire in Colorado Springs in November. You will gain something valuable, no matter your occupation.

Joshua Clark Hendrick is a Nashville-based photographer. Learn more about him and his work at www.joshuaclarkphotography.com.