March will be a big month for the meetings and events industry to demonstrate its collective weight and influence both to government officials and the wider business world. In addition to Global Meetings Industry Day on March 30—which will feature advocacy meetings with federal and local legislators, local industry gatherings around the globe, plus a 12-hour virtual-educational track from Meeting Professionals International—there's also Business Events Industry Week from March 7 to 9.

Described on its website as "a curated, multi-day experience of co-located events uniting all who desire to contribute to the social and economic transformation of business events," Business Events Industry Week combines the efforts of the American Society of Association Executives, the Professional Convention Management Association, the International Association of Exposition and Events, and Destinations International. 

The event is headquartered at the Gaylord National Resort & Convention Center, set eight miles south of Washington, D.C., though it will use a few other locations and venues throughout the D.C. metro area to deliver professional development, idea incubators, community/social transformation activities, exhibit-hall interaction, and other networking experiences. Event organizers call it "a one-trip call-to-action for business events stakeholders to gather as one global movement to do business, design their future, demonstrate the power of inclusivity, showcase innovation and insights, and advance key policy initiatives."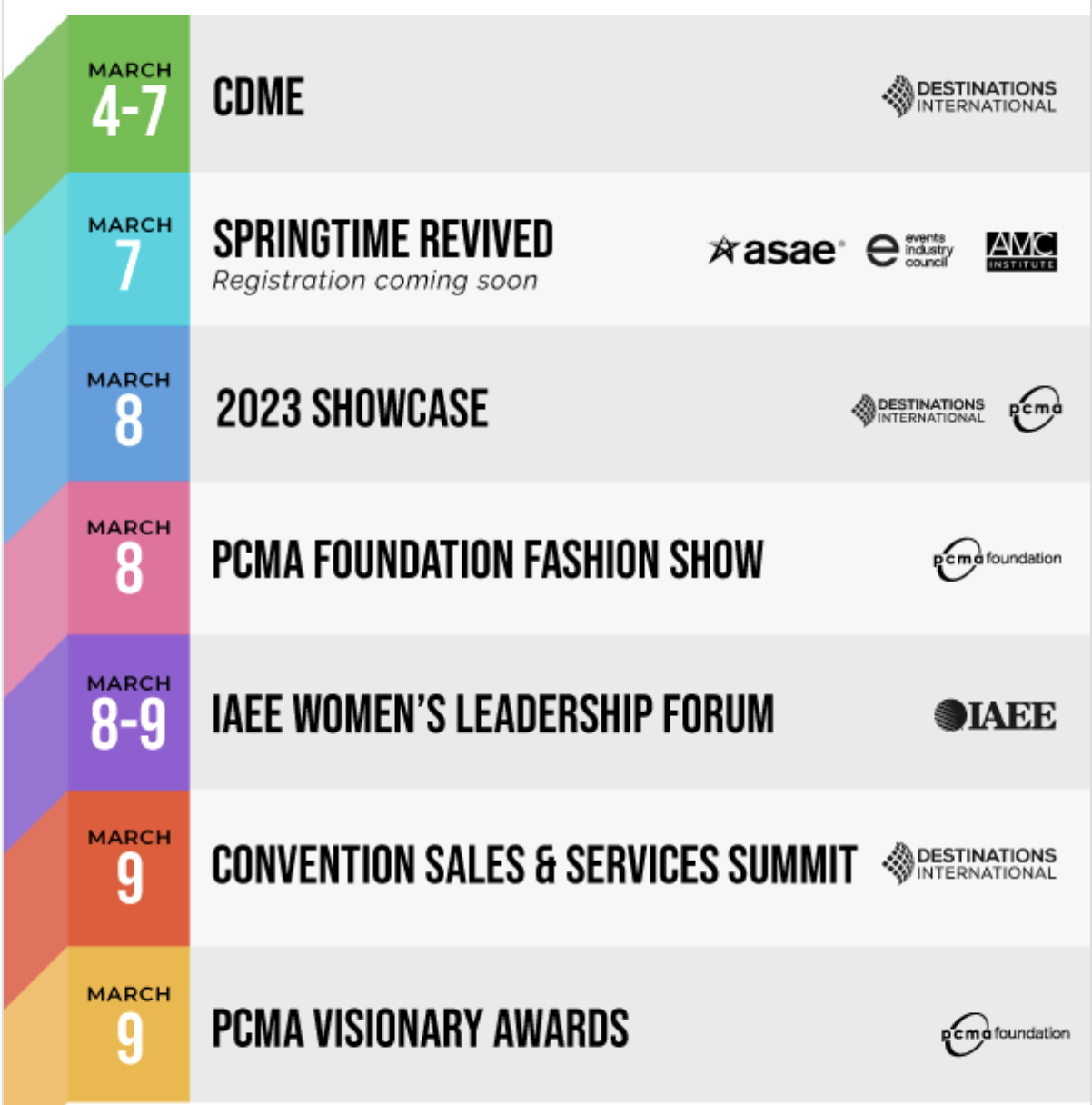 The agenda includes the revival of an ASAE event called Springtime, which ran for 40 years but was discontinued by ASAE in 2016 in lieu of an event called the Xperience Design Project, which ran until 2020. While the agenda for the March 7 Springtime event is not yet finalized, it will likely be a combination of educational sessions and networking time with destinations and services aimed at meeting and convention planners. On March 8, an event called Showcase, co-managed by PCMA and DI, will also bring together planners and suppliers for idea-sharing and networking. There's also day one of the Women's Leadership Forum that's organized by IAEE. The day will conclude with a "Business Fashion Show" that's run by PCMA.

On March 9, day two of IAEE's Women's Leadership Forum takes place. Also, the Convention Sales & Services Summit run by DI will happen, as will the PCMA Visionary Awards, honoring three lifetime achievement recipients plus annual winners in these categories: business-event strategist, digital-experience strategist, event designer, groundbreaker, and community advocate.

With a focus on diversity and inclusion as well, the three-day program will have support from the National Coalition of Black Meeting Professionals and the LGBTQ Meeting Professionals Association.

There is a cost to attend most events, though the Showcase event is free for business-event strategists. To offer a seamless registration experience for attendees, the participating organizations have built a centralized registration platform. It only requires the establishment of a PCMA log-in credential, which is free.