Here's an interesting conundrum: Hotel-room occupancy rates in the top 25 U.S. urban markets were 1.5 to 3.5 percent lower in February and March 2023 than in February and March 2019—but average daily rates were 14 to 20 percent higher in Q1 2023 versus Q1 2019.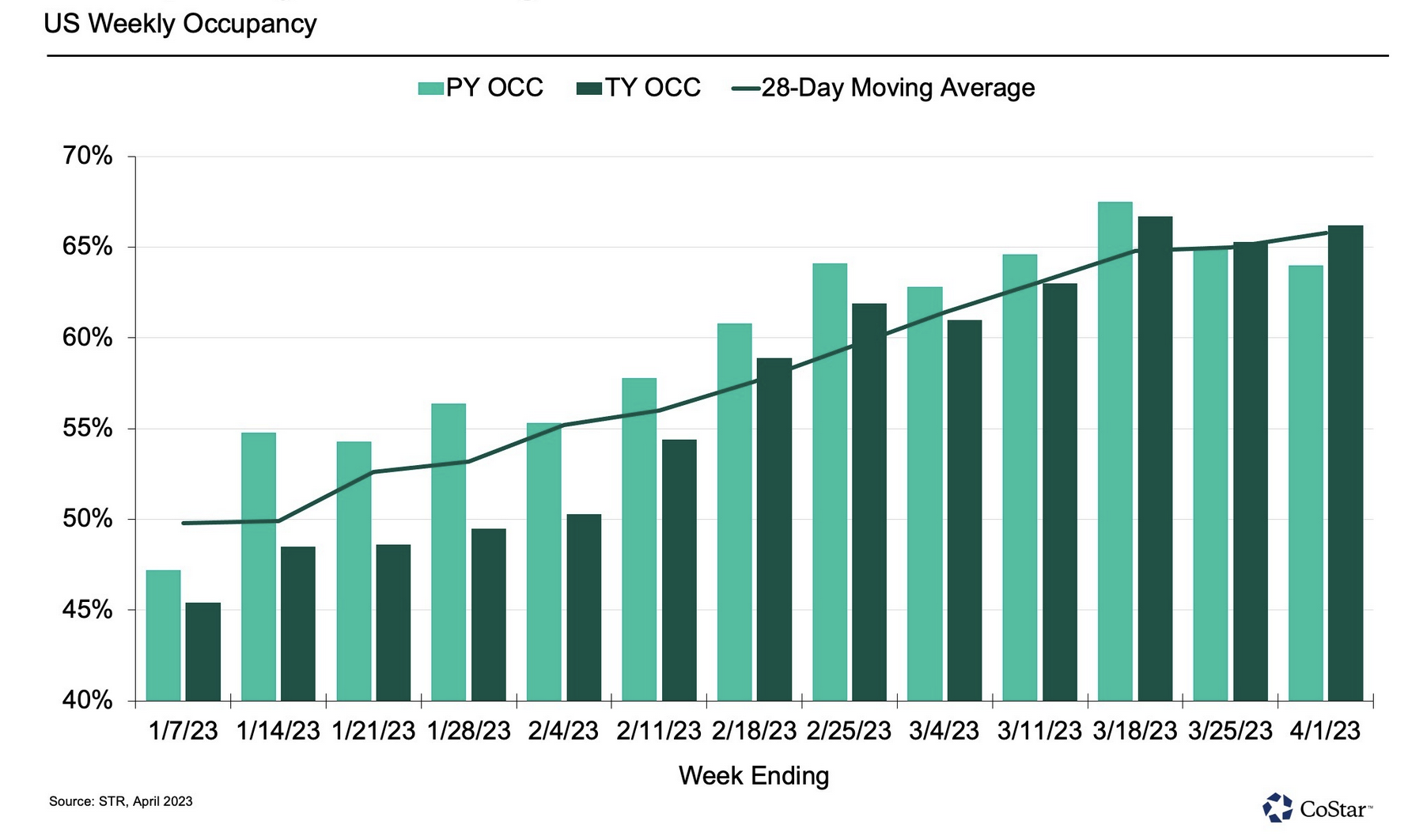 In fact, more recent figures from hospitality research firm CoStar show that as of late March, occupancy rates for the entire hotel market have finally moved above 2022 levels (see chart for prior year's occupancy and this year's occupancy), further bolstering hotels' revenues. In the pre-Covid era, an occupancy rate of about 67 percent was considered the break-even point for hotel operations. But with the considerably higher room rates of the past year, the possibility is greater that many hotels are profitable even with an overall occupancy rate of just above 65 percent.

Another factor in hotels' profitability: Smaller labor staffs. Meeting and event planners have observed firsthand the shortage of labor at many business hotels, and the latest jobs report from the U.S. Bureau of Labor Statistics reinforces planners' observations. On the flip side, wages across all industries rose an average of almost five percent last year in the U.S.—but rose 9.1 percent in the hospitality industry.

On April 7, U.S. Travel Association President and CEO Geoff Freeman commented on the March employment report, which saw the overall economy add 236,000 jobs in March (the lowest monthly gain since December 2020), while the leisure and hospitality sector added just 72,000 jobs—well under the average monthly gain of 95,000 over the prior six months.

"The drop-off in leisure and hospitality hiring is a concern as our industry prepares for the busy summer season and the need to fill 1.5 million open jobs in this sector. An adequately resourced travel workforce is essential to meeting demand and growing revenue in the travel industry."

"The federal government can help solve staffing needs by increasing the cap on H-2B temporary-worker visas and permanently exempting returning workers from the cap."

On the other hand, the labor-participation rate nationwide has gone up four months in a row, from 62.2 percent to 62.6 percent, as some previously discouraged workers come back into the labor pool. By comparison, the participation rate in February 2020, the month before the pandemic began, was 63.3 percent.

Also, this article from CoStar details how some meetings-heavy properties are stepping up their pace of hiring to service the group market, which these hotels need in order to make up for the continued slump in transient business travel.

Among the trends seen by these properties: more customization of spaces to keep attendees together longer each day, and a wider date range for pre- and post-event guest-room rates so attendees can work from the property or take vacation days around the event.