If you took all the acronyms representing the associations that partnered with IMEX America—held at the Sands Expo in Las Vegas October 15 to 17—and stacked them in a pile, you would have a complete alphabet:
• CIC (Convention Industry Council)—held its prestigious Hall of Leaders event Sunday, October 13, inducting Jorge Castex, honorary president, COCAL, and senior advisor, MCI Argentina; Eduardo Chaillo, CMP, CMM, former executive director of meetings, Mexico Tourism Board; Peggy Daidakis, executive director, Baltimore Convention Center; Liz Erikson, executive director, meetings and incentives, Fairmont Raffles Swissôtel; and Stephen Powell, senior vice president, worldwide sales, Intercontinental Hotels Group.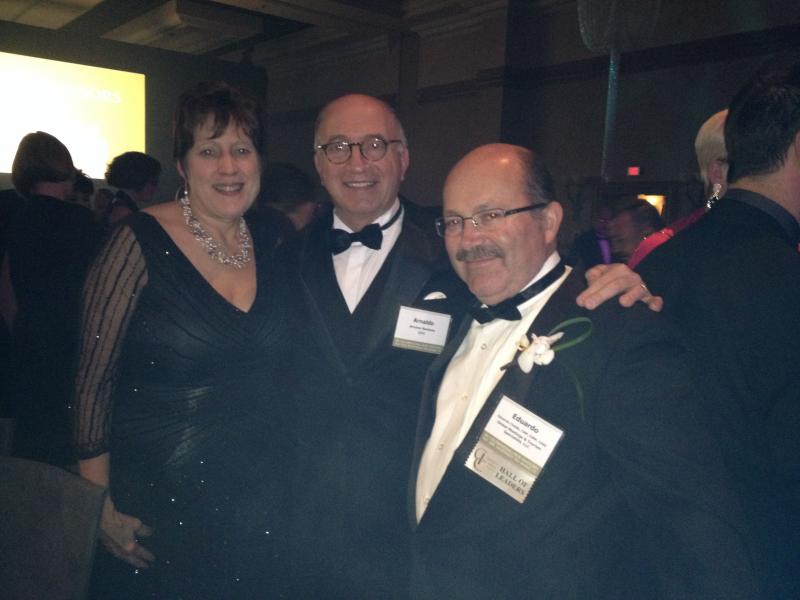 Joanne Joham, regional director, North America, International
Congress and Convention Association; Arnaldo Nardone, president,
ICCA; and Eduardo Chaillo, Hall of Leaders inductee 
• Site—opened the show Monday evening with its sold-out Site Nite North America event at the Palms Casino Resort.
• U.S. Travel (US Travel Association)—hosted a new Policymakers Forum featuring Washington, D.C., Mayor Vincent Gray (who attended virtually), Las Vegas Mayor Oscar Goodman, and Santa Fe Mayor David Coss.
• CMI (MeetingsNet/corporate&incentives)—celebrated at an exclusive private party on Monday evening with the CMI 25, the industry's list of the biggest incentive and meeting companies serving the corporate market.
• MPI (Meeting Professionals International)—put on a packed Smart Monday education event the day before the show opened, with more than 1,200 attendees.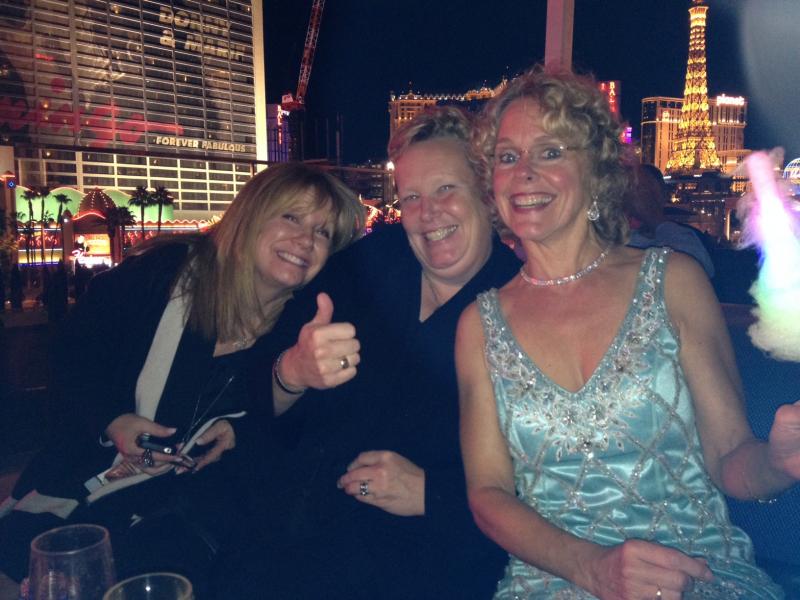 Lori Jenks, VP operations at Emerald Expositions;
Janet Sperstad, program director, Meeting and Event
Management Degree, Madison Area Technical College;
and Amy Spatrisano, principal, MeetGreen, at the MPI
Rendezvous fundraiser on Wednesday night.
• IRF (Incentive Research Foundation)—announced the location of its 2014 Incentive Invitational (Secrets Puerto Los Cabos, May 28–June 1, 2014) at the AMR Resorts event Tuesday evening.
• PCMA (Professional Convention Management Association), ASAE: The Center for Association Leadership and ICCA (International Congress and Convention Association) came together to create the "Association Focus" track on Monday for more than 200 association professionals.
The IMEX organizers are expert at bringing an industry together. And that's just the industry association events. On the show floor, the number of exhibitors grew from 2,413 in 2012 to 2,694 in 2013. Hosted-buyer numbers grew as well, from 2,400 last year to 2,700 this year—a number that doesn't include the additional 1,700 non-hosted attendees.

Among the many other highlights from IMEX America:
• Change was in the air across the show floor. The new leaders of two major industry associations were in attendance: Carla (Rea) DeFlorio, CAE, the new executive director of the Incentive Marketing Association, who follows longtime head Karen Renk, who retired; and Kevin Hinton, who was named chief staff officer at Site and the Site International Foundation at the end of July, replacing Allison Summers. Industry veteran Jim Schultenover, formerly president of GEP and Krisam Group, took Hinton's place as the new president of Associated Luxury Hotels International, just as GEP announced it is closing its company-owned DMCs.
• Strategic meetings management architect Debi Scholar, GLP, GTP, CMP, CMM, SSGB, CTE, will be leaving her role as director, managed meetings strategies, at American Express in November to become director, global lead virutal meetings/divisional category director congresses and events in strategic souring at Novartis, and another SMM evangelist, Linda McNairy, has left her role as vice president, strategic partner management, at Active Network. Meanwhile, Active has announced that over the next nine months, its Active StarCite strategic meetings management technology and its Active Conference event marketing technology will be combined into a modular, rebranded product called Smart Events Cloud.
• The MeetingsNet booth was abuzz with the introduction of our new interactive magazine app, which will launch in January, replacing the four MeetingsNet magazines. Editors showed off our sample app; look for the first issue of the real thing to roll out in January.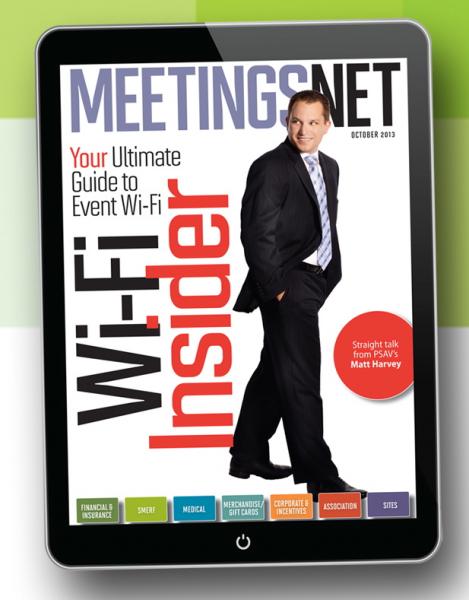 The new MeetingsNet app will be available
starting in January. View a sample and
sign up now.
• Everyone was equally excited about MeetingsNet/medical Editor Sue Pelletier making IMEX headlines as winner of Ovation Global DMC's "Huggability Award" for 2013, following in the footsteps of 2012 winner and CIC Hall of Famer Eduardo Chaillo.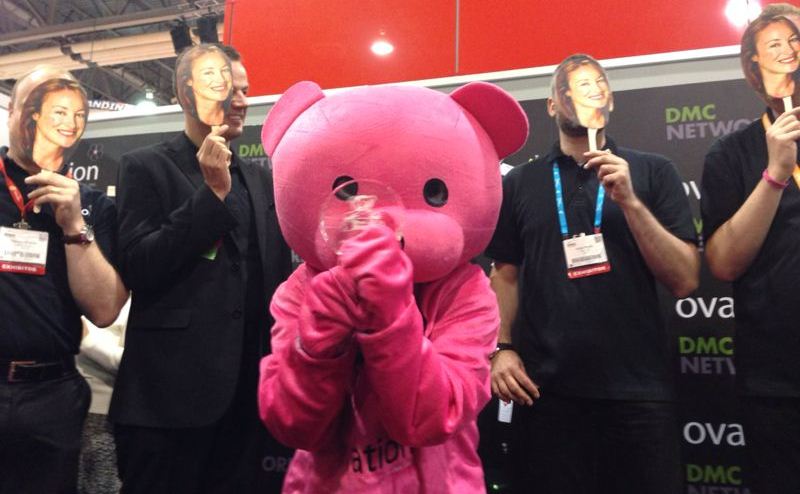 Live from the Huggability Award ceremony
• At the Policymakers Forum on Wednesday, Roger Dow, president and CEO of the US Travel Association, told participants that when the government shut down, "the White House called U.S. Travel to come in for a meeting and asked us our thoughts on the impact that could be expected to the tourism sector." The U.S. Travel meetings coalition has hired a marketing company to continue to brand and message the value of the events industry.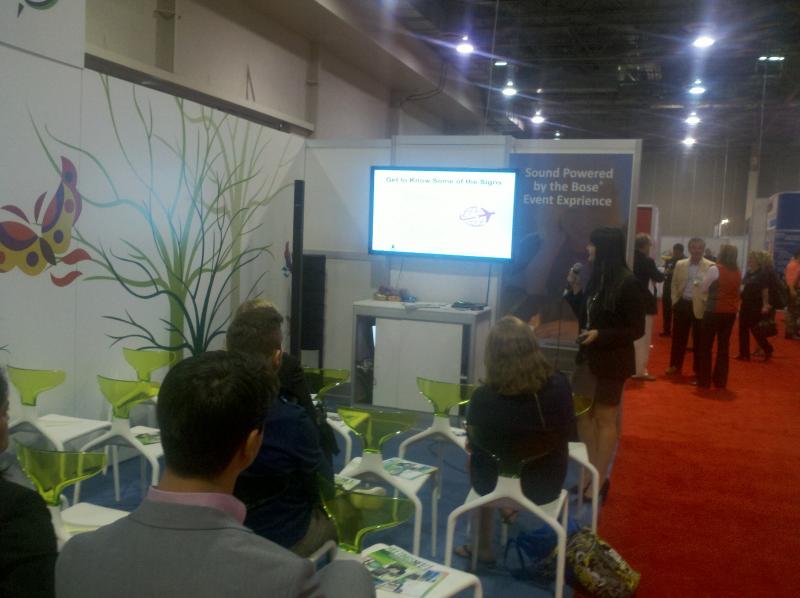 Michelle Guelbart, private sector project coordinator for
ECPAT USA, presented on what meeting planners can do
to stop human trafficking.
• As part of its 170-session education program, IMEX used an innovative approach on the show floor, featuring 30-minute sessions in several areas, or "pods": The Innovation Center, Sustainability Hub, Tech Hub, Research Pod, and App Bar. Some areas had traditional lecture-style seating, while others were arranged in "campfire" spaces, where attendees sat less formally on cubes. Among the offerings at the Sustainability Hub, MeetingsNet/corporate&incentives Editor Barbara Scofidio and Michelle Guelbart, private sector project coordinator for ECPAT USA, presented on what meeting planners can do to stop human trafficking. Tech education dominated, with sessions ranging from Mike McWilliams, director at Aimia, on "Why Hybrid Meetings Build Long-Term Engagement," to Trevor Roald, mobile event technology evangelist at QuickMobile, on the monetization of show apps.