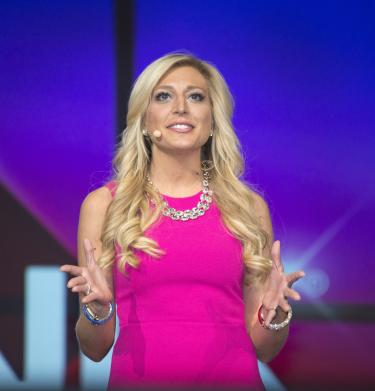 Storey Pryor, Isagenix International LLC

Director of Events
Isagenix International LLC
Making Change
I produced events for Isagenix for three-and-a-half years as part of an event production company before I came on board two years ago as director of events. At that time, Isagenix was doing 12 events a year. Since then the company has experienced tremendous growth, from $550 million in sales revenue in 2014 to nearly a billion dollars projected for 2016.
For Isagenix, a network marketing company, events are the platform for new business development, branding, training, new product intros, and so much more. When sales grow, so do the number of our events. We are now doing 64 training and incentive events a year, with the largest drawing nearly 12,000 attendees. To handle that growth, our in-house event team has increased from six people to 21 people, and we've built out departments dedicated to destination management, operations and logistics, trainers and speakers, registration, and communications.
Managing Change
For me, managing this kind of change absolutely requires developing an incredible team, communicating a vision, and empowering team members to make decisions on their own. I tell them, "You need to be able to speak up about making changes when change is called for," because, let's face it, not everybody thinks about events the way event planners need to.
Best Business Advice
If you're not having fun in this industry, get out. There is a reason Forbes listed "event planner" as the fifth most stressful job in the world. Also, I'm a big fan of over-planning. But I tell my team, no matter how much you plan for contingencies, know that something is going to go wrong in our "eventful" industry. It's inevitable, but how you recover is key.
What's Next?
We've grown so fast we haven't had time to implement the kind of event management technology that we need. So that's a big next step for us.
Why Details Matter
The proudest moments I have as an event planner are in all the details, every single touch point at an event. If you can get your team to think this way, little changes grow into massive culture changes. It's a ripple effect.
Got a Spare Hour?
My job is my life, and my lifestyle. I'm so passionate about what I do, and I love to continue learning by attending other events, trade shows, and conferences. I learn more about what to do and what not to do by attending other events.
Previous: Changemaker Karin Pontelandolfo, CMP