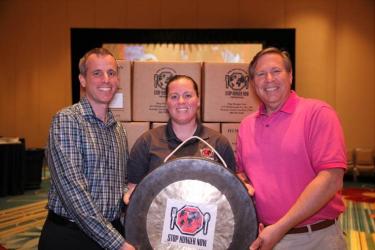 Rob Scypinski (right) with Stop Hunger Now representatives at a meal-packing event. Hilton hosted these events at hotels nationwide and can help to organize them for meeting groups.

Senior Vice President, Industry Relations & Events
Hilton Worldwide
Rob Scypinski has been in the hospitality industry for 40 years, nearly all of them in sales for Hilton Worldwide. In 2014, he took on a different type of role for the company, as the head of industry relations and events, with a focus on customer events as well as a push to increase community service.
New Direction
My current role is a big departure from my past role overseeing the Americas Sales Operations. It was a welcome change and has allowed me to walk in the shoes of our customers more closely and help align our sales effectiveness, events, and industry relations. Being a guest in our hotels and venues has helped me understand where the guest journey is great and, more important, where we can improve it.
Rob Scypinski and Stop Hunger Now's Karen Sanders Noe spread the word about their partnership at the 2015 GBTA Convention in Orlando.
Another focus is our Connect+ website for meeting professionals, which hosts peer-to-peer learning opportunities, news, and articles relevant to building connections at events, driving business results, creating memorable experiences, and doing it all responsibly. We work to ensure these elements are present in our events as well, through customer education, new ideas and technology for meeting and event professionals, and providing opportunities to give back to the local communities—this part has been really exciting!  
Making Change
I am involved in the effort to implement elements of strategic meetings management within Hilton. Specifically, we are working on measuring the success of our customer-facing events. ROI, ROO, and ROE can be difficult to develop and measure, but it has been rewarding to be a part of the process, and we've been able to involve several parts of our business in this conversation. Throughout the journey, we've also embedded either an educational component or CSR element into our customer events, such as
Meet with Purpose (an initiative that helps meeting professionals reduce waste and incorporate wellness into meetings by giving them a menu of sustainable and healthy choices) or our Stop Hunger Now initiatives (Hilton is a partner with this global relief organization and can arrange meal-packing activities for groups). The response has really been positive.
Managing Change
It takes a village! It is important to involve a facilitator to manage conversations around the change and to help track a critical path, and to create a specific position accountable for change management activities, training, and communications. It also helps to understand the complexity of your team beforehand—specifically, how they think in terms of conceptual, analytical, social, or structural processing elements in order to develop a communications approach that will effectively resonate with them.
Best Advice
Love what you do. Be curious enough to understand how things work. Be a leader in order to improve what you can, and have the courage to stand up against popular thinking if you don't agree with it.
Got a Spare Hour?
This is a great question and one we are asking our own sales team for an upcoming meeting! Given an hour, I would most likely look up new recipes or themes for a dinner party.  I love to entertain at home and bring forth the unusual.
Giving Back  
Throughout my career I have served on both the Professional Convention Management Association Foundation and Meeting Professionals International Foundation boards (I'm currently on the MPI board), and was a founding member of the Northern California PCMA chapter. I've been faculty for many sessions on contracts and legal language, revenue management, sales, customer engagement, and partnerships. I also currently serve on the Meetings Mean Business Coalition board.    
Looking back on my 40 years in hospitality, I'm so proud to be a small part of this great industry that has created an important seat at organizations' leadership tables. We've come a long way from when there were only a handful of competitors and when meeting planning was frequently viewed as handling logistics and agreements on napkins. I've enjoyed seeing the industry's evolution and the professionalism that has emerged. It's been so rewarding to be a part of the quest to continually improve the event experience, promote the value of face-to-face engagement, challenge the industry to deliver a higher measure of success, and showcase the importance of the meetings industry to our culture.
Previous: Changemaker Storey Pryor
Next: Changemaker Lisa Shambro