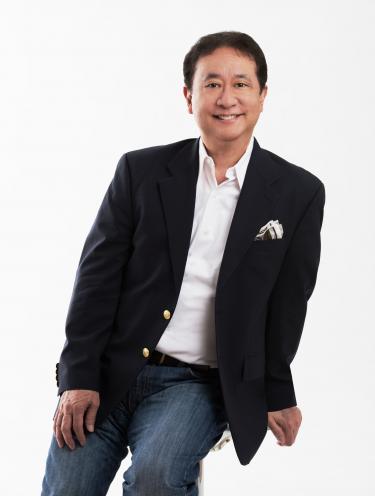 Kevin Iwamoto, GLP, GTP

Senior Consultant
GoldSpring Consulting
You could call Kevin Iwamoto a goal setter, a trend spotter, a change agent, a doer. But when he starts out an interview by calling himself a "late starter," you might think you've heard wrong.
"In my post-graduate days I was a late starter. I spent a big chunk of it working for the airlines, bumming around the world," he says. "I was always inspired to work for the airlines so I could explore the world, learn different cultures, and make new friends. I really have to thank them for satisfying my wanderlust inexpensively. Some have to save for a lifetime."
Which brings us to the day everything changed. Iwamoto heard a TV interview with a financial expert who explained how much money you'd need in order to retire and maintain a comfortable lifestyle. It was a shock. "I remember that day vividly. Here I was, in my 30s, working for the airlines and realizing that the benefits were good but the pay was not great. That's when I started paying attention to having a serious career. It became my mission to make up for lost time."
Trial by Fire
Fast forward to 2016: mission accomplished. We're giving Iwamoto an expanded Changemakers profile in honor of his recent retirement from meeting management software company Lanyon, after a career that took him from airline sales to corporate travel management at The Walt Disney Co. and Hewlett-Packard to the supplier side of the equation with StarCite (now Lanyon).
Not that he's fully retiring. With a new consulting position and two books under way, he calls it "semi-retirement," and worries a bit about sliding back into a full-time schedule. "I have a hard time saying no," he admits.
And there are always a lot of people asking. His title at Lanyon—vice president, industry strategy—reflects his varied career history (buyer, supplier, travel, meetings, technology) and the breadth of his network. He has been a regular presenter at conferences for more than a decade, has held 10 leadership or committee positions with industry associations, and served on 23 meeting or travel advisory boards.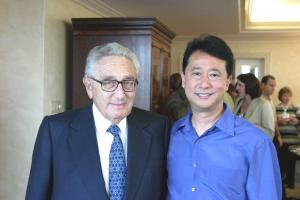 A career in events allows for a great scrapbook! Here, Iwamoto meets Henry Kissinger.
Most notably, he became president of the National Business Travel Association (now GBTA) just after 9/11, when the industry came to a standstill and GBTA was probably a year or so from going under. Iwamoto spent his term working to bring back enough supplier sponsorship to stabilize the association's finances, and worked just as hard to bring back the suppliers' goodwill, which had been eroded prior to Iwamoto's term. Hiring a new executive director and restructuring the association to reduce its reliance on the annual convention and trade show as the primary revenue source were difficult but critical moves he made as well.
And if bringing GBTA back from the brink wasn't enough, Iwamoto also created a committee that was about to change meeting planning forever.
What Does a Travel Association Know About Meetings?
Toward the end of his two-year presidency, Iwamoto recounts, he began to hear a similar story from a number of travel managers: "We've had cutbacks and I've been given corporate meetings and I don't know anything about meeting management." Spotting a trend, Iwamoto created GBTA's Groups & Meetings Committee, co-chaired by Tracey Wilt, then with Xerox (now with Carlson Wagonlit Travel) and Madlyn Caliri, then with AT&T (now with Reed Elsevier) to help members venture into this new territory. The committee's task force ultimately created the strategic meetings management program, or SMMP, in 2004. In the 14 years since, SMM has become the blueprint for companies consolidating the sourcing, tracking, and management of their meetings and events, launching an industry of SMM consultants, technology tools, and regular education tracks at meetings. And Iwamoto himself has spent those years personally advocating for and educating about the value of SMMP globally.
"In the middle of all of this, I was not thinking, 'We're making history,' or 'We're being trailblazers.' We were just getting things done. It was one checklist after another." But history-making it was, and not without controversy at the beginning. "I don't believe in recreating the wheel, and I believe in adopting best practices," Iwamoto says. So initially he went to the experts—boards of meetings industry associations—to ask for help in creating a joint curriculum or certification for travel managers taking on meetings. They all said no.
"They believed that the NBTA members I'd been talking to were anomalies. They said, 'We don't think procurement will ever get involved with meetings. They're too different.' So I went back to NBTA and said, 'They all think I'm nuts, so we will have to go this alone.'"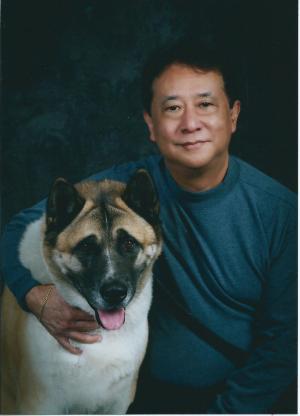 Kevin Iwamoto with Kimo, his beloved Akita
The whitepaper subsequently released by the Groups & Meetings Committee Task Force kicked up resistance from some in the meetings community. Ultimately, though, SMM was embraced and has become the standard.
But it hasn't stopped evolving. Iwamoto sees its next adoption among event marketing executives. "It started out focused on procurement and cost savings; now it's about experiential marketing." Event marketers, he says, will adapt it for measuring ROO, ROI, and ROE, using the attendee data that technology makes available today.
Paying It Forward
It's characteristic of Iwamoto that he's thinking about how SMM will adapt and change. He's never advocated sticking with the status quo. The book he's writing is about developing a personal brand over the course of a career—something he started thinking about as a senior category leader at Hewlett-Packard. "Working with such a large company as HP and having that buying power comes with a lot of responsibility to maintain the company brand, and to create and maintain your personal brand." He also quickly realized that travel and meetings is an industry of networks. The more he got involved, the more his network grew. Iwamoto was an early adopter of LinkedIn, and he started the StarCite blog in 2008, despite not knowing what a blog was. "I thought, 'Why would anyone read it? Why would anyone care?' The director of marketing at the time said, 'You'd be surprised.'" And indeed he was—the blog ended up winning several industry awards.
In fact, Iwamoto has been recognized on many lists of influencers and visionaries and has earned numerous awards from industry associations. Most notable was his GBTA Industry Icon Award in 2009, given by the association on an occasional basis and so far earned by only seven people. (Possibly the best-named award he's ever won is "Stickiest Speaker Guru," given to him at the Corporate Travel World Asia-Pacific Conference in 2013.)
But Iwamoto's proudest accomplishment is what he is giving back to the industry: He has established two scholarships. The first is an annual scholarship to attend his alma mater, the University of Hawaii, and its well-regarded School of Travel Industry Management. It was because of a scholarship from Hawaiian Airlines that he was able to attend.
The second is an MPI scholarship, specifically to encourage diversity in the meetings and travel industry, something Iwamoto, a third generation Japanese-American who was the first (and still only) non-white president of GBTA, feels passionately about. The scholarship will include MPI membership, access to resources like the job bank, and attendance at MPI events.
What Goes Around
"My sweet spot is helping everyone," he says. "I've always been a champion of best-practice sharing. Very early in my career, I learned the power of the ecosystem. If you are generous with your learnings, you can get the industry to move with you."
Even at the end of his GBTA term, his influence lived on because he had hired a third-party facilitator to help create a five-year strategic plan for the association, a plan that the next two presidents embraced.
His guiding principle has always been to do what's good for the industry, not for any individual. "That's something I learned from my parents," Iwamoto says. "Don't make decisions that only benefit you. If you think about what will benefit everyone, then you will not make a wrong decision. I've always lived by that."
Another time he put the philosophy into practice was after HP purchased Compaq, and he was tasked with merging the companies' travel departments. "It was good for me because it taught me to look at the macro view rather than go right to the tactical."
While the tendency at HP might have been to think, "Why should we use your program when we're the ones who acquired you?" Iwamoto tried to set an example of being open to best practices. "There's no harm and no shame in adopting something that is better than you have. But it's hard because it's emotional. You need to divorce yourself from your individual contribution and consider what is best for the company. We had to look at every category and decide: Do we keep our [process]? Change to theirs? Marry the two?"
More to Say
On April 30, his last day of work at Lanyon, Iwamoto was flying home to the San Francisco Bay Area from a week of transition meetings at Lanyon's Dallas headquarters. "I'm excited but kind of sad," he said then. "I have a flood of feelings, a mixture of everything."
In a Facebook post earlier in the week, he'd said that the KI Gut Check, which has never let him down, was saying, "You're good. It's time to move to the next chapter."
Part of that chapter involves joining Goldspring Consulting as a senior consultant. He will continue to be based out of his home office in Sunnyvale, Calif. Slowing down his work schedule will allow him to spend more time with his mom, who still lives on Oahu, where Iwamoto grew up. "She is dealing with the later stages of life. I want to make sure she's cared for, and it would be hard to balance that with a demanding career. Now I can dedicate that time."
But it seems he'll still have time to make his voice heard, literally, in the industry. A few days after he retired, Iwamoto recorded an interview on travel and meetings with Bloomberg radio. And earlier in April, he was part of a roundtable meeting in London with participant groups representing the full breadth of the travel industry. As the meeting progressed, Iwamoto realized how wide and long his own experience has been: "I had something to say to every one of these groups."
Next: Changemaker Dan Berger