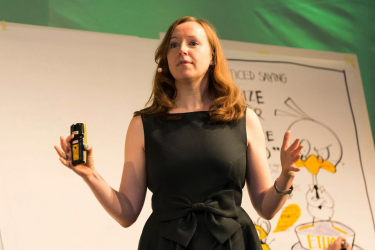 Fiona Pelham, Positive Impact Events and Sustainable Events Ltd.

Managing Director
Positive Impact Events and Sustainable Events Ltd.
Fiona Pelham is a change crusader, speaking out on the importance of sustainability ("it's about our survival, not to be too dramatic") and the power of meetings to change the world. (Read her article on The Huffington Post.)
Based in Manchester, England, Pelham is the founder and managing director of Positive Impact Events, a not-for-profit organization that exists to provide sustainability education and best practices for the events industry; founder and managing director of Sustainable Events Ltd., a sustainability consultancy; and co-founder of the Global Sustainable Events Summit. Since 2009, she has served as volunteer chair of the International Organization for Standardization's ISO 20121—a standard for sustainability in the event industry, and this year she is also giving her time to serve as the 2016 global chair for Meeting Professionals International.
Making Change
Last year the United Nations published 17 Sustainable Development Goals, the areas where progress is needed to create a world that works for everyone—ending poverty and hunger, improving access to quality education, combating climate change and gender inequality, and more.  I'd like to see the events industry get involved in these goals. I don't think we think of ourselves as vital to meeting these objectives, but it's only by coming together that people are able to collaborate, innovate, and create solutions. I brought this message to the U.N. Climate Change conference last year in Paris, speaking about the impacts our industry has and the potential difference we can make. More recently, I applied and was accepted as a delegate to a U.N conference in Sweden aimed at bringing together people from different backgrounds to create solutions for the Syrian refugee crisis. What I wanted to share with the conference was my belief that events are essential for making a world that works for everyone.
Managing Change
I wish we were educated in change early in our lives. The older you get, the more you resist. The process of change involves engaging with all the different stakeholders. It's a community of people coming together under a shared vision, a shared imagination for a positive future. For example we recently led an event for the community of suppliers, sponsors, and supporters of the Gold Coast Commonwealth Games [in Australia] so they could imagine a future where this sporting event creates a positive social, economic, and environmental legacy.
Best Business Advice
When you start a business, make sure it's something you love because you'll be stuck with it. I got into the events industry because I'm passionate about people coming together to collaborate and create.
Got a Spare Hour?
I volunteer at a local fan-owned football club, FC United of Manchester, selling programs. It's a great way to get involved with the community and to give back in an unusual way.
Previous: Changemaker Dave Lutz